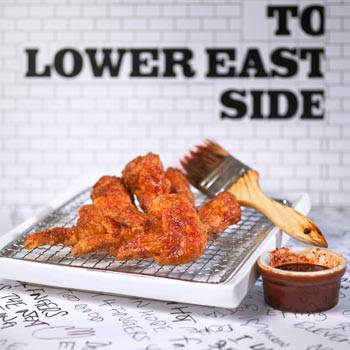 Diners in SM North EDSA's newly opened crispy chicken restaurant, 4 Fingers Crispy Chicken, have been munching on the crispy chicken coated with soy garlic and spicy sauce, in a setting reminiscent of the New York subway scene complete with graffiti walls, a mural reflecting Koreatown, old industrial lighting, and ultra-hip music. It is barkada and family dining with a relatively modern twist.
Alfonso Hortaleza, president of Mindblowing Delicious Food Corporation, brought the 4 Fingers Crispy Chicken franchise to the Philippines to introduce Filipinos to the crispy chicken that took Singapore by storm. "4 Fingers Crispy Chicken's combines a unique concept with great food, so I thought of bringing it to the country to share it with Filipinos who love crispy chicken wings," Hortaleza said.
Introduced in Singapore in 2009, 4 Fingers Crispy Chicken was created by four foodie friends with a shared passion for fine food and wine. Using a secret recipe that infuses various Asian spices and flavors, the foodie friends cooked up the 4 Fingers concept.
4 Fingers Crispy Chicken is available in soy garlic and spicy flavors. By using the "hand-painting" technique in coating the chicken with your sauce of choice, 4 Fingers Crispy Chicken's Korean-style crispy chicken stays crunchy on the outside and juicy on the inside, making it truly 100% addictive.
Aside from the soy garlic and spicy flavored chicken, 4 Fingers Crispy Chicken also offers side dishes and ready-to-eat food such as Kim Chi Coleslaw, Katsu Chicken Sandwich, Calamari and Shrimp, Tofu Salad, Seafood Rice Box, and many more. Served in a unique setting that adds to the sensory experience, 4 Fingers crispy chicken and its delicious offerings will make chicken lovers succumb. 
[previous|page|next]
"The significant growth of the Philippine food service industry in the past year and Filipinos' knack for good food are opportunities that brought us here. We also recognize the huge interest and demand for international chain stores in the country, especially those that offer non-traditional Filipino food," said Jord Stefan Figee, 4 Fingers director and one of the original 4 Fingers partners. 
"4 Fingers is founded with the objective to share the 'best of the best' with people who have common interests. Through social media sites such as Facebook (4 Fingers Crispy Chicken Philippines) and Twitter (@4FCCPhilippines), we want to encourage our fans to follow us and share their 4 Fingers experiences with the rest of the world," Figee added. 
4 Fingers has now 4 branches worldwide including the Philippines. In December 2011, it opened its second store in Indonesia and plans to build more stores in the Philippines, Singapore and Indonesia this year. 
Photos by Stephanie F. Esguerra