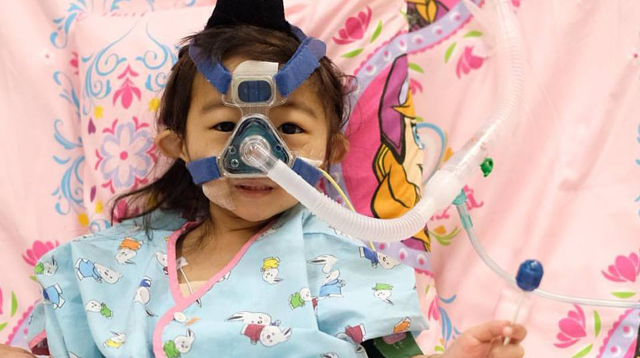 Photo from Courageous Caitie/Facebook

Yesterday, 3-year-old Caitie Lucas died from a rare blood disease she had been courageously battling with since late last year.

Her parents, Feliz and Jayjay Lucas, with aching hearts, lovingly remember her and her unbreakable heart through posts on her Facebook page Courageous Caitie. 

"I miss Caitie," a post starts. "I miss the noisy alarm of the stat monitor. I miss her asking for water or buko... The moment I woke up, we read a book, we talked. I told her to look for Jesus when she falls asleep. She didn't want to be intubated but she still obeyed. It was so difficult for her to speak or open her eyes so we responded with pressing of hand. But, for one last time, she said, 'Mama, I love you.' That was the last voice. Then everything was a nod or hand press," it read. 

"She fought so hard. Tried to breathe properly with all effort…I miss her. I miss her terribly. Her spirit was so strong... But her body was just so weak. I miss her," it continued. 


The night before her passing, her parents recall how Caitie was strong enough to watch a movie with her family, paint, color, play with clay and do her workbooks. The
post
which was published the day she died ends with, "I miss you terribly."
Feliz and Jajay also recall the
small details
about Caitie, that in the end, stayed with them. "Everything was so difficult for your daily life. As simple as breathing but you didn't let it stop you.
"You'd smile each time I put up the phone no matter how difficult coz you loved seeing me smile when I see you smile."
"I see you everywhere... Everything you've done... Dancing, twirling, playing, studying, with the horse, with your food... I miss you so much... I see you everywhere but I can't hear you or feel you anymore... I miss you," another
post
reads.
"I realized you weren't just courageous. You persevered. May it be in learning ABCD, to count, to potty train, to eat on your own, to trace letters, to write your name and words, to buckling your shoe, tying a bunny shoe lace, buttoning up your cardigan, all the tests, procedures, you never stopped until you got it right and finished. Even if it takes you 30 [minutes] to an hour, you'll never stop until you get it done," read a later
post
speaking of Caitie's fighting spirit against her debilitating disease.  
"Love you, pumpkin. It was so difficult to pack up your things [because] we could've made more of those. But it had to end today."
In the midst of all the pain the family has gone through, Feliz and Jayjay Lucas remain thankful. 
Thank you, Caitie. Because of your brave, strong heart you left the world a better place.