Judy Ann, Iya, Saab, and More Celeb Moms Share What's Keeping Their Kids Busy At Home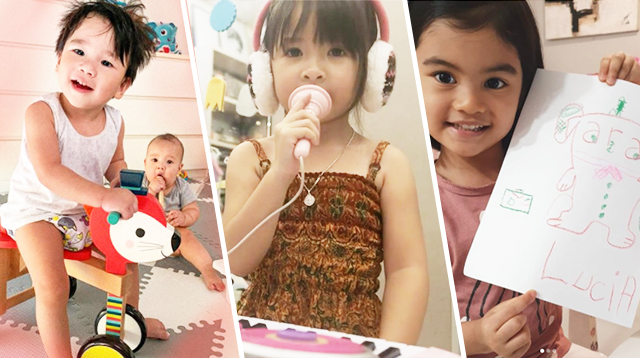 It's been five days — yes, only five days so far — since everybody was ordered to stay home. Whether you're still working from home or just chilling with the kids, you're probably already wondering how long you can keep this up. You're not alone.

But look at it this way: This measure to contain the spread of the novel coronavirus disease (COVID-19) is giving back parents the time they lost traveling to and from work. Make it a time to reset and focus on what matters: family.

What celeb parents and kids are doing under quarantine

You suddenly have all day to be with your kids. Now what? It's time to make the most out of it. Celebrity parents and kids have been sharing how they've been keeping the kids busy and entertained, making sure they're not always in front of screens, that they're being productive, and that they're having fun!

Judy Ann Santos, Ryan Agoncillo, and kids

ADVERTISEMENT - CONTINUE READING BELOW

Different activities and subjects for Judy Ann and Ryan's kids!

PHOTO BY

screenshots from @officialjuday/Instagram Stories

Apart from homeschooling, Judy Ann Santos, Ryan Agoncillo, and their kids are also keeping fit together. They have time for music, too. Luna so graciously played the piano and sang a song dedicated to our frontliners. So cute!

Team Kramer: Kendra, Scarlett, and Gavin

ADVERTISEMENT - CONTINUE READING BELOW

Team Kramer kids are no newbies to homeschooling. But aside from this, being holed up in their "forever" mansion, gives them a lot to do, like play, swim in the pool, and tend to their vegetable garden.

Bianca Gonzalez with daughters Lucia and Carmen

"I never thought of myself as capable of homeschooling my kids," Bianca Gonzales wrote. They did an online art class, flashcards, writing exercises, reading time, and ended their class with a song and a prayer.

Saab Magalona with sons Pancho and Vito

ADVERTISEMENT - CONTINUE READING BELOW

No beach? No problem for Saab Magalona's kids. Pancho and Vito also make music.

screenshots from @saabmagalona/Instagram Stories

ADVERTISEMENT - CONTINUE READING BELOW

Play, reading, and music form a huge chunk of Saab Magalona's game plan during this quarantine period with the Bacarro brothers, Pancho and Vito. Oh, and the boys are also getting their daily dose of vitamin sun!

Vicki Belo, Hayden Kho, and Scarlet Snow

It's not only Teacher Daddy for Scarlet Snow. Mom Vicki Belo takes over homeschooling, too.

screenshot from @dochayden/Instagram Stories

ADVERTISEMENT - CONTINUE READING BELOW

Proud mama Dr. Vicki Belo gushed that with only a few hours with "Teacher Daddy" Hayden Kho, Jr., Scarlet Snow Belo is getting really good at reading. The preschooler is also doing worksheets with her parents.

Andi Manzano with Olivia and Amelia

Doodling art is also considered schoolwork for Olivia Reyes.

screenshot from @andimanzano/Instagram Stories

ADVERTISEMENT - CONTINUE READING BELOW

Mom Andi Manzano and Olivia painted, while little Amelia made her body the canvas for her masterpiece. Then they cleaned the windows and planted monggo. There was also some room for a little karaoke.

Iya Villania, Drew Arellano, Primo and Leon

It's fun, fun, fun indoors and outdoors for the Arellano brothers, Primo and Leon.

screenshots from @drewarellano and @iyavillania/Instagram Stories

ADVERTISEMENT - CONTINUE READING BELOW

Preggo Iya Villania did a GMA's 24 Oras segment "Chika Minute" at home because she's pregnant and is most definitely not allowed to go out. Beyond that, she and Drew Arellano play, swim, and read to Primo and Leon.

Cristalle Belo's son Hunter James Pitt

It's a combination of work and play for the soon-to-be big brother Hunter James Pitt.

screenshots from @cristallebelo/Instagram Stories

Another preggo mom Cristalle Belo is teaching the soon-to-be big brother, Hunter James Pitt, how to clean the house, on top of his at-home sensory play activities.

Sarah Lahbati and sons Zion and Kai

ADVERTISEMENT - CONTINUE READING BELOW

After getting married in an intimate civil ceremony, Sarah Lahabati has "been busy homeschooling Zion and playing with Kai." Kuya Zion is also doing his chores and painting.

 

Samantha Godinez and daughter Leia

The activities Sam prepped for daughter Leia look so fun!

screenshots from @yosameti/Instagram

Paolo Valenciano's wife Samantha Godinez is keeping their daughter busy with a lot of crafty hands-on activities. Look! Little Leia even made a new friend.

Bettina Carlos and Gummy

ADVERTISEMENT - CONTINUE READING BELOW

Bettina Carlos's daughter Gummy helped sort things as they cleaned the home. "It was not perfectly organized after, but she was engaged and entertained, and that was a good almost an hour doing something," she said.

If it was challenging for someone to imagine a stay-at-home mom's everyday battle, this is the time to acknowledge it. Remember, your kids need alone time, too, as do you! Take it one day at a time.

Trending in Summit Network