Cuteness Overload! See All the Celebrity Babies Who Were Born in 2018

So many adorable babies in one year!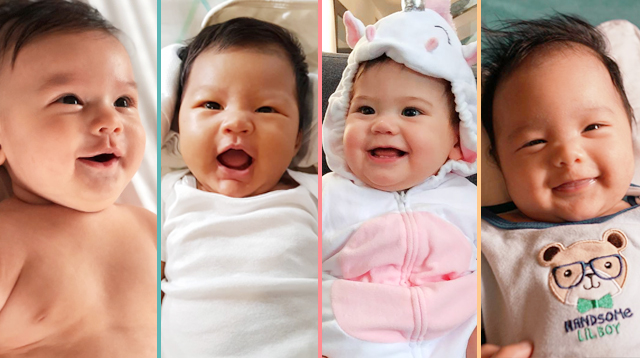 There's nothing more joyful than welcoming a new bundle of joy into the family and this year, celebrity moms and dads welcomed a bunch of adorable babies, whether as new parents or as an addition to their growing brood. As the new year closes, let's look back and see how they've grown!

Here are 22 Pinoy celebrity babies born in 2018

Pokwang's second child, Malia Francine

Born January 18

Pokwang proved age is just a number when she gave birth to a healthy baby girl at 47, her first child with boyfriend Lee O'Brian. (Her first child, Ria Mae, is already 21 years old.)

On her Instagram, Pokwang shares that 11-month-old Malia is not a picky eater and loves eating fruits and vegetables. Her favorite? Broccoli!

ADVERTISEMENT - CONTINUE READING BELOW

What other parents are reading

Jerika Ejercito's twin boys, Daniel and Michael

Born January 18

Sharing the same birth date as Malia is Jerika Ejercito's twin boys. They were born a minute apart, according to their mom's Instagram posts.

In November, Jerika revealed that the twins were born prematurely but have been growing up healthy and energetic! It's all thanks to mom, dad Miquel Aguilar, and Kuya Isaiah's loving care!

CONTINUE READING BELOW

Recommended Videos

Alyanna Martinez's daughter Adalynn Riley

Born January 19

Albert Martinez's firstborn who is now based in Los Angeles, California with photographer husband Roy Macam, welcomed their daughter in the first quarter of the year via unmedicated water birth. Alyanna carried her child in her womb for exactly 41 weeks and three days.

Adalynn spent her first Christmas with the Martinez's — 'Lolo' Albert, Tito Alfonso, and Tita Alyssa were in town. Soon, this little cutie will turn a year old!

ADVERTISEMENT - CONTINUE READING BELOW

What other parents are reading

Saab Magalona's son Gerardo Pancho

Born February 8

This boy is a little warrior — after he was born prematurely (his twin sister, Luna passed away), both he and his mom, Saab Magalona had to fight for their lives. But thanks to his mom and dad Jim Bacarro's care and love (and a lot of prayers), he became stronger with each month that passed by.

Now, almost 10 months later, he's become a healthier baby with the chubbiest cheeks we've ever seen!

ADVERTISEMENT - CONTINUE READING BELOW

Sarah Lahbati's second child, Kai

Born March 21

This little boy arrived right on schedule — his mom reached 37 weeks or full term in gestational age and soon after, his birth announcement photo was up the same day. It was a smooth and spontaneous normal delivery, according to Sarah. 

Nine months later and this handsome boy has grown quite a lot! He's also had a lot of adventures — he's been to Europe, Palawan, and Siargao, and has taken a lot of photos in between, thanks to his mom and dad Richard Gutierrez!

ADVERTISEMENT - CONTINUE READING BELOW

What other parents are reading

Isabelle Daza's son Balthazar Gabriel (Baltie)

Born March 31

It took a while before Isabelle Daza revealed her firstborn's name on social media (almost four months!), admitting she waited because she felt so protective of him when he was born. 

Though the new mom still has some apprehensions when it comes to exposing her son on social media, the important thing is that she is able to raise Baltie to be a "happy child who is able to cope, [is] resilient, and doesn't feel the pressure of social media." We're sure she and husband Adrien Semblat are on the right path!

ADVERTISEMENT - CONTINUE READING BELOW

JC De Vera's daughter Lana Athena

 Born April 12

In May 2018, the actor confirmed that he was a father. A few months later, he was finally ready to share to the world that he and long-time partner Rikkah Alyssa Cruz were new parents to a daughter named Lana.

Since the reveal last July, JC's account has been filled with his adorable baby's photos, who is super cute and bubbly! They also celebrated their "first Christmas as a family," according to JC. 

ADVERTISEMENT - CONTINUE READING BELOW

What other parents are reading

Divine Lee's son Basquiat Delfin (Baz)

 Born May 5

Model and blogger Divine Lee gave birth to her firstborn with husband Blake Go, via C-section and two days later, they were both discharged from the hospital. Mom and baby are super healthy!

Baz, who already has his own Instagram account, is on his way to become a social media influencer — mom Divine loves posting his daily #BazOOTD!

ADVERTISEMENT - CONTINUE READING BELOW

Jolina Magdangal's second child, Vika Anaya

 Born May 28

Three years after her son, Pele, was born, Jolina Magdangal and husband Mark Escueta got their wish — they were having another baby! Though the actress experienced some struggles in her second pregnancy and gave birth via C-section, her daughter Vika came out healthy.

Seven months later and their baby girl is almost able to sit up on her own! And Jolina obviously has a lot of fun with dress-up since Vika already has a signature look — her turban!

ADVERTISEMENT - CONTINUE READING BELOW

What other parents are reading

Cristalle Belo's son, Hunter James

 Born May 28

This little one was a wee bit excited to meet his parents — he was born prematurely at 33 weeks. Though he spent 18 days in the NICU, he was able to get stronger thanks to lots of his mommy's breast milk and Kangaroo care from mom and dad Justin Pitt!

 Six months later, the little cutie just celebrated his first Christmas with the Belo family and bonded with Ate Scarlet Snow!

ADVERTISEMENT - CONTINUE READING BELOW

Jennica Garcia's second daughter, Alexis Severina (Alessi)

Born June 25

Not a lot of moms choose water birth when delivering their child, but Jennica was able to do it successfully and her husband Alwyn, even caught their daughter in the water as soon as she came out. The proud dad said it was a "safe and fast delivery!"

Six months later, Jennica happily reports that Alessi can now sit up on her own and is showing signs that "she'll be an early walker."

ADVERTISEMENT - CONTINUE READING BELOW

What other parents are reading

Michela Cazzola's second child, Francesca Michelle

 Born June 27

James Yap's Italian partner, Michela, gave birth on June 27. And it looks like the mama is set on protecting her little girl's privacy as we still haven't seen a close-up photo of her baby girl.

Despite that fact, the now 6-month-old looks happy and beautiful!

ADVERTISEMENT - CONTINUE READING BELOW

Princess Velasco's second child Milo

 Born July 11

The acoustic singer welcomed her second son, Milo, at 9:40 a.m. and shared his photo to her Instagram followers a few hours later. Princess's pediatrician husband, Dr. Mark Herbert Rosario was right there in the delivery room with her.

The breastfeeding mama has her hands full with two boys (her firstborn, Kobe, is 3 years old) but it looks like she is as happy as she can be!

ADVERTISEMENT - CONTINUE READING BELOW

What other parents are reading

Jewel Mische's daughter Aislah Rose

Born July 12

The former actress who is now based in the U.S. went into labor just a few hours after posting a clip of the sexy dance she did for her husband, American Alister Kurzer, on Instagram. And though their daughter's arrival came with a jaundice scare, she was soon discharged after a few days in the NICU.

The 6-month-old celebrated her first Christmas and was oh-so-adorable we couldn't help but gush along with Jewel!

ADVERTISEMENT - CONTINUE READING BELOW

Iya Villania's second son, Alonzo Leon

Born August 19

The arrival of this new bundle of joy was well-documented by parents Iya Villania and Drew Arellano via Instagram stories. And it seemed to be a smooth delivery since the mom of two was already up and about (and eating!) after his birth.

Four months later and Iya is celebrating small milestones for her baby boy, like Leon falling asleep on his own!

ADVERTISEMENT - CONTINUE READING BELOW

What other parents are reading

Lara Quigaman's second child, Tobias Nolan

Born September 17

The former Miss International welcomed her second child with Marcos Alcaraz via C-section, and more than the parents, it was their firstborn, Noah, who was the most excited to see his baby brother!

Three months later and the siblings are closer than ever!

ADVERTISEMENT - CONTINUE READING BELOW

Shamcey Supsup's second child, Peter Nathan (Peanut)

Born September 30

The former beauty queen gave birth to her first child, Nyke, via C-section back in 2016, but this time around she had a successful vaginal birth after C-section (VBAC) with her son.

Just like her firstborn, Shamcey is exclusively breastfeeding Peanut. There is no stopping this mama — she even pumped liquid gold while attending this year's Miss Universe pageant!

ADVERTISEMENT - CONTINUE READING BELOW

What other parents are reading

Bianca Gonzalez's second child, Carmen Eliana

Born October 29

On welcoming her second child with JC Intal, the celebrity mom had this to say: "You mommies were right when you commented on my past post saying it's like you grow another heart that has overflowing love for your second child, just like your first. Pwede pala 'yun?!"

Though life with two kids can be exhausting, Bianca shares that "with a good support system around you and the right things around you to help you, hopefully number two will be easier."

ADVERTISEMENT - CONTINUE READING BELOW

Sitti Navarro's son Issiah Dañelle (Lilibubs)

Born November 4

After going through a number of fertility treatments for more than a year, the Bossa Nova singer finally got pregnant naturally. But at 36 weeks, she had to undergo an emergency C-section as her baby's heart decelerated. "Both Joey [Sitti's husband] and I were at peace with this decision, we didn't want to risk Lilibubs' life especially since I'm an APAS (Antiphospholipid Antibody Sndrome) case," she wrote on Instagram.

A month later, Sitti only had one wish for Christmas: "…Ang patulugin kami ng mas mahaba ng batang ito." LOL.

ADVERTISEMENT - CONTINUE READING BELOW

What other parents are reading

Tricia Centeñera's daughter Arabella (Arrow)

Born November 22

In July, the television host announced on Instagram that she was expecting her first child (with a photo of a very visible baby bump!) with partner Duane Santos. A few months later, her daughter arrived!

"This is all I wanted for Christmas," Tricia writes on Instagram. "All my wishes, dreams, and prayers come true."

ADVERTISEMENT - CONTINUE READING BELOW

Isabel Oli's second child Daniel Freedom

Born November 25

Isabel Oli announced in June that she and husband John Prats were expecting their second child and a few weeks later followed it up with the news that they were having a boy. On November 25, Freedom was born!

Exactly a month later, Freedom celebrated his first Christmas as a cute little Santa!

ADVERTISEMENT - CONTINUE READING BELOW

Aubrey Miles' third child Rocket Miller

Born December 14

Aubrey has said that this would be her last pregnancy, and how fitting that it is a girl! The celebrity mama already has two sons, John Maurie from a previous relationship and Hunter Cody with long-time partner Troy Montero. 

How adorable is this baby?

ADVERTISEMENT - CONTINUE READING BELOW

Additional research by Alizia Mariano

What other parents are reading




Celebrate your pregnancy milestones!


Enter your details below and receive weekly email guides on your baby's weight and height in cute illustration of Filipino fruits. PLUS get helpful tips from experts, freebies and more!

You're almost there! Check your inbox.


We sent a verification email. Can't find it? Check your spam, junk, and promotions folder.

Trending in Summit Network