Join the next Smart Parenting Giveaway and get a chance to win exciting prizes!
Join Now
Charlene Muhlach Pens Open Letter to Twins Andres and Atasha as They Turn 17

"You make us proud as your parents! And more importantly, your kind hearts is what I truly admire in the both of you!" the mom of two wrote.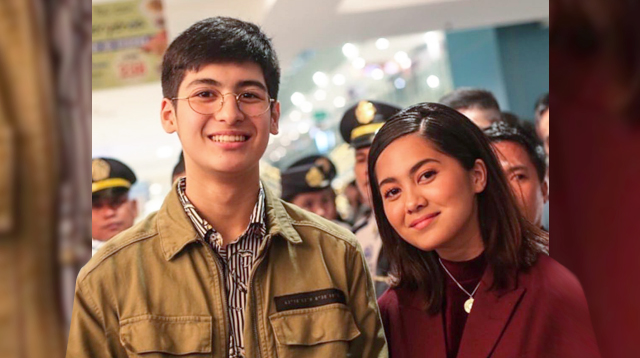 <>

Charlene Gonzalez pens open letter to twins Andres and Atasha

It seems not so long ago when Andres and Atasha Muhlach appeared in their first Jollibee commercial, and then just earlier this year gave the Filipino audience a massive dose of nostalgia by starring in yet another ad for the fast-food chain. 

Time flies indeed when you're a parent. The twins of Aga Muhlach and Charlene Gonzalez are only a year away from being legal adults, and so to mark her kids' 17th birthday yesterday, November 5, their mom wrote them an open letter, which she posted on Instagram. She started by saying she had always wanted a boy and girl, but she didn't expect both at the same time. 

"You have brought and continue to give so much happiness, joy, and love into our lives!!," Charlene wrote. She says it's true what people say: "No matter how old your children become, they will always feel like they're your babies, and the parents' unconditional love for their children will be there forever!!" she continued.

ADVERTISEMENT - CONTINUE READING BELOW

ADVERTISEMENT - CONTINUE READING BELOW

"Know that your Dad and Mom love you, so so so much and wholeheartedly. We will always be here for the both of you, no matter what!" the mom of two added. "Atasha and Andres, you make us proud as your parents! And more importantly, your kind hearts is what I truly admire in the both of you!" she said. 

Aga and Charlene chose to nurture the twins away from the spotlight while they were growing up. "Now that both of you are already 17, you are ready to fly! We are truly excited to see what life has in store for the both of you," Charlene said. She ended her birthday letter by reassuring Atasha and Andres, "Your Dad and I will be your biggest supporters and cheerleaders in life."

Say hello to Issiah Dañelle, Sitti's daughter!

ADVERTISEMENT - CONTINUE READING BELOW

Philippine Bossa Nova Queen Sitti Ramirez and her husband, triathlete Joey Ramirez, are now parents! The couple welcomed their first child, a daughter whom they named Issiah Dañelle, on Sunday, November 4, at 1:03 in the afternoon. 

"Thank You, Lord." the singer wrote as a caption for their first photo as a family of three. She also posted a short clip of their newborn daughter responding to her dad's voice. "I'm in love, and in awe," Sitti wrote. 

After giving birth, Sitti showed a glimpse of her life as a new mom, having a sponge bath and jello, plus joking about a new mom's unli's: "unli-latch, unli-shaket, unli-eyebags, and unli-filter." Sitti also dubbed her husband as "Mr. Swaddle."

"She's here. Can't stop looking at her!" Sitti wrote in one of her Instagram Stories.

PHOTO BY

screenshot from @bossagurl/Instagram Stories

ADVERTISEMENT - CONTINUE READING BELOW

"Best Dad Ever," the new mom said of her husband, Joey Ramirez.

PHOTO BY

screenshot from @bossagurl/Instagram Stories

"Lilibubs," as the couple affectionately calls their baby, came about a week after Joey's father, Dan Ramirez,  passed away. 

"I take sorrow in how Lilibubs will never get to know just how wonderful and kind and loving and joyful a grandfather she has," the singer wrote. "But I also take comfort knowing just how happy you are now that you are with our Savior," she added. 

ADVERTISEMENT - CONTINUE READING BELOW

Pancho visits grave of twin sister Luna

First-time dad Jim Bacarro posted a sentimental message about daughter Luna in remembrance of their twin who didn't make it. Along with little Pancho and his wife Saab Magalona, Jim visited Luna's grave recently and posted a photo with a message about her daughter's passing.  

ADVERTISEMENT - CONTINUE READING BELOW

"I hope you'll be the good guys. I know you'll make it through. I know we'll see the sun rise," he cited a few lines from a song he wrote. "When I wrote the song 'Before the Babies,' I intended it to be a future farewell letter to our children. Didn't know it would be the other way around and that this would be my baby saying farewell to us," the new dad added.  

"Each day's a struggle, but every day, we strive to be happy because that's the best way we can honor you. Just keep on dreaming sweetheart," Jim wrote. Pancho's life, in a way, is a reminder of his twin sister's sacrifice (Saab believes Luna sacrificed her life so her brother could live). 

ADVERTISEMENT - CONTINUE READING BELOW

Saab also honored her late baby girl by "finally entering the twins' unfinished nursery and filling up boxes with clothes, toys, and supplies for donation," the new mom wrote. "I still cannot let go of her car seat, crib, and the twin stroller. It's going to be a long process," she added.

Pokwang's daughter Malia visits her grandparents in the U.S.

ADVERTISEMENT - CONTINUE READING BELOW

Spending time with the grannies is the best, not just for the lolos and lolas but also the little ones as well. During the long weekend, Pokwang's daughter Malia, with long-time partner Lee O'Brian, took time to visit his parents, relatives, and friends in the U.S. 

ADVERTISEMENT - CONTINUE READING BELOW

"Thank you, lolo," read the caption of a photo of Malia and her grandfather which Pokwang uploaded on Instagram. "Yayyy!! Nana time is the best!!," says Malia in her photo with her grandmother, which was also posted on social media. 

Lee posted, "So happy to see my daughter and her Nana getting some good time together!! Love you both so much!!" he wrote in the caption. 

ADVERTISEMENT - CONTINUE READING BELOW

ADVERTISEMENT - CONTINUE READING BELOW

Two months after Malia was born, her grandparents all came to visit her. This month, however, was the first time the little girl met his Tita Mimi and Ninang Kai. 

Kristine and Oyo mark youngest son Vin's 2nd birthday

ADVERTISEMENT - CONTINUE READING BELOW

"Thank you, Jesus for giving us our sweet sunshine, Vin," Kristine Hermosa wrote in her birthday message for Vin on Instagram earlier today. "You make all of our hearts smile every day... You are such a beautiful blessing just like all of your siblings. We love you dearly!" the mom of four added. 

ADVERTISEMENT - CONTINUE READING BELOW

Dad Oyo Sotto also posted a birthday message for his youngest son (whom they named after Vin's lolo Vic Sotto). "Thank you Lord God for blessing us with this wonderful boy," he wrote. "Dada loves you so much. Can't wait to ride with you," he added. Oyo was referring to riding a dirt bike with Vin, as he's been doing with son Kiel and daughter Ondrea.

Happy second birthday, Vin!

More from Smart Parenting