The Chewbacca Mom Is a Gift That Never Stops Giving!

And, in return, the world is showering her with love. Her video is now the most-watched Facebook Live video ever.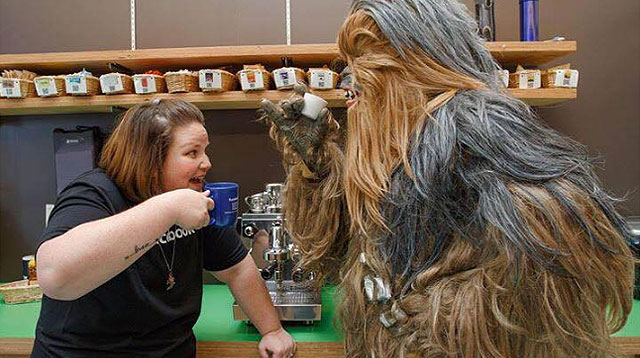 By now, you must have seen this viral Facebook Live video of a woman unboxing a Chewbacca mask. She was at a department store to she return a pair of yoga pants that was too big for her when saw the mask. She decided it was a nice gift for herself, and couldn't wait to try it on. So when she got to her car at the department store's parking lot, she immediately went on Facebook Live to share what she bought for herself. In case you haven't seen it, here it is.  

ADVERTISEMENT - CONTINUE READING BELOW

That is stay-at-home mom-of-two Candace Payne, whose giddiness and infectious laughter had people doubling over or rolling on the floor with laughter themselves. She captioned the video, "It's the simple joys in life. " And so many people agreed--it has now over 140 million views and over 3 million shares on Facebook.  

Now, Candace's simple message of "simple joys" has led to wonderful experiences beyond her wildest imagination. Her video caused the Chewbacca mask to sell out at Khol's, the retail store where she bought the mask. In appreciation, the store gifted her with additional Chewbacca masks so she didn't need to share hers with her husband and her two kids, more Star Wars toys, and US$25,000 worth of gift cards.

CONTINUE READING BELOW

Recommended Videos




ADVERTISEMENT - CONTINUE READING BELOW

Then, Candace also visited Facebook HQ, had some alone time with the social media giant's founder, Mark Zuckerberg, and went biking with Chewbacca! She also got to meet Star Wars: The Force Awakens director JJ Abrams and film a sketch with him and James Corden who had her on The Late Night Show. "That blew my world away," she told Corden of the experience. Peter Mayhew, the actor who plays Chewbacca sent her a sweet message and four VIP tickets for a meet-and-greet. She had also visited Lucas Film Headquarters. She's practically part of the Star Wars family now. 





"The best part of all of this is being able to share joy with people, hear stories of people coming out of depression," she said in an interview with 

Good Morning America

. Payne recounts a woman sent her a message saying she hasn't laughed in two months since her dad died. Another spoke about how he hasn't had a gut-wrenching laugh in two years.

ADVERTISEMENT - CONTINUE READING BELOW

"I had one lady message me and tell me she has an autistic daughter that hadn't laughed in two months, and she said every time she showed her the video she laughed and laughed. And from one mama's heart to another mama, to see a child laugh that you haven't' seen laugh, those are the stories I will take with me every day," she shared.

What other parents are reading
Payne thinks her video was such a huge hit because the world need a good laugh. "I think we're in need of somebody to lift our spirits, to not take ourselves so seriously, and to maybe break some cynicism worldwide. She also shared the secret behind her simple joys: "It really is about thanking God for every single thing we have. When you have a heart that is grateful, we laugh more." 

Yes, counting your blessings leads to even more blessings.  
ADVERTISEMENT - CONTINUE READING BELOW
What other parents are reading

Trending in Summit Network