See All 13 Cutie Celebrity Babies Born in 2019 (So Far!)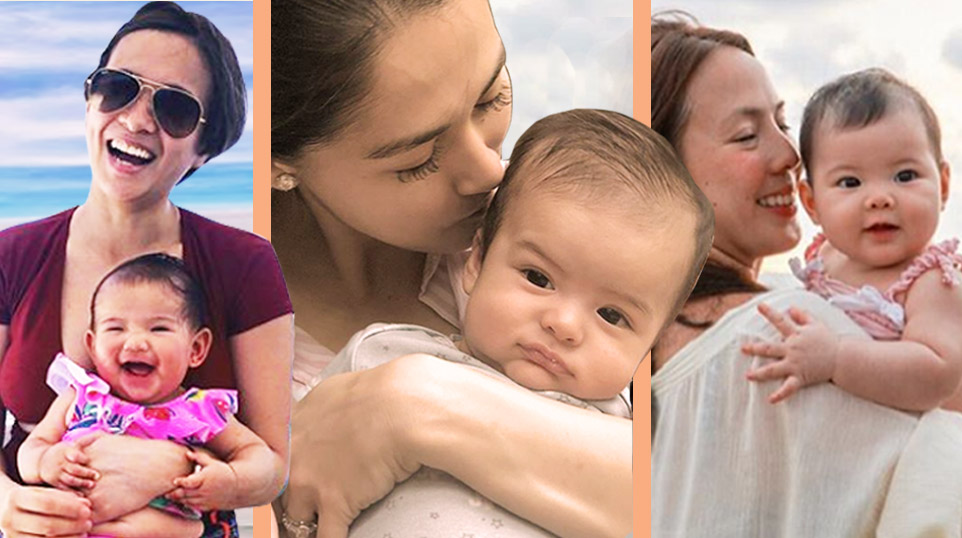 So far in 2019, we've met a lot of adorable babies born to celebrity moms whom we've kept an eye on since their pregnancy announcements. Many of these little cuties are second-born children, but there are a few who are their parents' first child. We're still waiting on a lot of celebrity moms to give birth this year (Andi Eigenmann is about to pop, actually!). But for now, let's take a look at the cutest babies of 2019!

Summer Ayana Reyes Contis

Our buena-mano celebri-baby of 2019 is no other than LJ Reyes and Paolo Contis. Their first child together, daughter Summer Ayana, was born on January 7. The little girl was so eager to come out that her parents thought she'd be a December baby. Dad Paolo posts the funniest and cutest videos of Summer.

Corazon Amelia Manzano Reyes

ADVERTISEMENT - CONTINUE READING BELOW

On January 19, Andi Manzano gave birth to her second daughter, Amelia. According to the mom of two, it was a tough, challenging, and extended delivery, and her husband, GP Reyes said she "pushed hard for hours." The new addition to their family is quickly following the footsteps of her Ate Olivia.

Elijah Quiambao Roberto

A couple of days after Valentine's Day, on February 16, Miriam Quiambao, age 44, gave birth to her first baby, Elijah. Her doctor tried to keep him cooped up inside her womb for three weeks as she was only 34 weeks then, and that's just one of the reasons why the beauty queen described her miracle baby's birth "supernatural."

Shiloh Jayne Pangilinan Solinap

Rochelle Pangilinan welcomed her first child, daughter Shiloh Jayne, on February 24. It was new dad Arthur Solinap's idea to name his daughter Shiloh, which means "His gift." Little Shiloh has captured the hearts of netizens when she showed that she's a singer than a dancer like her mom.

Legend Eric Tai

This little boy was born on March 4 and Legend is technically a preemie, but he's not tiny at all. It looks like he's going to take after his dad's physique. Eric and Rona Tai conceived Legend via in vitro fertilization (IVF). Rona had preeclampsia, which led to her delivering the baby early. 

Sixto Antonio Dantes IV

ADVERTISEMENT - CONTINUE READING BELOW

Marian Rivera welcomed her second child, son Ziggy, on April 16. His real name is Sixto Antonio Dantes IV, named after his dad Dingdong. The newest addition to Team Dantes is now enjoying his family's attention, including big sister Zia's. Based on his photos, it's still a toss-up who Ziggy looks more like: Mom, Dad, or Ate?

Austin Titus Samonte Chua

Nadine Samonte gave birth to son Titus on April 28. Like in her first pregnancy, the actress had Antiphospholipid antibody syndrome (APAS) or Category 2, plus Category 1 and 5 of the reproductive immune disorders (RID). She needed injections and had to take 30 tablets daily. It's all worth it, of course. Look at this cutie little tisoy!

Manu Raphael Peralejo Bonifacio

ADVERTISEMENT - CONTINUE READING BELOW

Rica Peralejo Bonifacio had the birth she wanted and prepared and prayed for. Manu made quite an entrance and an impact when he was born on June 9 at home. She had a vaginal birth after C-section (VBAC), and she had no pain medication, too. It isn't for everybody, but everyone is thankful Rica and Manu are doing great.

Augustus Geoffrey F. Eigenmann

Geoff Eigenmann and Angeli "Blush Maya" Flores welcomed their second child, son Augustus Geoffrey F. Eigenmann, on June 15. Geoff referred to their little boy as "our young king" and "another reason to be a better person and an even better example."

What other parents are reading
Kenzo Muraoka ADVERTISEMENT - CONTINUE READING BELOW
On Father's Day, June 16, Japanese-Brazilian model Hideo Muraoka and Spanish model and Agua Brazilian Swimwear founder Fatima Rabago welcomed their second child, baby boy Kenzo. Fatima, who first caught our attention on Instagram with her tiny baby bump at five months, and Hideo have an 8-year-old daughter named Daniela.
Kobe Federico Marquez Fariñas On June 19, Karel Marquez gave birth to her third child, Kobe, via emergency C-section. A month into caring for her newborn, she's dedicated to breastfeeding and building her breast milk stash for when she goes back to work full-time. She's not alone; her husband and her two older kids help, as well!
Alfred Thor Crichton Burnand ADVERTISEMENT - CONTINUE READING BELOW
Georgina Wilson hasn't shared a photo of her new son or his birthday, but she did share his name: Alfred Thor Crichton Burnand. With it was a photo: Alfred is with his dad, Arthur, and big brother Archie. He's surrounded with love.
Nolan Cristiano Prats Yambao Mars Pa More's Camille Prats gave birth to her third child, son Nolan Cristiano, on July 10. He weighed 7.5 pounds at birth. Camille and husband VJ Yambao didn't know how their daughter, Nala Camilla, who's turning 2 in September, would react but she's happy and already a bit possessive of her baby brother. 
What other parents are reading

Trending in Summit Network