Family of Ellen Adarna's Alleged 'Paparazzi' Gives Her Five Days to Make A Public Apology

"We prefer not to take this further, but as our only daughter, we are ready to take this wherever needed to protect her integrity."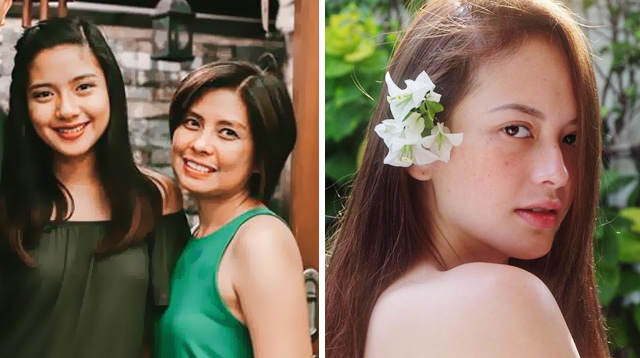 The mom of 17-year-old Eleila A. Santos who was accused by the sexy actress of allegedly taking a photo of her and partner actor John Lloyd Cruz in a restaurant in Makati is prepared to take the matter to the courts. 

Myra A. Santos gave Ellen Adarna an ultimatum to issue a public apology within five days, or she and her family will be forced to take appropriate legal action against the actress. She says they hoped not to make the matter bigger than it has gotten, but their attempts to resolve the issue privately with Ellen fell on deaf ears. 

In an open letter, which Myra posted on Facebook, she wrote that her family is "deeply hurt" by the "unneeded stress and unwanted attention" caused by Ellen's rants about her daughter Eleila on social media. She said the actress defamed her daughter and that they are only doing this to protect the minor.

What other parents are reading

Below is Myra's letter, which she had asked people to share until it reaches the actress, in full:

Dear Ms. Adarna,

I am the mother of Eleila A. Santos, the 17 year old girl you identified and accused as paparazzi in a series of Instagram posts.

We are reaching out to you to let you know how deeply hurt we are by the unneeded stress and unwanted attention you caused after you uploaded a photo and video of her on Instagram, without any consent from us.

After her friends told her about the 'Instagram Story' that you posted where she was first identified, she was mature enough to immediately write privately to you and explain the situation: that she was taking footage of her food. We initially took it lightly, thinking things would be resolved quickly and the 30-year old you would give the two minors the benefit of the doubt. Even her aunt wrote a private message to you, and mentioned she is a minor. However, we did not hear anything from you.

ADVERTISEMENT - CONTINUE READING BELOW

Instead, you posted a one sided narrative and insisted on erroneous and unfounded accusations again on Instagram. You have claimed my daughter is guilty, rude, and has been repeatedly insinuating my daughter is lying. You even said that you can handle bashers and hope my child could, too. I want to tell you that she is not like you, she never needed to. She is a private individual who has not even turned 18. As a celebrity, we would have thought you would understand the value of privacy.

When we watched this video, coupled with the lack of an actual response from your side – it was clear to us – you did not want an explanation. You only want to defame our daughter publicly.

My daughter, even though was not in the wrong, immediately reached out to you via an IG about the misunderstanding. She is my only living child. She is just 17 years old. The only good thing about this is I found out how strong and formidable she is; and how happy I am of how she turned out to be – a genuine person who can stand her ground. Now it is my turn to protect her, just as how our state protects its children.

My family and I have begun seeking legal assistance. As advised by our lawyer, we are now writing this letter. As her family, we ask you to publicly apologise to Eleila. We prefer not to take this further, but as our only daughter, we are ready to take this wherever needed to protect her integrity.

CONTINUE READING BELOW

Recommended Videos

As much as no one has the right to breach your privacy, you have no right to ruin my daughter's reputation.

My lawyer indicates that you will have five days to reply to this letter. Should you fail or refuse to do so, we will not hesitate to take the appropriate legal actions necessary under the circumstances, to protect and uphold the best interest and welfare of our 17 year old, Eleila A. Santos.

Myra A. Santos
Mother of Eleila Santos, 17 years old

 

What other parents are reading
In an exclusive interview with Smartparenting.com.ph, Myra opened up about her daughter's unexpected fame following Ellen's social media posts.
"I know my daughter will never do what you are accusing her of doing. Kung hindi kita kilala, mas lalong hindi ka kilala ng anak ko, and I can't see any reason for her to take a video and photos of you. I didn't bring her to one of the most reputable schools in the Philippines to be a liar. Those are not the values we taught our daughter," she said.
She stood by her daughter Eleila's innocence and is proud of how she had handled things by far. "This incident made me realize how strong my daughter is. I felt sorry for her, but I'm proud of the way she answered the comments that she was getting on social media," Myra said. 
After friends told Eleila about Ellen's post, she took to Twitter to defend herself and even privately messaged the actress to show that she's wasn't purposely taking a video of the couple. But instead of replying to her privately, Ellen posted another rant on her Instagram Stories. 
ADVERTISEMENT - CONTINUE READING BELOW
What other parents are reading
The sexy actress insisted that the teenager's reaction upon seeing her taking a video of her actions is proof of her guilt. "Girl, you can deny all you want, but before your food arrived, you knew what you guys were doing. So yeah, whatever... feeling na kung feeling, but hindi kami tanga," Adarna said. 
Ellen admitted that she thought about approaching Eleila to ask her to delete the video, but decided otherwise. "Instead of getting bad trip and all, I just decided to reciprocate and do what she did. So fair lang," Adarna said. If the teenager wanted to take a photo of the food, Ellen said she shouldn't have included the people in the background. 
"You can justify what you want to justify, and I can do what I want also because I am patol like that," Ellen said. "You can stop acting like a victim," she said, adding that people will always choose to believe one of two sides of a story. "So, deal with your bashers. 'Coz me, I can handle them pretty well. And, you know, good luck to you," the sexy actress added. 
What other parents are reading
The teenager then answered Ellen's accusations via Twitter. At first, she only took the incident lightly, but after getting a lot of feedback, both negative and positive, she decided to post about it because "what Ellen did was very personal and invasive of our privacy." Eleila says she has no qualms about admitting it if it was her fault, but insisted that she really had no idea who Ellen is or that she was included in her video. 
ADVERTISEMENT - CONTINUE READING BELOW
"If we were taking a video, as an artist, I think you should be professional upon solving such things," Eleila tweeted. "It's clearly not right for her to simply assume without knowing our side as well. What she did is not only unethical but illegal as well," she added. 
As of this writing, Ellen has yet to reply to Eleila's tweets or the open letter penned by her mom Myra. 
ADVERTISEMENT - CONTINUE READING BELOW
What other parents are reading
Eleila said her initial reaction was to laugh about the incident. "But then we decided to post since what Ellen did was very personal and invasive of our privacy."
Celebrate your pregnancy milestones!

Enter your details below and receive weekly email guides on your baby's weight and height in cute illustration of Filipino fruits. PLUS get helpful tips from experts, freebies and more!
You're almost there! Check your inbox.

We sent a verification email. Can't find it? Check your spam, junk, and promotions folder.

Trending in Summit Network