Gelli de Belen's Secret to 21-year Marriage: Choose Your Spouse Well

The mom of two gives credit to husband Ariel Rivera, whom she describes as a real family man.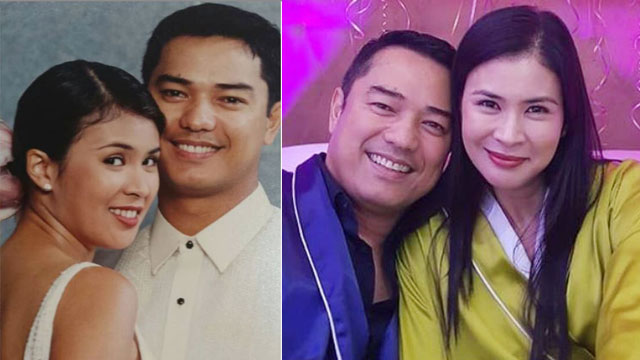 The actress and mom of two credits her husband, singer-actor Ariel Rivera, for their marriage which has lasted 21 years (and counting), saying he truly is a family man. 

"I am blessed to have a husband who truly values family as much as I do. He isn't interested in the glitz that comes with our job, and it really helps lessen additional stress," Gelli de Belen told Inquirer.net. 

ADVERTISEMENT - CONTINUE READING BELOW

At this point in her life, Gelli, 45, is empty-nesting as their two sons Julio, 20, and Joaqui, 18, are studying in Canada, learning the ropes to independence: riding the bus to school, cleaning the house, cooking their food and washing their clothes without the aid of a helper. It's something the couple has been preparing their kids for their whole life.

CONTINUE READING BELOW

Recommended Videos

ADVERTISEMENT - CONTINUE READING BELOW

More from Smart Parenting

In an interview with the Rivera couple in 2012, Ariel told Smartparenting.com.ph, "We're giving them all the responsibilities right now, para pagdating nila ng 17 or 18, we can trust that they'll do the right things when they go to Canada to study, even if that means it will just be the two of them going."

ADVERTISEMENT - CONTINUE READING BELOW

Gelli added, "[We're] hoping that we brought them up well, and that they fit in whatever environment they live in, whether it's in school or a social situation. I want them to always be comfortable in themselves, and confident, and hoping that whatever we taught them, whatever they learned throughout the years, they live by them."

ADVERTISEMENT - CONTINUE READING BELOW

True enough, their kids are thriving on independence. Gelli tells Philstar.com that their present setup has made the bond between her husband and their sons tighter, because the two constantly seek the advice of of their father. It also helps that growing up, Ariel and Gelli made sure that the boys had a solid spiritual foundation, so Gelli trusts that they'll be able to pull through difficult situations, even when they're physically apart from them. 

ADVERTISEMENT - CONTINUE READING BELOW

More from Smart Parenting

Choosing the right partner for life

Gelli met Ariel when she was 19 and he was 26, and while it took a while for the two to settle down ("I already knew then, kaya lang, she was too young"), Ariel has this to say about marrying Gelli: "I think I made a great decision," he told Smartparenting.com.ph. 

"I really have a great life. Success isn't about the money I have. Success is when I can live the life I want. That's success, and in that way, I'm successful."

Now, 21 years after they tied the knot, this is Gelli's advice to women: "Choose your spouse well, because at the end of the day, it will just be the two of you.

ADVERTISEMENT - CONTINUE READING BELOW

More from Smart Parenting

"More than love, respect and generosity of spirit help in making any partner stay with the other. Communication helps, but it has to be two-sided," she expounds.

On the subject of mistresses, the role of which she plays in her latest movie with Bayani Agbayani, "Pansamantagal," she says she believes many of these women aren't happy with their situation, but because they choose to stay, they are hurting other people. "That can't be a good way to live your life," she says.

Her advice to mistresses? "Leave him. You deserve better."

Trending in Summit Network