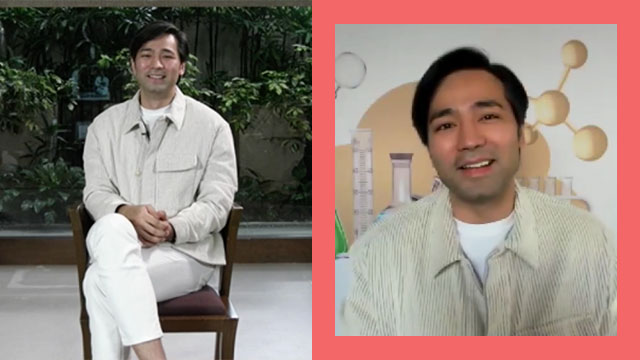 The Internet has undoubtedly played an essential role among moms and dads who are trying to raise children amid a health crisis. It gives them access to a wealth of information straight from the experts as well as helping them connect with fellow parents to share and gather tried-and-tested tips — all with just a few clicks or taps on a smartphone, tablet, or computer.
But how can you know for sure that what you are reading and sharing is true?
During the "Parentology: Science of Nourishing Possibles," Nestlé NANKID®'s first-ever interactive virtual event held on August 27, 2020, Dr. Hayden Kho, Jr. advised parents to be more discerning about the things they see and read on the Internet, especially when it involves the health and nutrition of their children.
"You have to have a system on how you do your research so you can remove the frou-frou and focus on what really matters, only on the salient points," Hayden said.
To elaborate, Hayden shared his three-step method in filtering out information to separate fact from "junk":
Step 1: Limit the intake of information by checking the reliability of the source.
Step 2: Look for proof to ensure all claims, whether seen in an article or post or on the ingredients list of a product, are backed by scientific evidence.
Step 3: Verify this information with trusted partners, may they be reliable friends who are also parents, medical experts, educational institutions, and other relevant groups.
To help the attendees visualize the process, Hayden likened his method to picking a book in a bookstore: "When you look at a book, you look at the author, and see if the author is credible. And then what do you do? You open [the book], check the table of contents. Does it talk about the things that the book claims to be talking about?
"And then you try it a little bit. You read a portion and see if it's quality information. And then, you're good. If you like it, if it looks like it's backed by science… then, okay na 'to."
Among Hayden's trusted partners are NANKID®, to which he said he's grateful for giving him and his fellow parents a platform to talk about raising kids and verify information with scientific proof.
"I was fortunate to be a part of two programs they have: 'Parentology,' which helps parents navigate this confusing parenting thing, and 'Ask a Pedia,' where parents can ask a pediatrician," he said.
"This is actually what I love about NANKID®: it's backed by science, and they have these platforms," added Hayden, who is also a dad to 5-year-old Scarlet Snow.
"Parentology: Science of Nourishing Possibles" was hosted by Claire Celdran-Rodriguez and Lexi Schulze. The event was held entirely virtually with the hosts filming in a studio and all other speakers filming from their homes' safety. Among the special guests were NANKID® mom ambassadors like Cole Hernandez, Joy Mendoza, Joy Sotto, and Vanessa Matsunaga, who shared their own parenting stories during the program's Q&A session.
To participate, all attendees were given access to a website specially created for the event. The website housed a photo booth along with various activities and games designed to help participants learn more about NANKID® OPTIPRO® FOUR, the only milk with clinically proven OPTIPRO® as well as human milk oligosaccharides (HM-O), Bifidus BL Probiotics, and no sucrose to support children's optimal growth and immunity.
Kits containing vials of different-colored sand, beakers, tubes, and a magnet were also sent to attendees and their kids before the event to participate in a real-time, virtual science experiment that helped children enjoy the amazing science behind their milk.
Apart from these activities and talks from Hayden and the celebrity mom influencers, executives from NANKID® and Nestlé were also present through video calls to talk about the research Nestlé has been doing over the years to develop NANKID® OPTIPRO® FOUR's best formulation yet.
"This is one of the reasons why we are able to gain the trust and recommendation of experts, particularly pediatricians worldwide who always strive to give the best care to their patients," Nestlé Marketing Lead for Premium Milks Aubrey Iñigo said of NANKID®.
On being a father and teacher
In addition to sharing his personal research method, Hayden shared how home life had been for his family so far. Like many parents, he and wife, Dr. Vicki Belo, have spent most of their time inside the house. Although work still keeps them busy, Hayden said they've also been hands-on in taking care of their daughter Scarlet.
"Scarlet is having a grand time because Mommy and Daddy are always home for the first time in her 5 years of life. And she loves it," Hayden shared.
"Sabi naman natin, 'di ba, how children experience love is by how much time the parents give the child. So I think, I really believe that Scarlet is experiencing a lot of love at this time," he said.
In parting, Hayden reminded parents to focus not just on building and nurturing relationships but also their family's health, saying, "I think it's very important this time to know how to properly do your research to be able to filter out the junk."
"Focus on what truly matters, and like [what] we said kanina, what truly matters is when you see something, when you read something especially when it comes to nutrition, you have to ask: 'Is this backed by science?'"
Follow NANKID Optipro Four on Facebook for more information.
ASC REFERENCE CODE: N139P092920NS