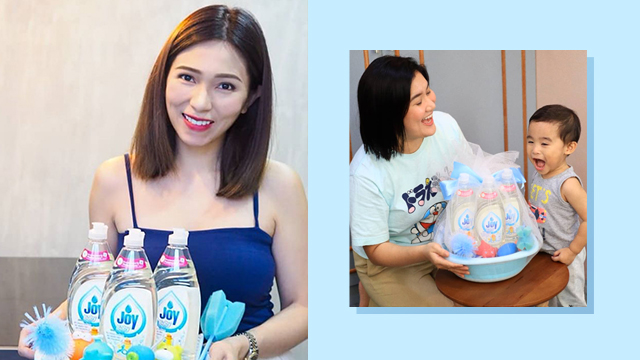 It's a no-brainer: Moms are very particular about making sure products, utensils, and other things their babies use, especially those that come in frequent contact with their mouths, are kept cleaned and sanitized.
That's why moms go the extra mile when looking for the most appropriate cleaning products. They read the labels to double-check the ingredients and look for chemicals that can be potentially harmful to children. And they are forever loyal to brands they can trust, and they will share the news to fellow moms.
Case in point: Dishwashing liquid brand Joy recently made Joy Baby available in the market. Celebrity moms and influencers are already talking about it on social media. And based on the feedback on their posts, such as here and here, more moms are looking forward to trying Joy Baby themselves.
Actress Regine Angeles-Leaño, singer Princess Velasco, and bloggers Kris Lumagui, Laura Alvarez of Mommy Mundo, Grace Maulion of Tipid Mommy, Bernadette Zulueta of Millennial Moms PH, and Melanie Lluch of Mommy Bloggers Philippines raved about the product's formulation, which has no heavy perfume, no parabens, and no added dye.
Meanwhile, vlogger Pehpot Pineda shared, "We moms are not OA when it comes to our baby no. Talagang we always make sure lang na safe ang mga gamit ng anak natin, from the gamit itself up to sa mga panglinis na gagamitin natin. Hindi pwedeng malinis lang, dapat guaranteed din na safe kay baby."
Pediatricians recommend Joy Baby's mild, safe, and effective formulation, too. With this seal of approval, moms can now have peace of mind when cleaning their babies' feeding bottles and other utensils.
Joy Baby is now available in leading groceries, supermarkets, and drugstores nationwide in 495ml (PHP155 SRP) and 375ml (PHP112 SRP). It's also available on Lazada and Shopee. For more information, follow Joy Philippines on Facebook.
ASC REFERENCE CODE: P047P033120BS