'The Best Way To Love Your Children Is To Love Their Mother,' 7-Year-Old Kulot Reminds Us In Trending Video

"Tatay, magpakabait ka. Sa susunod, Tulfo na," Kulot said.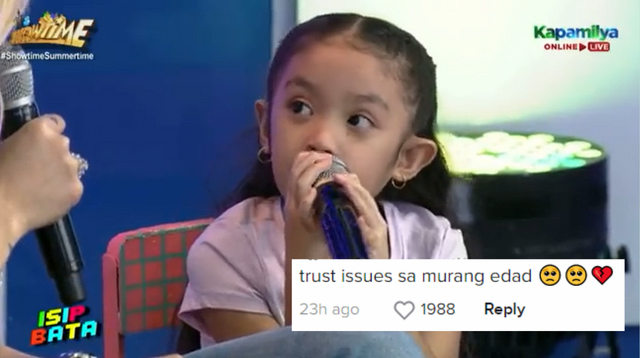 If you haven't seen the viral video of a child contestant named Kulot in the noontime variety show It's Showtime, spoiler alert: it's going to break your heart. 

The 7-year-old girl named Princess Caponpon has a sweet Batanguena accent and seems to be very mature for her age. 

In the video, hosts Vice Ganda and Anne Curtis were interviewing Kulot. The former was asking her about her parents, who were also present in the show, and we weren't prepared for what Kulot has to reveal about her dad, "May ka-text araw gabi."

She also quipped, "Tatay, magpakabait ka. Sa susunod, Tulfo na," referring to the public assistance and investigative news show, Isumbong Mo Kay Tulfo.

"Tatay, magpakabait ka. Sa susunod, Tulfo na," Kulot said.


Kulot went on saying, "Kasi madami pa din pong ka-text yan." Vice responded, "Baka kumpare?" Kulot argued, "Bakit ang pangalan ay Barbie?"

Although Vice tried to explain to the child that what matters is that her parents love her and are now here to support her, what broke our hearts was when Kulot refused to say "I love you" to her dad.

Vice asked her, "Mahal mo ang itay?"  Kulot said, "Oo." 

But when Vice requested Kulot to tell her dad, holding back her tears, she replied, "Wag na ho." 

Netizens weigh in 

The video clip has been shared on various platforms, but the sentiments of the netizens were the same: parents, let's not be the first to break our children's hearts.

On TikTok, one of the top comments in the reposted video which has been viewed over 4 million times read, "Yung unang lalaking nakabreak ng heart ni kulot is yung tatay pa niya."

 "This broke my heart today. I feel for you, Kulot. Hope this will bring awareness to parents na i-consider ang feelings ng bagets."

On Twitter, one user shared the video and said, "This broke my heart today. I feel for you, Kulot. Hope this will bring awareness to parents na i-consider ang feelings ng bagets."

Another comment, which is a good reminder for all of us this, "The best way to love your children is to love their mother."

"Growing up witnessing how your father cheat on your mother was the worst, and what makes it unbearable is seeing your mother cry in silence," one TikTok user said.

ADVERTISEMENT - CONTINUE READING BELOW

Another Twitter user said, "Kulot's tears screams a child's trauma from witnessing her dad cheating on her mom. I hope those cheaters know that they're not only breaking their wives' heart[s] but also their children. Ladies, let's choose wisely. We can choose a husband but our child can't choose their father."

READ ALSO: For 22 Years, I Took The Blame For My Husband's Cheating And Emotional Abuse

Cheating has effects on children

Over the years, several studies have found that cheating or infidelity among parents has negative effects on children. 

"When the betrayed partner discovers their partner has been unfaithful, it is likely to be uncomfortable in the house. People are sad, angry, and scared. Every part of life is affected by the discovery, including their ability to parent, because of the emotional intensity hovering in the house," said Talal Alsaleem, a marriage counselor said in a 2022 Insider article. 

"As children are exposed to emotional distress, they will respond with similar distress, often feeling depressed, sad, tearful, or irritable. They don't know what is going on in their house, and their cognitive and emotional bandwidth is really preoccupied with what is going on with their parents," he added.

Even grown-ups carry the same trauma when their parents separate, may it be due to cheating or falling out of love.

READ ALSO: Usapang Lalaki: Husband Pens Open Letter To Men Cheating On Their Wives

The trauma knows no age

An anonymous mom shared her experience with Smart Parenting, when her 74-year-old dad finally decided to call it quits with their mom and left them after years of trying to hold the family together. 

"Nung pandemic since lagi silang magkasama ni mama sa bahay, napuno siya. Sabi niya, since nakapagtapos na naman kaming magkakapatid, pwede na silang maghiwalay," the mom said.

Now with a child of her own, she said that her father's decision has left her and her siblings with a void, "Wala kaming model when it comes to relationships. Kung paano ba dapat ang mga lalaki."

If this is the effect of cheating on an adult, what more to a child?

ADVERTISEMENT - CONTINUE READING BELOW

As much as we want to keep our marriages intact, when this happens in your home, the marriage counselor reminds us, "Kids should be assured that they are not at fault for any friction in the house."

"In the recovery process, I highly suggest in addition to specialized infidelity-recovery couples therapy, parents engage in family therapy to include children. There is potentially a lot of damage, and children need a place to safely explore the impact an affair may have had on them," he said.

Read the four things a couple needs to rebuild a marriage after cheating here.

Trending in Summit Network