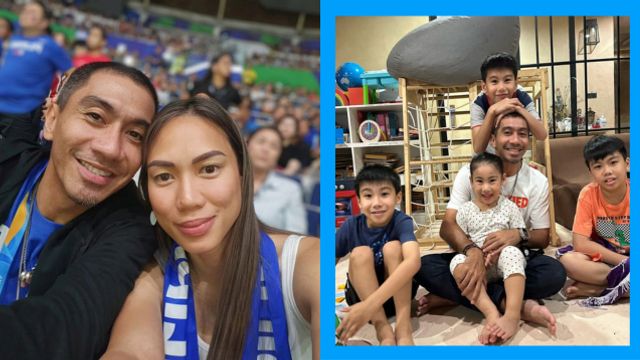 Professional basketball player LA Tenorio announced that he is now cancer-free!
LA revealed in March this year that he was diagnosed with Stage 3 colon cancer. Prayers and well-wishes poured for the Philippine Basketball Association (PBA)'s "Iron Man," who has four kids with his wife, Chesca Bugia Tenorio. He then asked for privacy for his family's sake.  
Just this week, LA released a statement on his Instagram, saying, he is now "in remission." 
"The past 8 months were really challenging for me and my family, 2023 started off well winning the championship, but closed that conference with a groin injury. Who would have known that was God's way of knocking on my door, giving me a sign to rest and mind my body. Soon after, I have been nursing a tumor in my colon."
He detailed his journey with a photo taken in a Singapore clinic, where he had his chemotherapy treatments done. "Feb 2023, for me, marks one of the hardest period [sic] of my life. From not knowing the extent of cancer I have, to facing my wife and children knowing I have a life-threatening disease. One thing though I kept constant was God, my faith. I drew strength from Him. I entrusted everything to Him, believing everything has a purpose. 
READ ALSO: This Book By A Breast Cancer Warrior Explains Breast Cancer To Kids
My journey - from the tests, the surgery, the official diagnosis, to the 12 sessions of chemotherapy - was an experience, I will never forget, it's the kind that marks us and gives us a different perspective in life. Just like many other cancer patients, there were bad days but all I can be grateful of is God gave me the power to continue my life as a father, provider, son, brother and friend to everyone around me all throughout the journey.
Sept 19, 2023, as I step out of my doctor's clinic with my wife, and as my nurse pulls out my chemo line plugged into my heart for 6 months, I am writing this message to everyone. For those who were my prayer warriors, for those who showed me so much love and support... Know that, I am forever grateful to all of you. My scan and last test results show no trace of cancer and that the treatment was effective. I am now in remission. Praise God!"
READ ALSO: 'Every Bad Day Is Better Than No Day': Breast Cancer Warrior Arms Daughters For The Future
The 39-year-old Barangay Ginebra guard will be playing again soon.
"Now, I am returning to basketball. For the love of the game.
This time with a higher purpose.
Not as the old LA, but hopefully with the new and better version of myself. I hope I can inspire people through the game of basketball - that life, winning battles, winning championships - are all more meaningful not because of the end goal but because of the journey.
My journey was filled with people I love, people I inspire, people who inspire me, and people who prayed for me. It made every hardship, every little daily win, every nervous waiting game, every part of the journey more meaningful. It made everything worth it. It made me realize what I am living for and fighting for. 
Life is short. Let's live life to the fullest and more meaningful this time around.
I can't wait to touch a basketball once again.
This is my story. And I'm ready to enter the next chapter of my life.
And all To His Glory."
Among the celebrities who were happy with LA's news were his friends and fellow athletes, Mark Caguioa, JC Intal, and Rico Maierhofer. 
According to a report, LA will be among the coaching staff of Gilas Pilipinas, together with Tim Cone, in the upcoming Asian Games to be held in Hangzhou, China.
READ ALSO: This Triathlete Mom Was At Her Fittest When She Was Diagnosed With Breast Cancer
What does cancer remission mean
According to Healthline, there are different types of remission, partial, complete, and spontaneous. Although the cancer cells in your body has lessened during this phase, these can start growing again.
Here are some ways to ensure your well-being during remission:
1. Keep your weight in check at a moderate level.
2. Consume a well-balanced, healthy diet rich in fruits, vegetables, and whole grains.
3. Stay physically active to the best of your ability.
4. If you smoke, consider quitting.
5. Limit alcohol intake to no more than one drink per day for women and two drinks per day for men.
6. Prioritize your mental health by engaging in enjoyable hobbies or participating in a cancer support group.