Vico Sotto's Victory Is a Family Affair! How His Parents and Siblings Supported Him

They may not be your typical family, but they prove love and support is all you need to make it work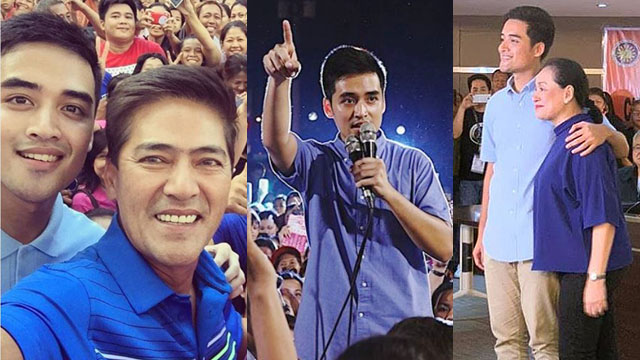 Results from the May 13 local and senatorial elections in the Philippines have drawn mixed reactions from Filipinos, but many consider the victory of Vico Sotto, 29, who went up against Pasig City's incumbent mayor Bobby Eusebio, to be very good news. With 206, 751 votes against the latter's 119, 993, Vico ended the Eusebios' 27-year reign in the city. 

Behind Vico's notable triumph is his family, led by his mom, multi-awarded actress Coney Reyes and his dad, veteran TV host and comedian Vic Sotto. The former partners gave their full support to their son every step of the way. 

In October 2018, Vico filed his candidacy for Pasig City Mayor with both his parents in tow. 

ADVERTISEMENT - CONTINUE READING BELOW

Both Vic and Coney joined Vico on the campaign trail whenever they could. 

It was also touching to see Vico's older siblings Danica Sotto-Pingris and Oyo Sotto, Vic's children with first wife Dina Bonnevie, and younger half-sister Paulina Luz Sotto-Llanes, help their brother in his campaign, as his siblings from his mother's side surely did, too. Even their spouses made time.  

ADVERTISEMENT - CONTINUE READING BELOW

The four have always maintained a tight-knit relationship and make it a point to spend time together on special occasions, moreso now that they have a fifth sibling, baby Talitha, to make that bond even stronger.

ADVERTISEMENT - CONTINUE READING BELOW

What other parents are reading

Even his dad's wife, TV host Pauleen Luna, showed Vico support by joining in his motorcade and posting photos on social media.

ADVERTISEMENT - CONTINUE READING BELOW

A day after the elections, Vico's win became even more apparent. During his proclamation as Pasig City's new mayor, Coney raised her son's hand in victory, and shouted, "Glory to God! Thank you, Jesus!"

Vico Sotto's mom, Coney Reyes shouts: "Glory to God! Thank you, Jesus!" as she raised the hand of her son in today's proclamation #Halalan2019 #HalalanResults  | via @sherieanntorres pic.twitter.com/XYeeNx5eKL

— ABS-CBN News (@ABSCBNNews) May 14, 2019

The heartwarming bond between mother and son is undeniable in this candid photo:

ADVERTISEMENT - CONTINUE READING BELOW

With grateful hearts, Vico's siblings took to social media to thank the Pasigueños who gave their trust to their brother.

Part of Danica's message to Vico reads, "Maraming nag-alala at nagdasal para sayo. Mabigat ang kalaban pero di kayo sumuko. You have proven that FAITH should be BIGGER than our fears. I thank God for your heart to serve. I know that he will use you to transform this nation. Congratulations, Mayor Vico Sotto! We will always be here to support you! Love you!"

ADVERTISEMENT - CONTINUE READING BELOW

She also congratulated Vico's mom Coney, saying, "Congratulations also to Tita @coneyreyes -Thank you for raising him well," to which Coney replied, "Thank you for your love and support always, Danica! Glory to God!!!"

PHOTO BY

@danicaspingris/Instagram

Oyo referred to his brother in his post as "Mayor Vico Sotto," and congratulated him for his win, a gesture Coney greatly appreciated. She replied with the comment: "Thank you, Oyo and Tin! God bless you and you precious children always!"

ADVERTISEMENT - CONTINUE READING BELOW

 

PHOTO BY

@osotto/Instagram

ADVERTISEMENT - CONTINUE READING BELOW

Paulina posted a throwback photo of herself and Vico and a current one and captioned them, "So sooooo proud of you brother!!!!!!! From annoying Kuya to MAYOR OF PASIG!!!!!! All your hard work truly paid off!!! So many exclamation points because I'm so happy for you!!!!!!!! Don't be mean to me na," she said jokingly. 

ADVERTISEMENT - CONTINUE READING BELOW

Besides a strong family support, Pasig's new mayor isn't short on credentials, either. Vico holds a degree in AB Political Science from the Ateneo de Manila University, and a Master's Degree in Public Management from the Ateneo School of Government. Prior to his mayoralty bid, Vico has also served as a Councilor in the City of Pasig.

In his latest Instagram post, Vico wrote a heartfelt thank-you message to his supporters, and shared his journey to being Pasig's new mayor in a nutshell:

"Moments before I was proclaimed, a man approached me, "6 months mula nung nag-file ka, pero para sa'min, 12 years in the making 'to." I am overwhelmed. Thank you, Pasig, for trusting me. Thank you to everyone who has been a part of this, in big ways or small. I am blessed to be the face of this fight, but I understand that this goes way beyond any one of us.

ADVERTISEMENT - CONTINUE READING BELOW

"Change comes with uncertainty and fear, but change is inevitable if we want to improve. Let us forget petty politics and work together to realize positive reforms and fulfill our dreams and visions for our Pasig City."

 

Trending in Summit Network