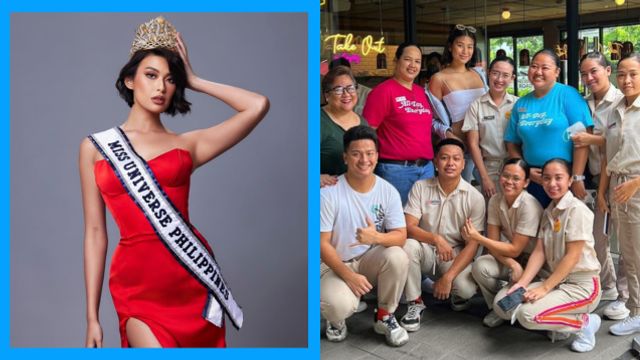 Did you know that Miss Universe Philippines bet Michelle Dee's advocacy is for autism? Michelle has been a goodwill ambassador for Autism Society of the Philippines, Southeast Asia's largest autism non-governmental organization since January 2020.
"It's always been a life-long advocacy for me to advocate for autism awareness, autism acceptance, and inclusivity," Michelle said in a May 2023 interview with Kapuso Mo, Jessica Soho (KMJS). "From education to healthcare to governments giving people with disabilities the proper opportunities, kulang pa talaga.
Michelle Dee siblings
Michelle's two brothers, Adam and Mazen, are both on the autism spectrum.
She's said that it hurts her to hear the words spoken toward people on the spectrum. "The common terms would be like, 'retarded' or 'stupid' or 'dysfunctional, Michelle said. "I always defended them if anything because that's what we do with family. But at the same time, it was so frustrating for me to see how they were being treated."
Michelle Dee's advocacy is autism awareness
Michelle spoke about autism awareness in 'Voice For Change', a category that allows Miss Universes delegates to talk about their chosen advocacies in a three-minute video. 'Voice For Change' is a collaboration between Mouawad, CI Talks, and the Miss Universe organization.
She is among the top 10 silver finalists for 'Voice For Good'. In her video, Michelle talks about the work the Autism Society Philippines has done through the Autism Works program. It has opened hundreds of positions in 53 enterprises and 10 provinces around the philippines.
RELATED: Autism In The Workplace: "They Were Hired Because Of Their Abilities, Not Out Of Charity"
"Individuals on the autism spectrum possess a unique skill set making them valuable assets in various roles, from technology and data analysis to creative fields as well, Michelle said in the video.
She adds, "We stand united with individuals on the autism spectrum and their families, and together we can build a more inclusive, empowering, and sustainable world for all.
Voice For Change will name three winners who will take home a cash prize worth $12,000 (over Php 600,000) and will collaborate with CI talks in creating campaign videos that will spark positive change.
Michelle Dee on her siblings who are on the autism spectrum
In her KMJS guesting, Michelle spoke fondly of her two brothers. "Mazen can solve [a] 5-piece puzzle in less than a day. Adam will not forget your birthday as soon as you meet him. He's like a human calendar," she said. "They're both very gifted, and it's just unfortunate that people don't recognize that."
Michelle Dee is Miss Universe Philippines 2023 and competed against 83 delegates to vy for the Philippines' fifth Miss Universe crown. Miss Universe 2023 coronation night was be held on November 18 at El Salvador. Michelle was part of the Top 10 but did not advance to Top 5. Miss Nicaragua, Sheynnis Palacios, was crowned Miss Universe 2023.
Michelle Dee's parents
Michelle Dee is the daughter of beauty queen Melanie Marquez, who won Miss International 1979 and businessman Frederick Dee. She has five siblings: Maxine Dee, Miguelito Lapid, Mazen, Adam Jr. Lawyer, and Abraham Lawyer.