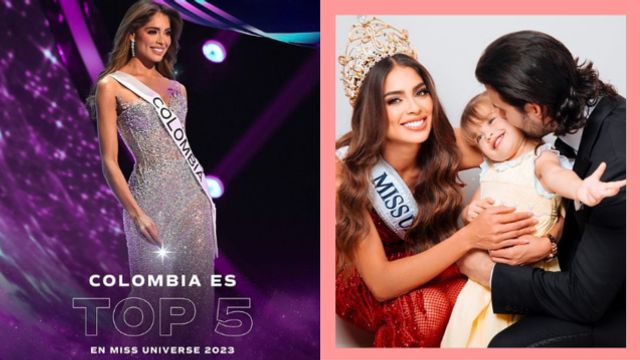 The Miss Universe 2023 competition was all about breaking barriers. With one historic moment after another, we also celebrate Miss Universe Colombia 2023 Camila Avella for being the first mother to earn a spot in the global competition's top 5 finalists.
"Honestly, being here is the most important. Because I broke stereotypes, I am married, I am a mother. So I'm really doing it for this. So I'm very happy and grateful to be here representing my beautiful country, Colombia," she told Dyan Castillejo when asked about the possibility of being crowned Miss Universe 2023.
Camila is the very first beauty queen who is also a mother to be hailed Miss Colombia. In April 2021, she gave birth to her adorable daughter, Amelia. "To marry is teamwork," she said. She revealed that her husband has been very supportive of her goals as much as she supports him in everything. 
The 28-year-old beauty queen and mother to a toddler would be willing to travel around the world if that's what it means to fulfill the job of Miss Universe. "Now what she's saying is if she wins, a job is a job, and if you have to go on your own, she will do that," Dyan translated during their interview.
As she earned a spot as part of the competition's Top 5 finalists, Camila was given the question:  If this was your last day on Earth, how would you live it?
Her remarkable response to it was, "I am already living it because I'm here. I'm breaking stereotypes. Being a woman, being a mother is to live history and legacy, something that I wanted to see in women, mothers, and children."
Delighted with how the Miss Universe organization has opened up its doors to mothers and married women, Camila sees her participation at this year's pageant as a win already.
The outgoing Miss Universe Organization president Paula Shugart emphasized the importance of looking beyond a woman's marital status when determining her abilities. She says that marital status is not indicative of a beauty queen or any woman's capacity to do any job given to her.
"We did not want to be in a position that we are precluding someone from competing if they felt that they can handle that job. If you know what the job description is…they need to be able to handle that job as a Miss Universe, whether they have a family or not," she told ANC in an interview.
For 70 years, the Miss Universe Organization has only allowed women aged 18 to 28 to compete, with additional qualifications of being a single woman. This year, married women (and those with children) vied for the crown.
"Now, women are able to have families, they're able to have a job, they're able to be a spokesperson. We should not be the ones to say, 'You can't do this," Paula stated in September 2022.
Miss Universe continues to heed the calls for inclusivity across gender, marital status, and by next year across all ages. The global pageant announced that they have already lifted the age restrictions meaning women aged 29 years and above are now qualified for the Miss Universe 2024. 
"This change will apply for all 2024 pageants globally. Starting then, every adult woman in the world will be eligible to compete to be Miss Universe," the organization said on its Instagram account.
This year, Miss Universe Nicaragua Sheynnis Palacios won the coveted crown.
This story originally appeared on Cosmo.ph.
*Minor edits have been made by the SmartParenting.com.ph editors.