Rica Peralejo Reveals The Bright And Youthful Bedroom She Prepared For Her Kids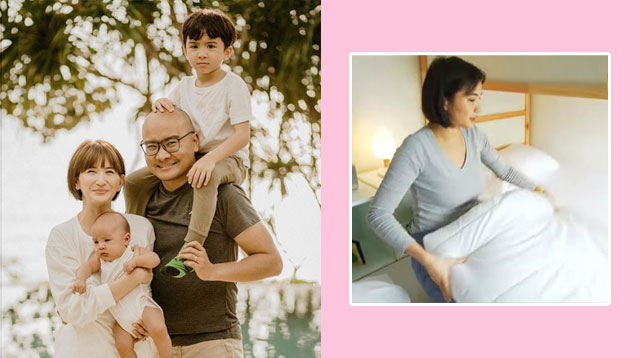 In her latest video and blog post, Rica Peralejo-Bonifacio reveals the bedroom she prepared for her two sons Philip and Manu.

Rica started her vlog by revealing that it took years for her to prepare the boys' room because her firstborn preferred to sleep with his mom and dad, given the fact that he was an only child for five years. Rica and her husband Joseph Bonifacio felt bad about taking Philip out of their bedroom, so they settled for co-sleeping instead.

One reason for this is that their setup allowed them to save up on electricity. "Dito sa Pilipinas, mahal ang kuryente, kaya lagi lang tayong sama-sama sa isang kwarto," she shared.

She added that some parents may also not be ready to have their kids sleep separately for them. "Sabi nga nila, it's not that the child is not ready. You have to ask a parent, 'Are you even ready to let your children go?'"

What other parents are reading

Finally, however, Rica and Joseph decided to have Philip sleep in his own room. Eventually, they will also have Manu use the bedroom, too. "Just to be clear, right now, they don't sleep in this room, but I've decided to fix it so I could prepare the way for them [and] to prepare the whole environment for them," Rica explained.

First, the room. In her blog post, Rica described it as "rectangular and straightforward"; though it is not that large, it has wide windows that let plenty of sunlight in.

ADVERTISEMENT - CONTINUE READING BELOW

Though not very large, the boys' room has a large window that lets in plenty of natural light.

PHOTO BY

Screenshot from YouTube

The most distinct part of the room is the double-deck bed, which Rica purchased from Ikea. She writes that this bed "can grow with the boys through the years. While I chose it to function as a double-deck bed for us, it can also easily be flipped upside down to turn it into a single poster bed instead."

The top bunk is also decorated with a blue tent that Rica bought in Singapore.

PHOTO BY

Screenshot from YouTube

Notably, the kids' room does not have a crib. Rica explained in her blog post that this decision was influenced by RIE principles and the concept of Freedom of Movement, which encourages parents to be mindful of their children's freedom by allowing them to move freely and make choices. "To be honest, I didn't realize how much of our baby items were actually designed to constrict children's will and movement until I encountered this philosophy," said Rica.

For her, cribs are an example of those constricting items. She said in her vlog, "Instead of letting that growing child sleep in an elevated place where there are … bars, why not just put him in a bed in a safe space, an environment where there is [nothing] that could be of danger to his life, that would enable [and] empower him to make decisions on his own, even on his waking up and sleeping?

"That is kind of why I don't have a crib — because it's elevated and a child doesn't really have the freedom to let himself in or out of that place."

The beds were completed with mattresses from Mandaue Foam. The mattresses Rica bought are of high-quality foam with the right balance of soft and firm. "We wanted quality mattresses that would grow with our children."

There is also the cabinet, which Rica had customized for her kids. She wanted it to be reachable so that Philip (and eventually, Manu) would be able to access his belongings with ease.

ADVERTISEMENT - CONTINUE READING BELOW

Rica wrote that "part of a child's developmental needs is to help them grow in independence and ownership through their environment, and a cabinet customized to their size is one way to do that."

Rica shared that she wants Philip to access his clothes easily so he can learn to dress up independently.

PHOTO BY

Screenshot from YouTube

ADVERTISEMENT - CONTINUE READING BELOW

The cabinet is also organized using small boxes for different articles of clothing!

PHOTO BY

Screenshot from YouTube

Completing the room are a bookshelf for Philip, a low shelf full of developmental toys for Manu, and a vanity corner furnished with personal care items.

Philip, who loves to read, will surely enjoy the reading corner inside the bedroom.

PHOTO BY

Screenshot from YouTube

ADVERTISEMENT - CONTINUE READING BELOW

In front of the toy shelf is a small space with a mat where Baby Manu can play freely.

PHOTO BY

Screenshot from YouTube

Completing the room is a vanity corner where the boys can learn to practice good hygiene habits.

PHOTO BY

Screenshot from YouTube

What do you think of the room Rica prepared? Share your thoughts with us!

 

 

Trending in Summit Network