Join the next Smart Parenting Giveaway and get a chance to win exciting prizes!
Join Now
Second-time Dad Philmar Alipayo Teary-Eyed After Andi Eigenmann's Ultrasound

Philmar recently visited Manila with Andi for her check-up and to get a "feel" of the city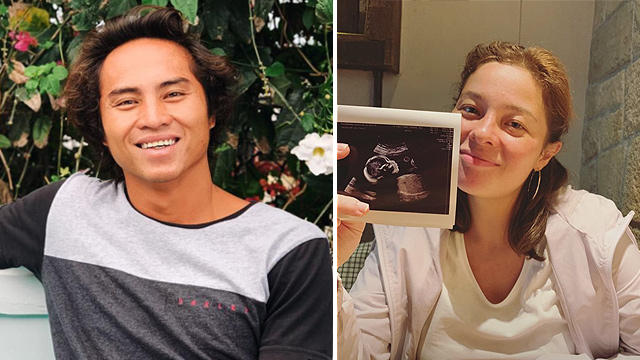 "Somebody almost cried!" 

This was the caption of actress Andi Eigenmann's Instagram Stories that shows her surfer boyfriend Philmar Alipayo holding prints of their unborn baby's ultrasound. Andi is a little over 23 weeks pregnant with her second child, another girl, based on a gender reveal party held on March 9.

On his own Instagram account, Philmar posted the same photo and expressed how happy he was about seeing the first images of their daughter. "I am so happy to see you today, so happy that I wanted to cry. I can't wait to see you soon my little [mermaid emoji].

"I can only imagine the day I get to finally meet you. I know for sure I will cry like a baby out of so much joy," the 26-year-old wrote in Cebuano (and translated to English).

ADVERTISEMENT - CONTINUE READING BELOW

Unknown to many, Philmar is already a dad to a half-French son, Kanoa (whom he fondly calls "Kanono" in his posts). The little boy, whose name means "the free one" in Hawaiian, turned 4 years old on March 2.

ADVERTISEMENT - CONTINUE READING BELOW

Still, this does not diminish the joys of being a new dad all over again.

More from Smart Parenting

In fact, in his own way, Philmar has been excitedly chronicling the progress of Andi's pregnancy by posting photos of his girlfriend on his social media accounts.

ADVERTISEMENT - CONTINUE READING BELOW

The Siargao-based surfing champion even said in one of his posts that he is "Practicing to be a city boi na for when our baby comes." Yes, he's willing to make that sacrifice for Andi and their baby!

ADVERTISEMENT - CONTINUE READING BELOW

The couple happily await the arrival of their baby girl, but for now they're enjoying the serenity of living a quiet life as a small family of three with Andi's 7-year-old daughter Ellie.

READ MORE STORIES ON ANDI EIGENMANN HERE:

Andi Eigenmann Teaches Ellie About Girl Power Through Beauty

Andi Eigenmann's Daughter Approves Of Boyfriend Philmar Alipayo

ADVERTISEMENT - CONTINUE READING BELOW

Andi Eigenmann Hits The Gym, Aims For A Healthier Pregnancy This Time

How Andi Eigenmann Shows Daughter Ellie to Be Her Own Person

Andi Eigenmann Replies To 'Sana Pakasal Ka Muna' Comment Amidst Pregnancy News

Andi Eigenmann Opens Up About Her Pregnancy and Her New Life With Philmar And Ellie

Andi Eigenmann Is Pregnant With Baby #2!

Get real and practical parenting advice