The Filipino Parent Votes: What Matters to Us (Part 1)

Who are these moms and dads voting for and why?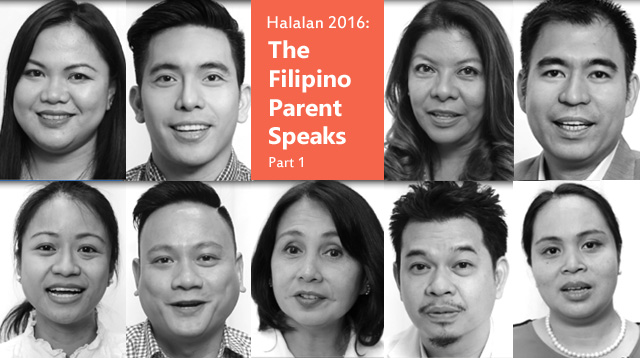 Never before has an election campaign been more intense. In the past weeks, people have taken to social media to express strong opinions about presidential and vice-presidential candidates – the ones they are voting for, and otherwise. In a way, it is refreshing to see across generations this renewed spark of patriotism – speaking up against prejudices, expressing desire for a better country, and how much everyone wants to be involved in choosing our next set of leaders.

Parents are absolutely no exception to those who take strong stands for their candidates. On the weight of their shoulders is a heavier burden. In their hands lie the responsibility of choosing the one whose leadership will affect the future of their children, at least for the next six years. Meet nine parents who take this responsibility seriously.



Ernesto Fernandez, Jr., Joyce Talag, Joey Inocencio, Reena Salvador, TJ Sarvida

Ernesto P. Fernandez, Jr. is 41 years old, married, and has three kids ages 21, 9 and 4. A lawyer by profession, he is supporting Vice President (VP) Jojo Binay's candidacy because "even before becoming a true Filipino public servant, he has sincerely advocated human rights, and he has a proven plan of how to help solve the problems of our country, especially the poor."

Joyce Talag is 31 years old, a solo parent to a 10-year-old daughter, left her corporate job to campaign full-time for Secretary Mar Roxas, because she believes he is the one to whom she could entrust the future of her daughter.

Joey Inocencio is 47 years old, married, and has a 4-year-old daughter. This lawyer will be voting for Senator Grace Poe in the coming elections because "not only does she have the best platform of government, but she also has the character and the ideals of a just and righteous leader."

Reena Rivera is 33 years old, married, and has four kids ages 13, 9, 6 and 2. A nurse and a former teacher, she admires the dedication and courage of Senator Miriam Santiago.

TJ Sarvida, 31 years old, is a single dad to a 2-year-old kid. He is the lead vocalist of the local band CRIB, and says he will vote for Mayor Rodrigo Duterte because he wants to see change in the government.




ADVERTISEMENT - CONTINUE READING BELOW

Susan Meily Santos, Rizal Pinlac, Jr., Lorraine Badoy, Aya Barrion

Susan Meily Santos is 53-year-old businesswoman. She is married and has three kids ages 31, 26 and 16. Because she wants a President who is strong, smart and decisive, she is giving her support to Senator Grace Poe.

Rizal Pinlac is 40 years old, married, and has two kids ages 9 and 5. He has a special-needs child. He works as a financial sales director and is also an entrepreneur. He is choosing Senator Miriam Santiago as his president because "she has all the qualities of a good president which I would want my children to emulate: academic and professional excellence, integrity, compassion, courage, political will, wit, eloquence, and above all, a high standard of morality and deep spirituality."

Lorraine Badoy is 53 years old, married, and has three kids ages 22, 17 and 15. A doctor by profession, she is firm in voting for Mayor Rodrigo Duterte because "I like that he challenges the status quo and that he has a heart for the poor. And he has the track record to show for it."

Aya Barrion is 41 years old, a lawyer, and a single parent to an 8-year-old son. She says she supports Secretary Mar Roxas's candidacy because "he is experienced and has integrity. He says what he means, and means what he says. He has concrete plans for everything in the country, and has the heart for the weak and marginalized people. Complete epitome of Bayan Bago Ang Sarili."

Lorraine, TJ, Ernesto Jr., Susan, Joey, Reena, Rizal, Aya, and Joyce all recognize the critical role they play in this elections not only as citizens of this country but more importantly, as parents. They explain why this 2016 election is crucial to them:

CONTINUE READING BELOW

Recommended Videos


Amid differing views yet strong convictions, these parents share with us what led them to their candidate of choice.

For TJ and Lorraine, it is an unsatiated hunger for change and a weariness for the status quo, which prompted them to support Mayor Rodrigo Duterte of Davao City.


On the other hand, Joyce, a volunteer for Mar Roxas and Leni Robredo's campaign, shares an optimism for Daang Matuwid with single mom and lawyer Aya. They believe that while there is still much to be desired for our country, we are on the right track with PNoy's administration, and need someone to continue working in this direction.


What about Vice President Jejomar Binay? Despite being ridden with controversies, mostly for his alleged unexplained wealth, the former Makati mayor finds a supporter in Ernesto, Jr.


In the meantime, Susan and Joey have decided to gamble their vote on the newbie among the presidentiables, Senator Grace Poe. With her relative inexperience and the issues surrounding her and her family's citizenship, why do they think the country is ready for her leadership?


Many think that if it weren't for her health, Senator Miriam Defensor-Santiago would be most qualified for the presidency. Reena sees this not as a disadvantage, but proof of Senator Santiago's genuine desire to serve the Filipino people. Rizal echoes Reena's sentiments.

In Part 2, these nine parents further speak to us about the issues that are most relevant to them and how they think their respective candidates can address these.



What other parents are reading
When it's time to choose the name on the ballot come election day, what will truly matter for you? Sound off in the comments below.  
ADVERTISEMENT - CONTINUE READING BELOW
Interviews by Lei Sison and Bubbles Salvador. Photos by Lai de Guzman. Videos by Insel Culla, Ray Gonzales and Trina Elefante.


Trending in Summit Network