The Filipino Parent Votes: What Matters to Us (Part 2)

Crime and corruption, poverty and education are very real concerns, as these parents discuss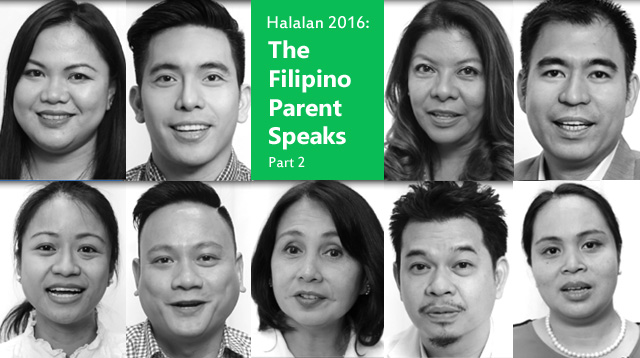 In part 1 of this series, we were introduced to nine parents who shared how critical their role is in the coming elections as they help decide the country's next set of leaders.



Ernesto P. Fernandez, Jr. is 41 years old, married, and has three kids ages 21, 9 and 4. A lawyer by profession, he is supporting Vice President (VP) Jojo Binay's candidacy because "even before becoming a true Filipino public servant, he has sincerely advocated human rights, and he has a proven plan of how to help solve the problems of our country, especially the poor."

Joyce Talag is 31 years old, a solo parent to a 10-year-old daughter, left her corporate job to campaign full-time for Secretary Mar Roxas, because she believes he is the one to whom she could entrust the future of her daughter.

Joey Inocencio is 47 years old, married, and has a 4-year-old daughter. This lawyer will be voting for Senator Grace Poe in the coming elections because "not only does she have the best platform of government, but she also has the character and the ideals of a just and righteous leader."

Reena Rivera is 33 years old, married, and has four kids ages 13, 9, 6 and 2. A nurse and a former teacher, she admires the dedication and courage of Senator Miriam Santiago.

TJ Sarvida, 31 years old, is a single dad to a 2-year-old kid. He is the lead vocalist of the local band CRIB, and says he will vote for Mayor Rodrigo Duterte because he wants to see change in the government.

ADVERTISEMENT - CONTINUE READING BELOW



Susan Meily Santos is 53-year-old businesswoman. She is married and has three kids ages 31, 26 and 16. Because she wants a President who is strong, smart and decisive, she is giving her support to Senator Grace Poe.

Rizal Pinlac is 40 years old, married, and has two kids ages 9 and 5. He has a special-needs child. He works as a financial sales director and is also an entrepreneur. He is choosing Senator Miriam Santiago as his president because "she has all the qualities of a good president which I would want my children to emulate: academic and professional excellence, integrity, compassion, courage, political will, wit, eloquence, and above all, a high standard of morality and deep spirituality."

Lorraine Badoy is 53 years old, married, and has three kids ages 22, 17 and 15. A doctor by profession, she is firm in voting for Mayor Rodrigo Duterte because "I like that he challenges the status quo and that he has a heart for the poor. And he has the track record to show for it."

Aya Barrion is 41 years old, a lawyer, and a single parent to an 8-year-old son. She says she supports Secretary Mar Roxas's candidacy because "he is experienced and has integrity. He says what he means, and means what he says. He has concrete plans for everything in the country, and has the heart for the weak and marginalized people. Complete epitome of Bayan Bago Ang Sarili."

This time, they talk to us about the issues that are most relevant to them as parents and how they think their respective candidates can address these. And when it's time to choose the name on the ballot come election day, what is it that will truly matter?

Issue: Crime and drugs
If you go inside the mind of parents these days, you'll find that the issues on top of their "worry" list are crime and illegal drugs. The nine parents we spoke to are no different. It all boils down to the safety of our children once they are out of our sight. Will they fall prey to a criminal's modus? Will someone offer them drugs?

Ernesto, Jr., who is a lawyer, has witnessed the dangers of illegal drugs in cases that he has handled, not only against those who are accused of the crime but also those who are being victimized by being wrongly accused. As far as he is concerned, this is among the first issues that Vice President Binay should address, if he wins the presidency.

Susan, although rooting for Senator Poe, agrees with Ernesto, Jr., saying, "As a mom you want to go to sleep knowing your kids are safe." Senator Poe is into implementation. [After all,] we have the laws. We don't need new ones. Implementation is key. That would be her advocacy."

When it comes to fighting crime, it is Mayor Duterte who has become most controversial because of his pledge to eradicate crime in a matter of months.

For Lorraine, though, "I don't think he can do it in 6 months, that's just the politician in him talking, and I'm not a very literal person. But I believe he can do it. He has political will compared to the ones we have now who just don't care. The reason he's top of the heap is people are just tired of a government that's so indifferent. My kids are all teenagers now, they're out there all the time. You can't hover over them, you have to let them drive, let them be. We live in a crime-ridden area, and that worries me. For the country, it would be good to get our act together."


Issue: Poverty, corruption, and economic growth
On a national scale, these are issues that may not affect our children directly – at least not yet – nevertheless, parents should still get involved in the discussion. When candidates talk about poverty, corruption, and economic growth, we make sure we listen.

"Corruption infects all aspects of our lives from the smallest to the biggest. It's just there all the time, like cancer," says Lorraine.

As far as Reena is concerned, corruption is something that cannot be completely eradicated from the government. But voting for someone who is least likely to succumb to it, such as, in her opinion, Senator Santiago, is the best thing one can do. "Yung corruption, given na yan. I don't believe any country or politician can be 100 percent non-corrupt. Kung siya, baka mas less. Ang temptation nandiyan naman, so siguro yung sino ang mas kayang humindi, yun ang kaya kong iboto."

Susan believes that Senator Poe's Freedom of Information bill is a significant step towards fighting the age-old problem of corruption. "If there's a project, with one click you'll see the amount and the biddings. Everything is there. Now, it's like a secret who the bidders are. Hopefully that will change," says Susan.

An integral part of poverty eradication as well as economic growth is job generation. Providing employment is the best way to empower Filipinos, according to Aya, since people will not only have the means to provide for their families; they will also help grow the economy by becoming taxpayers.

The rest will then follow, says Aya. "People who are hungry can't decide clearly. But if you're able to answer that part of their need, feed themselves and their families, send their kids to school, automatic na may self-dignity sila. They could refuse to engage in illegal activities because they know their worth," she adds.

"Grace had talked about inclusive growth -- walang dapat maiwan," says Susan. "No region, no group of people should be left behind. I like that. I find that's a problem also. We're not growing, stagnant. She's going towards global competitiveness that's all encompassing -- infrastructure, education -- in order to be globally competitive. She may be new, but aren't we all looking for new ideas, strategies, new ways to do things?"


Issue: Youth and education
"If you're a mom, kailangan yung presidente mo is for the youth," says Reena, a mom of four. And when you talk of priorities for the youth, education is at the top of the list.

Rizal seconds this by saying, "Miriam's priority is education. She really believes education is the key towards alleviating poverty; and the cause of poverty is that education is inaccessible to the poor. They cannot alleviate themselves, they are not educated. Education being a right, not a privilege would actually empower them."

As for Roxas, Aya says he plans to upgrade the level of competencies of the teachers para makahabol ang ranking natin with other international universities. If he can do that, then mas aangat yung level of education. Yung local diploma, in time magiging internationally renowned na. I would want an environment that thrives on science, and nurture a love of learning."

Yet, though well-intentioned they may be, not one among the presidential candidates can be considered a perfect fit for the position. We did a reality check with our interviewees and asked them what they honestly think their chosen candidates lacked:

CONTINUE READING BELOW

Recommended Videos


What will matter the most?
"Dapat may paninindigan ka pag bumoboto ka," says Reena. And although they each phrased it differently, this sentiment is shared by the rest of the parents we interviewed for this story. "You will vote for what is the call of your conscience," Aya says.
 
When the campaign is over, come May 9, what will be the basis of your choice as president? Will your vote be based solely on a candidate's political platform, or will it all boil down to character?

For Aya, it's character. "When you see Mar in person, kita mo talaga na, may tao bang ganyan? Is he for real? When you hear him, he looks real. You hear other people telling stories about him...parang we don't deserve him. Someone told him to take a rest, but he said, 'Yun ang problema, I can stop working and my life is okay. My son will be okay. Pero paano sila, the rest of the country? There's so much that needs fixing'."

What Rizal loves about Santiago is that "she walks the talk, it's been proven time and again. Eventually, it will boil down to track record and character. All other candidates say they will do this/that, but if you look at their character and track record they are only protecting their own interest and interests of the few who supported them in their candidacy. Others lack the sincerity, and if you look at what they have done, you would know that they are just after the power. It would take somebody with great intelligence and compassion to really make a change in the country."

For Lorraine, it's Duterte's track record and accomplishments. "I believe in this guy because his rage mirrors my rage. When Yolanda happened, I felt his pain, compared to other candidates who just didn't care. What mattered so much more to [these other candidates] was image, while people [around them] were dying, thirsty, naked, had nothing. I was there a month after Yolanda, and I thought I'd seen the worst of it -- but I still haven't found the words to the kind of poverty and indifference that I saw from our government."

Ernesto is in awe of Vice President Binay because of his being a self-made man. "He studied well, did not merely ask for his parents to send him to school, and made himself. In his law practice it did not matter to him if clients were rich or poor. And I see that his children respect him, I see them together in good times and bad times. Having a family man as president, that's for my children to emulate."

For Joyce, "What I see in Mar is quiet courage, quiet determination. When he does things he thinks about them very carefully so decisions are not rash. In Mar I see some qualities of my father I'd like my daughter to see as real strength. At the end of the day, it's the character of the candidate which will determine if the platform will be fulfilled."

Should their candidate win the elections, what national issue do they want him or her to address urgently?

ADVERTISEMENT - CONTINUE READING BELOW


In a matter of weeks, a new president will be proclaimed. This campaign that has divided the Filipino people in ways we never imagined will finally be over. Whoever gets to be sworn in on July 1 is given the Herculean task of uniting the country, first and foremost. After all, despite our differing opinions and choices, are we not all hoping for a better country? What are we willing to do as citizens of this country to make that happen? "More than anything, what matters is we wake up and do our share. The President is just one person, but we all have to do our part," ends Loraine.

Interviews by Lei Sison and Bubbles Salvador. Photos by Lai de Guzman. Videos by Insel Culla, Ray Gonzales and Trina Elefante.

Celebrate your pregnancy milestones!


Enter your details below and receive weekly email guides on your baby's weight and height in cute illustration of Filipino fruits. PLUS get helpful tips from experts, freebies and more!

You're almost there! Check your inbox.


We sent a verification email. Can't find it? Check your spam, junk, and promotions folder.

Trending in Summit Network