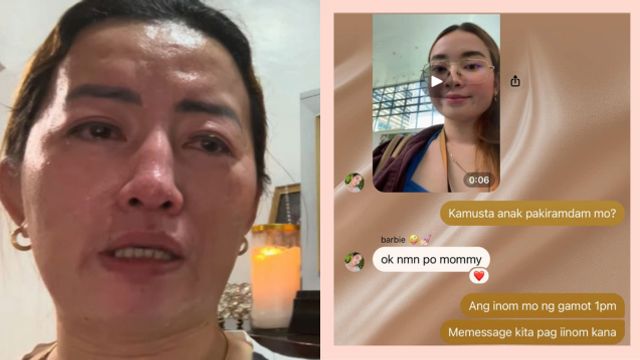 It all started with cough and colds.
This was how Youtuber Apple Paguio recounted how she lost her 19-year-old daughter Joeline, a TikTok creator with over 16,000 followers.
"Siya po ay hindi talaga sakitin... Ininda po niya na malala ang sipon at 'yung lagnat po niya ay mga 37 [degrees]," Apple stated in her vlog. Joeline even insisted on going to school because she had a report.
Jo underwent some routine laboratory tests and found out that she had high blood sugar levels. They were told to seek medical attention right away.
"'Nung Wednesday po ng umaga, sabi ko sa anak ko, 'Anak, wag ka nang pumasok at papa-check-up ka namin.' Kaso 'yung anak po namin ay may report sa school," Apple narrated.
Jo went home saying that she was okay and nothing extraordinary happened while she was in school. They had dinner at home and Jo even ordered the food, not knowing it was their last supper together. Hours later, Jo started having difficulty breathing, so they decided it was time to bring her to the hospital.
Before they left the house, Jo had to vomit and also defecate. Apple described Jo's vomit to be dark in color. "Pagdating po sa sasakyan, yumakap na po siya, sabi niya, 'Mommy, hindi ko na kaya,'" she recalled.
READ ALSO: 4 Sintomas Na Di Aakalaing Diabetes Na Pala Sa Bata
It took a while before Jo was seen by a doctor due to the long queue at the emergency department. Yet the first thing that the doctor told Apple and her husband was that Jo was already in a life-and-death situation. It appeared that Jo's vomit was already blood and was a sign that her organs were failing already.
"Nalaman ko po na nagsasabi po siya sa boyfriend po niya, kaya lang po ayaw daw kaming bigyan ng stress, ayaw daw po niya kaming mag-aalala." —Apple Paguio
"Tinanong sa akin ng doktor kung ito daw po ay nagsuka at nagdumi. Ang sabi ko po ay o-ho. Ang sabi ng doktor, 'matic ho 'yun, 50-50 na raw ho 'yung anak ko," Apple shared before breaking into tears.
Jo was then placed under intensive care, where she spent three days before she passed on.
"Noong ikatatlong araw ng 6:42 AM, dineclare po na patay na daw po 'yung anak ko kasi daw po, mataas po 'yung sugar po niya at ang dami-dami daw pong komplikasyon. [...] 'Nung dineclare po na patay na, minouth-to-mouth ko pa po siya kasi baka hindi nila makuha, ako ang makakuha, pero wala na," Apple narrated.
"Ang nakalagay po ang cause po ng kanyang pagkamatay ay sa kidney," she added.
It was truly heartbreaking for Apple to see her daughter gone. "Nalaman ko po na nagsasabi po siya sa boyfriend po niya, kaya lang po ayaw daw kaming bigyan ng stress, ayaw daw po niya kaming mag-aalala. 'Nung nalaman nalang po namin, malala na," Apple remarked.
In Apple's vlog uploaded on November 9, she shared some revelations that she learned from her daughter's classmates. "Marami pala siyang stress na pinagdaanan," Apple said. "Samantalang dito sa amin wala pong ka-stress-stress. Kapag po siya sinusundo sa school, hinahatid ng mister ko lagi po siyang nagpapa-iced coffee. Lagi po siyang natatanggal ang stress niya sa iced coffee."
She said that her daughter always puts a happy face when she's at home, but she learned that Jo had a previous relationship where she had to sell pasalubong products. "Masaya po kami, akala ko okay lang, walang problema. Hindi ko akalain na ang anak ko ay nagsakripisyo na pinagtitinda pala ng mga pasalubong sa school," she added.
"Napakasakit kasi ang nagiging dahilan din daw po ng pagtaas ng sugar ay stress," Apple revealed.
READ ALSO: If You Have Diabetes, You're At Risk Of Hypertension And Kidney Diseases
Dangers of high blood sugar
High blood sugar, or properly diagnosed as diabetes, is a leading cause of death across age ranges worldwide. According to the World Health Organization, at least 2 million deaths every year are linked to diabetes, which also leads to some kidney diseases, hypertension, or other cardiovascular diseases.
WHO said that diabetes is also a major cause of blindness, stroke and lower limb amputation. The numbers are staggering: between 2000 and 2019, there was a 3% increase in diabetes mortality rates by age.
Types of Diabetes
There are three common kinds of diabetes: Type 1, Type 2, and gestational diabetes. Type 1 diabetes requires daily administration of insulin. It was previously recognized as "insulin-dependent." WHO reports it as a chronic condition in which the pancreas produces little or no insulin by itself. The cause and prevention of Type 1 diabetes are yet to be discovered.
Type 2 diabetes affects how the body uses sugar (glucose) for energy. It stops the body from using insulin properly, which can lead to high levels of blood sugar if not treated. Symptoms of type 2 diabetes may take several years to be noticed. It is usually mild and may be prevented by annual full-body check-ups. Adults were the only ones diagnosed with type 2 diabetes, until recently, an increasing trend of children having this kind of diabetes has been recorded.
Gestational diabetes is commonly detected during pregnancy or prenatal screening. This is when pregnant women have above-normal blood glucose levels but are still below those diagnostic of diabetes. Women with gestational diabetes have a high risk of complications during their pregnancy and delivery. The mother or their child is also at risk of being diagnosed with Type 2 diabetes.
According to WHO, here are the effective measures to forestall or postpone the onset of type 2 diabetes:
adopting a nutritious diet
engaging in consistent physical activity
sustaining a healthy body weight
steering clear of tobacco
It added that proper management of diabetes involves a combination of dietary choices, regular physical activity, medication, and routine screenings to detect and treat potential complications, allowing individuals to mitigate the consequences associated with the condition.
Consider getting annual physical check-ups, and practicing good healthy habits like eating right, having ample exercise, and getting adequate sleep. It is also good to check your family's medical background, especially when it comes to diabetes and certain types of cancer.
This story originally appeared on Cosmo.ph. Minor edits have been made by the SmartParenting.com.ph editors.