1. Look! Baby Luna plays Jack en Poy with Kuya Lucho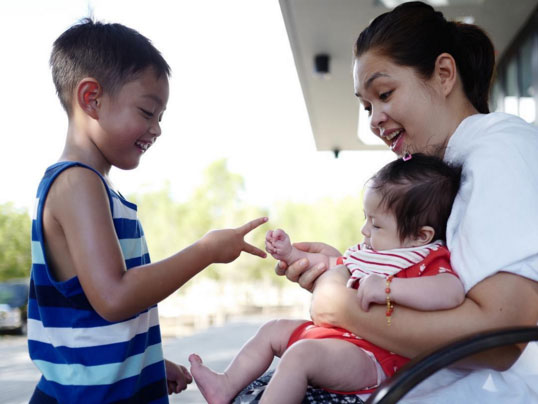 Photo from @ryan_agoncillo/Instagram
Power couple Judy Ann Santos and Ryan Agoncillo prove that their family is just like any other as Ryan recently shared on his Instagram account a cute photo of his son Lucho playing the Pinoy version of rock-paper-scissors with younger sister Luna, who is sitting on mom Judy Ann's lap. Never mind that the three-month-old girl looks like she's asleep; the smile on Lucho's face perfectly captures the joy of having a new addition to their family. 


2. Royal cuteness alert! A new snap of Prince George!
Prince George features on a postage stamp for the first time as special collection marks Queen's 90th birthday pic.twitter.com/qGiAGCuaZ2

— Press Association (@PA) April 19, 2016
Prince George will soon appear for the first time on a British stamp with the Queen -- or Gan-Gan as he calls her royal great grandma --, grandpa Prince Charles, and his father Prince William. In the photo, Prince George shows off a big smile while standing on a stack of foam blocks and holding on to his father's hand. The sweet portrait of the reigning royal and the heirs to the throne will appear in a stamp, which will be released in celebration of Queen Elizabeth's 90th birthday on April 21. (people.com)


3. Chrissy Teigen shares first photo of newborn daughter
The new mom took to Instagram to share to her followers a first glimpse of her daughter Luna Simone Stephens, who was born on April 14. The sweet photo shows Chrissy Teigen cradling her newborn daughter while lounging at what looks like their home patio. "Hi My Lulu," the model-turned-host-and cookbook author captioned the photo. Though we have yet to see Luna up close, it's obvious that she brings joy to her mom, and dad, crooner John Legend. Sources say the new parents are in "such a joyful place with their healthy baby girl." (people.com)


4. Lea Salonga debuts on U.S. cable TV--and sings!
The Tony Award-winner took over Entertainment Weekly's (EW) Instagram account just before the finale of the CW Network's new show Crazy Ex-girlfriend on April 18. The series is a musical and satirical rom-com drama about a girl named Rebecca, played by Rachel Bloom, who leaves her successful New York life to relocate to California for her ex-boyfriend Josh, played by Filipino-American actor Vincent Rodriguez III. Lea plays Aunt Myrna, the male lead character's tita, who also sings during the wedding in the Season 1 finale. She shared behind-the-scenes photos of the show on EW's Instagram, such a snaps with Rodriguez and Bloom and actress Amy Chan, who plays Josh's mother. (abs-cbn.com)


5. Princes William and Harry have an epic light saber duel
Fresh from Prince William's trip to India and Bhutan with wife Duchess Kate, he went next to a galaxy far far away -- or, rather, on the set of Star Wars at Pinewood Studios in London with brother Prince Harry. The visit was to celebrate the creativity and talent the Brits had contributed in making the iconic film. Of course, one doesn't visit the Star Wars set without getting their hands on light sabers, and the brothers did exactly that. They also met with the cast, including Chewbacca and BB8. We can't wait for Prince George to join their intergalactic play soon! (babble.com)