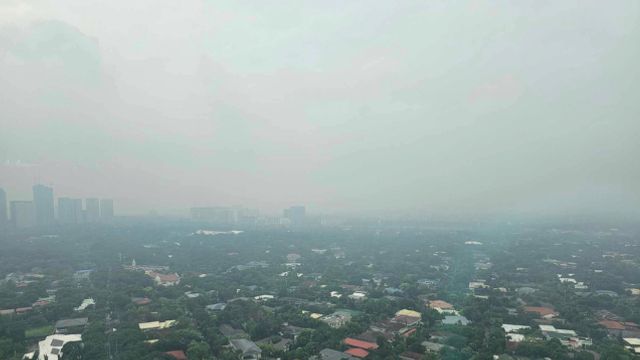 UPDATED: The haze or smog formation in Metro Manila today, September 22, is not linked to the volcanic smog or VOG from Taal, clears Philippine Institute of Volcanology and Seismology (PHIVOLCS).
Although classes have been suspended in several cities in Metro Manila and provinces near Taal due to vog, the PHIVOLCS clarifies that the vog is heading west-southwest, and not towards Metro Manila, according to an Inquirer report.
The Department of Science and Technology explained in a Facebook post, "The meteorological conditions this morning (NCR, CALABARZON, and some parts of Central Luzon) is conducive for haze or smog formation. This occurs when very small particles get trapped close to the surface due to the presence of a thermal inversion, high humidity, and calm wind conditions.  These floating minute particles in the air could be from smoke, pollutants, or volcanic aerosols."
PHIVOLCS released a vog notice on Thursday, noting that vog has been forming over the Taal Region since the first week of September.
The Mayon volcano meanwhile has been emitting ash since Wednesday, September 20.
The Department of Health has since issued a health advisory on what to do in the event of an ash fall. 
Several local government units in Batangas, Cavite, and Laguna implemented class suspension due to the vog, according to Inquirer. However, LGUs in Muntinlupa, Las Piñas, Pasay, Parañaque, San Juan, Caloocan (afternoon classes starting 12nn), and Quezon City also announced suspension of classes due to poor air quality, according to the Metropolitan Manila Development Authority or MMDA. 
PHIVOLCS maintained Alert Level 1 status on Taal volcano, and Alert Level 3 status on Mayon as of 5 AM today.
What you need to know about volcanic smog or VOG
Volcanic smog, more commonly known as vog, is a visible haze that forms when gases emitted from a volcano chemically interact with sunlight, atmospheric oxygen, moisture, and dust. This interaction results in an aerosol of tiny particles and acidic droplets, creating a potentially harmful environment.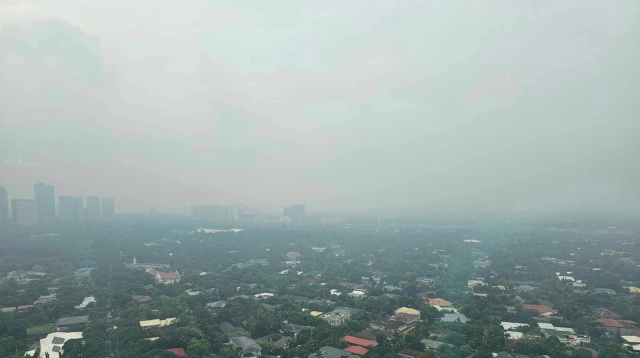 Vog can pose significant environmental and health risks, especially to nearby communities. Short-term health symptoms include eye, nose, throat, and skin irritation, coughing and phlegm, chest tightness and shortness of breath, and headaches.
Vog: A Deeper Understanding and its Potential Risks
Vog is a phenomenon that occurs when volcanic gases mix with air and sunlight. The gases, such as sulfur dioxide, react with oxygen, moisture, and dust in the atmosphere, forming tiny particles and acidic droplets.
These particles can remain suspended in the air for extended periods, creating a hazy and potentially harmful environment. The health risks associated with vog exposure are significant. The tiny particles and acidic droplets in vog can irritate the eyes, nose, throat, and skin. They can also cause respiratory problems, such as coughing, phlegm production, chest tightness, and shortness of breath. Headaches are another common symptom experienced by individuals exposed to vog.
Vog and Your Family: Ensuring Safety and Protection
When faced with vog caused by volcanic activity, it is crucial to take appropriate measures to protect yourself and your family. Here are some steps you can take:
1.Wear face masks
Regular face masks or cloth coverings are not effective in protecting against the dangerous gases and particulate matter present in vog. Only specialized masks, like N95, are designed to filter out fine particles and gases, can provide adequate protection. These masks are available for purchase and should be worn when venturing outside during elevated vog levels. DOH recommends wearing eye protection, like goggles too.
2. Stay indoors
When vog levels are elevated, it is recommended to stay indoors as much as possible. Keep windows and doors closed to minimize the entry of vog particles into your home. Use air purifiers or fans with high-efficiency particulate air (HEPA) filters to improve indoor air quality. Avoid activities that can increase indoor pollution, such as smoking or burning candles. 
3. Be informed
Stay updated on the latest information regarding the volcanic activity and vog levels in your area. Local authorities and organizations like the Philippine Institute Of Volcanology And Seismology (PHIVOLCS) provide valuable resources and updates on volcanic smog. Regularly check their websites or subscribe to their alerts to stay informed. For more information, contact DOH HEMB Operations Center at 8651-7800 loc. 2206-2207.
4. Leave the area or shelter if necessary
If you live in an area directly affected by volcanic smog, consider leaving the area temporarily until the vog subsides. This may involve staying with friends or family in a different location or seeking temporary accommodation. If leaving the area is not possible, create a safe indoor environment by sheltering in place.
5. Take care of your health
Keep yourself hydrated. If you experience any symptoms related to vog exposure, seek medical attention promptly. Follow the guidance of healthcare professionals and take any prescribed medications as directed. Stay hydrated and maintain a healthy lifestyle to support your immune system.
Vog and Children: Extra Precautions
Children, due to their developing respiratory systems and higher breathing rates, are more susceptible to the harmful effects of vog. Parents should ensure that children stay indoors when vog levels are high. If outdoor activity is unavoidable, children should wear appropriate masks. Encourage children to drink plenty of water and eat a balanced diet to boost their immune system.
RELATED: 10 Home Remedies Para Sa Makating Lalamunan At Dry Cough
Vog and Pets: Keeping Them Safe
Pets can also be affected by vog. Keep pets indoors during high vog conditions. If they show signs of respiratory distress, such as coughing or difficulty breathing, seek veterinary care immediately. Provide fresh water and food for your pets and avoid long walks during vog episodes.
When faced with smog caused by volcanic activity, it is essential to prioritize your health and safety. Vog can have significant environmental and health risks, and taking appropriate precautions is crucial. Stay informed, leave the area if possible, use specialized masks, stay indoors, and take care of your health. By following these guidelines, you can minimize the impact of vog on yourself and your family.