Finally, A Diagnosis: What We Know About Caitie's Rare Leukemia

For two months, "Courageous Caitie" was battling an unknown disease until a diagnosis was finally made a few days ago.

Photo from Courageous Caitie/Facebook

After staying for more than 60 days in three different hospitals battling an unknown enemy, 3-year-old Caitie and her parents Feliz and Jayjay Lucas can finally put a name to the illness that has caused the family such immense heartache: juvenile myelomonocytic leukemia (JMML). 

It was late in 2015 when little Caitie Lucas started developing insect-like bites on her skin, followed by a trip to Cardinal Santos Medical Center in January for extreme abdominal pain. Thus began the family's quest for answers. Caitie has since undergone numerous blood tests; two biopsies; three bone marrow aspirations; two CT scans, two ultrasounds; and blood, plasma and cryoprecipitate transfusions, all within a span of a little more than two months. As of this writing, Caitie's hospital bills have amounted to P4.5 million.

After three diagnoses were eventually ruled out, doctors at the National University Hospital in Singapore have finally pinpointed the illness: juvenile myelomonocytic leukemia, a rare type of blood disease.


Photo from Courageous Caitie/Facebook

What is juvenile myelomonocytic leukemia?
Juvenile myelomonocytic leukemia is a very rare cancer of the blood occurring in children ages 4 and below, more common in males than in females. It accounts for less than 1% of all childhood leukemias, according to the Children's Cancer Research Fund, and because its rarity doctors are finding the illness hard to study and diagnose. 

Children who have JMML have immature white blood cells called "myelocytes" and "monocytes" that reproduce in overwhelming numbers affecting, and eventually harming, the bone marrow and other body organs. 

What causes it?
It's still unknown what causes JMML. Children with the genetic condition neurofibromatosis type 1 (NF1) have an increased risk of developing it however. 

What are its symptoms?
JML progresses slowly and shows little to no symptoms during its early stages. It can take months, and even years, for JMML to show itself. 

Symptoms of JMML include:

ADVERTISEMENT - CONTINUE READING BELOW

Abdominal pain
Swelling of the spleen and abdomen
Swollen lymph nodes
Recurrent infections (such as bronchitis and tonsillitis) 
Pain or feeling of fullness below the ribs
Bone and joint pain
Easy bruising
Skin rash
Fatigue

How is it diagnosed?
Since JMML is a cancer of the blood and affects bone marrow, a doctor may order tests to be made in these areas. A doctor may ask for a:

Blood test - with a sample of the child's blood, a complete blood count (CBC) will be performed. There can also be checks for liver and kidney function panels and blood chemistries. These will determine the number of normal blood cells in the body and the condition they're in. 
Bone marrow aspiration - a painful procedure that involves inserting a hollow needle into a large bone, usually at the back of the hipbone, and extracting samples of bone marrow, bone and blood 

Aside from those mentioned above, these tests may also be included:

Imaging studies
Lumbar puncture
Flow ctyometry tests
Chromosomal tests 

What is its treatment?
The only treatment known to cure JML is a stem cell (bone marrow) transplant. The treatment requires killing the diseased marrow with chemotherapy or radiation then transplanting healthy marrow in its place. Half of the children who have been treated this way remain free of the illness for several years.

Chances of recovery may depend on the the age of the child at diagnosis, the number of platelets in the blood and the amount of a certain type of hemoglobin in the child's red blood cells.


What other parents are reading
CONTINUE READING BELOW
Recommended Videos
Caitie started her oral chemotherapy this week and is set to be visited by doctors from the U.S. and Japan soon.

People who have been touched by Caitie's story, along with the 4,000 followers of Caitie's Facebook page, have donated and continue to support Caitie through financial help, books, games, toys, and prayers. A benefit gig, various classes, a marathon photo session, and artworks donated by artists for bidding have also been organized to help the family with medical costs.

Through all of the hardships, the Lucas family has kept strong and, in doing so, has become a great inspiration for others. "Each person has their own battle to face. Ours may be in sickness but for others, it may be emotional, mental or financial battles. The manner is different but the pain is the same! We are not alone.

"We bless others because we ourselves have been blessed," reads a post on the Courageous Caitie Facebook page.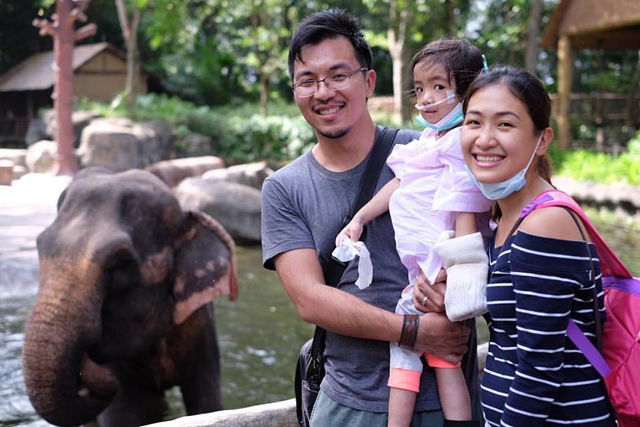 Photo from Courageous Caitie/Facebook

You may reach out to the Lucas family through the Facebook page "Courageous Caitie", Caitie's gofundme page found here and through deposits, details of which can be found here.


Sources:
Undated. "Juvenile Myelomonocytic Leukemia (JMML)" (childrenscancer.org)
April 17, 2015. "Treatment of children with juvenile myelomonocytic leukemia (JMML)" (cancer.org)
June 2015. "Juvenile Myelomonocytic Leukemia" (kidshealth.org)
April 17, 2015. "Survival rates for childhood leukemias" (cancer.org)

What other parents are reading
ADVERTISEMENT - CONTINUE READING BELOW
Celebrate your pregnancy milestones!

Enter your details below and receive weekly email guides on your baby's weight and height in cute illustration of Filipino fruits. PLUS get helpful tips from experts, freebies and more!
You're almost there! Check your inbox.

We sent a verification email. Can't find it? Check your spam, junk, and promotions folder.
Trending in Summit Network