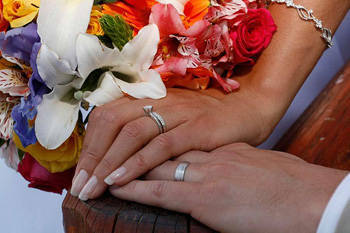 According to a recent study, marriage affects men and women differently when it comes to their weight. Women were found to be more likely to pile on the pounds once they get married, while men gain weight after a divorce.

According to one of the study's researchers, namely Dmitry Tumin, these life-changing events may cause couples' bodies to react through weight gain. Those particularly in their 30s were more prone to packing on the pounds.

The study gathered responses from around 10,000 men and women in the U.S., which involved monitoring the weight changes and marital status from 1986 to 2008. At the time, the participants were between 22 and 29 years old, and when the study ended they were already 43 to 51 years old.

The research looked at the amount of weight piled on or lost two years after a marriage or a divorce, weight gain and weight loss being measured as follows: small weight gain/loss between 7 to 20 pounds and a large weight gain/loss if more than 20 pounds.

While most of the participants' weight did not change much during the observed two year period, it was noted that 10 to 15 percent of the respondents had a remarkable weight gain after marriage, and 10 percent lost weight after a divorce.

When it came to their gender, women who tied the knot were 46 times more likely to gain weight than if they remained unmarried, whereas no probable weight gain was observed among men after marriage.

Men, however, tended to pack on weight 63 percent more than women after a divorce than those who stayed unmarried. Women's tendency for weight gain after divorce was only half of this.
Click here to read more.
[previous|page|next]
The researchers surmise that it's probably because the men's eating habits are highly monitored by their spouses, which may explain the drop in weight after a divorce.

Said Tumin, "As you get older, having a sudden change in your life like a marriage or a divorce is a bigger shock than it would have been when you were younger,"


Do you think the same changes would occur within the Philippine context of marriages? Share with us your feedback by leaving a comment below.  


Photo by Grand Velas Riviera Maya via flickr creative commons