With the Philippines holding the most number of online users in all of Asia with a growing number of netizens from the age group of 10 and below, internet safety has become a concern among parents and users alike. To address this, Yahoo! in partnership with Sonnie Santos, a web safety advocate and founder of Business Values 2.0 and Web Safety Philippines, launched the Yahoo! Safely Philippines site, a microsite designed to provide information and advice on making smart choices online.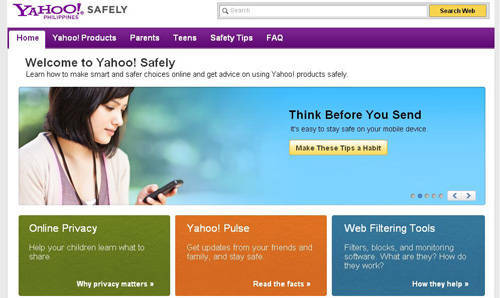 "A larger number of Filipino Netizens are children as young as 10 years old and the profile get younger as technology progresses," said Arlene Amarante, Yahoo! Philippines Sales Director. "By launching Yahoo! Safely, we want to help parents, educators and youth safeguard themselves and create positive and productive web experiences. Our partnership with Sonnie Santos can help address the online issues children in the Philippines are facing today including mobile usage, cyber-bullying and digital reputation. It's important that we take a proactive approach and work together as a global community to help foster a safer online experience for our children."   

"Most Filipinos lead two separate lives, one offline and another online. Just because they are online does not mean they are free from the threats they fear offline," said Santos. "It is important to educate Filipinos on web safety practices and I believe my partnership with Yahoo! will help more Filipino teens in the process."
Click here to see tips on online activities from Yahoo Safely Philippines.
[previous|page|next]
Read on to see tips on online activities from Yahoo Safely Philippines.
Some tips that can be found at the Yahoo! Safely Philippines site includes advice for on-line gaming and social networking, the top online activities of the youth:
•    Think before you post. How you represent yourself online -- the way you play games, the photos and texts you share, the design of your avatar, and what you have on your profile -- all add up to who you are. Invest in your online image.
•    Be a good sport. Virtual games can be fun, but remember to treat other players with respect. If you wouldn't do it on the field, don't do it online either.
•    Take action and report bullying. If you stand by and watch, laugh, or do nothing when you see bullying happen, you become part of the problem. Take the opportunity to create positive change.
•    Spread smiles with your phone. Texting is core to staying connected with your friends, and half of you send more than 1,500 texts a month1. What you text is a reflection of you, so be thoughtful about what you say so you can be confident that your texts portray you the right way.
•    Unplug and connect with your world. We live in a 24/7 digital world, but don't forget to unplug sometimes. Get out and connect with your friends in the real world.

The Yahoo! Safely Philippines site also informs parents, educators and teens about important topics such as managing digital reputations, avoiding cyber-bullying, and learning how to minimize risks on mobile devices, as well as guidance on how to safely use specific Yahoo! products.