How to Be Prepared for Anything When Traveling With a Child

Make these your rules when traveling with a child by air, land or sea.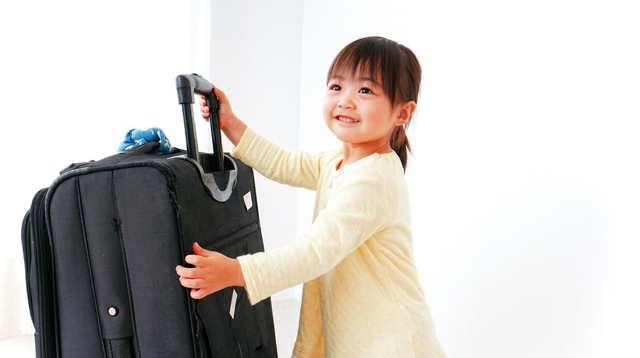 You're on a plane, traveling with your baby for the first time. Then, minutes into the flight, your baby becomes fussy and whimpers for unknown reasons. You scoop her from her seat to soothe her when you notice her skin is warm to the touch. You reach out for your bag to get a thermometer only to realize you did not bring one. 

We've all probably been in this kind of situation. And if there's anything I learned when traveling with my daughter by air or by land, it's better to be slightly over-prepared.

My husband and I have traveled with our daughter since she was 3 months old. And I have had moments when I would tell myself, "Why didn't I think of bringing that!"

What other parents are reading

Based on my experience, these are the travel essentials when you have children.

Travel insurance

Travel insurance is a must, and the money you spend on it will always be worth it. I remember a story my cousin told me about his friend. My cousin's friend was traveling with his child abroad.

He and his sonwas alighting from the plane and when his child slipped and broke his ankle on the steps. Aside from the extreme pain, discomfort and hassle this accident caused, the dad had to shell out a huge amount of money for his child's hospital expenses. If he had bought travel insurance for him and his child, this big expenditure would not have happened.

Medical kit

On a trip abroad when my daughter was about 4 years old, she complained of a toothache because of the freezing weather (cold temperature can trigger pain). Unfortunately, this mama forgot to bring any pain reliever. The local drugstores near our hotel did not carry the brands I preferred and regularly used back home. Dental fees in that country would also cost an arm and a leg even for a mere check-up.

ADVERTISEMENT - CONTINUE READING BELOW

Fortunately, my daughter's toothache went away just a few hours after it started. But please make sure that you have the following in your medical kit: medication for fever, diarrhea,  cough, cold, dizziness, and wound. I would recommend adding a nasal spray as well.

Inside your handbag, there should always be a band-aid, anti-mosquito repellant, cotton balls, and alcohol. Please make it a point to consult your child's pediatrician first before embarking on a trip. Your pedia will have to give you dosage instructions for your child's medication in case of emergency.

What other parents are reading

Sunglasses, cap and sunscreen lotion

We're not just talking about a beach vacation. Most adventure trip entails a lot of walking and sun exposure. Make sure you protect your children's eyes and sensitive skin by bringing his cap, sunglasses with UV protection and sunscreen lotion (ideally the one with SPF 40 ++).

Information tag

This is especially useful for babies and very young children. The name tag should contain his name, your contact details and pertinent health information (does he have allergies, asthma or special needs) in case he gets lost. I also advise that you add the address of the hotel or accommodation where you're staying, which will make it easy to find you. The tag will ideally be in the form of a bracelet or neck ID for easy access. 

For infants and toddlers, I suggest you hang the tag on the handle of his stroller or the straps of his baby bag.

CONTINUE READING BELOW

Recommended Videos

Hygiene kit

Some airlines do not provide toothbrush and toothpaste even when you are on long-haul flights. Keep foldable toothbrushes and a small tube of toothpaste in your bag for the whole family. Add items for grooming or to just freshen up like wipes, a small towel, and baby cologne.

Fan, spray mist and hand towel

In one of our family trips overseas, my 10-year old daughter had to endure four hours of exposure from the scorching heat to catch the glimpse of the Pope. The temperature was too much, and I regretted not having brought our fan, spray mist, and a hand towel to wipe off her sweat. She developed a fever soon after that sun heat exposure. While my medical kit was complete to treat her fever, I should have had the foresight what to bring to AVOID any medical mishap.

What other parents are reading

Small snacks in the bag

How many times have we heard of stories of children raising a howl because they got hungry in the middle of a tour that's far away from any food shop or restaurant? Make sure you have small snacks tucked in your bag for your little one. A sandwich, an apple or just a pack of crackers will do. Please don't forget to bring along his jug of water at all times.

Barf and trash bag

There will be times when you have to change his nappy in the middle of the forest or an island (yes, it happened to me). Don't litter — your trash bag will serve as your temporary bin until you find a trash can. Barf bags are equally as important! You don't want your child, who is down with flu and nauseous to throw up in your Uber or in the train when traveling. Always bring with you even just a small size of these plastic bags.

ADVERTISEMENT - CONTINUE READING BELOW

Documents

Have your passports, IDs and other vital documents photocopied in case these items get lost overseas. Aside from photocopies, take snapshots of them using your mobile phone as a back-up. If you are bringing an infant, it will be a great idea too to bring his birth certificate in case the immigration probes further about the child's identity. 

Remember, there are places abroad where your child's basic needs aren't available such as your local brand of food, milk bottle, medicines, etc.  Take time to sit down, and write a checklist way ahead of departure date and pack everything in labeled organizers. Happy trip, mommies!

What other parents are reading

Celebrate your pregnancy milestones!


Enter your details below and receive weekly email guides on your baby's weight and height in cute illustration of Filipino fruits. PLUS get helpful tips from experts, freebies and more!

You're almost there! Check your inbox.


We sent a verification email. Can't find it? Check your spam, junk, and promotions folder.

Trending in Summit Network