How To Get Your Money's Worth At South Korea's Everland

Welcome to South Korea's largest theme park.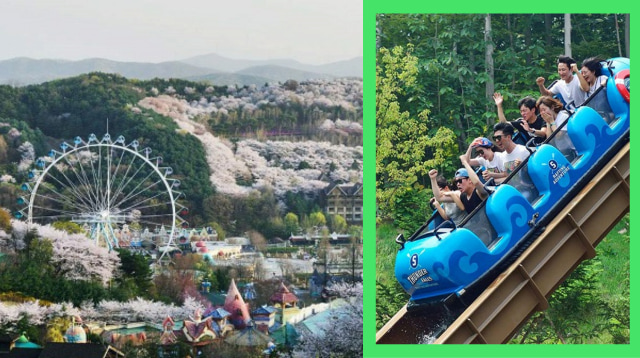 Products and services recommended on our websites are independently selected by our editors. If you buy something through our links, Summit Media may earn an affiliate commission at no extra cost to you.

You've secured your tourist visa and your flights have been booked—congrats, you're finally going to South Korea. In your excitement, you immediately open up your laptop–or tap on your phone's browser—and start searching for the perfect itinerary. Of course, you're bound to head to Myeongdong to enjoy the street food or load up on skincare, or perhaps go on a walking tour of your K-pop idol's fave locations. You know what else needs to be on the schedule? A trip to South Korea's largest theme park. Located in Yongin in the Gyeonggi province, Everland is an outdoor theme park that receives over seven million guests each year. It's pretty close to Seoul and has a more affordable price range when it comes to tickets so be sure to save this handy guide to make the most out of your visit.

Everything you need to know about Everland in Korea:

Ticket Prices

As of writing, Everland's website has four different types of tickets for both adults and children: A, B, C, and D. Be sure to check the official website in order to determine which ticket is appropriate during your intended date of visit.

ADVERTISEMENT - CONTINUE READING BELOW

General admission for adults would cost KRW 62,000 (roughly P2,667) for Ticket A, KRW 52,000 (roughly P2,237) for Ticket B, KRW 46,000 (roughly P1,978) for Ticket C, and KRW 68,000 (roughly P2,925) for Ticket D. Admission for children are priced at KRW 52,000 (roughly P2,237), KRW 42,000 (roughly P1,807), KRW 36,000 (roughly P1,549), and KRW 58,000 (roughly P2,495) respectively.

Online travel agencies Klook and KKDay also sell a variety of discounted tickets based on the intended date of visit.

Zones and Must-Ride Attractions, Must-Watch Shows

Global Fair

PHOTO BY

Wikimedia Commons/Christophe95

The entry point of the park, Global Fair is a mesh of cultures not only from different countries but from different eras as well. Visitors can explore and enjoy the various architectural styles from ancient Byzantine and Mesopotamia, the Renaissance and Victorian periods, and even marvel at modern architecture from our side of the globe.

American Adventure

PHOTO BY

Facebook/Everland

ADVERTISEMENT - CONTINUE READING BELOW

Past Global Fair and on your right is American Adventure. The zone is inspired by America's history—from when Columbus first arrived on the native land all the way to the 1960s when Elvis Presley made his mark with rock 'n roll music. The Double Rock Spin is the most sought-after ride in the zone. It lets parkgoers experience a thrilling ride that consists of four consecutive spins at over 20 meters high. Championship Rodeo, on the other hand, is a more child-friendly ride teacup ride that is usually seen across various theme parks.

Magic Land

PHOTO BY

Website/Samsung C&T Newsroom

ADVERTISEMENT - CONTINUE READING BELOW

Located at the back area of the property is Magic Land, which is inspired by Aesop's fables. Children will especially love going on rides such as the Racing Coaster that's based on The Tortoise and the Hare; and Thunder Falls, one of the park's latest attractions that brings parkgoers on a journey where they'd eventually end up in a quick drop over a body of water. There's also a playground called Kids Village for kids aged three to 10.

European Adventure

PHOTO BY

Website/Korean Tourism Organization

ADVERTISEMENT - CONTINUE READING BELOW

Over at European Adventure, next to Magic Land, guests are treated to classic European architecture and the park's most thrilling attraction. T-Zone is South Korea's highest, fastest, and steepest roller coaster. The coaster, which is also made of wood, is the first of its kind in the country, making it a very popular attraction so expect to have a longer waiting time before you get to enjoy the ride. Another fun attraction is Shooting Ghost where guests go on a moving ride as they try to shoot down a ghost that took over a mansion.

If you're looking for some entertainment, European Adventure is home to Everland's regular nighttime spectacular called Moonlight Parade. The show starts at 8:30 p.m. and features LED light floats and a fireworks display.

Zootopia

PHOTO BY

Website/Korean Tourism Organization

ADVERTISEMENT - CONTINUE READING BELOW

Those that love animals would definitely enjoy Zootopia. This animal-themed zone has a petting zoo, pony rides, and an animal show. A safari bus ride is also available for those that wish to get up close with some of the zone's resident ligers (a cross between lions and tigers) and bears. Parkgoers wanting to cool off after spending a long day at the park can hop on Amazon Express which is a water ride similar to our own Rio Grande Rapids.

Dining and Shopping Spots

PHOTO BY

Facebook/Everland

ADVERTISEMENT - CONTINUE READING BELOW

The theme park has various dining establishments, stalls, and thematic retail spaces in each of the zones. Most of the shops can be located at Global Fair with Grand Emporium being the largest. Here, guests have a wide selection of souvenirs and themed merchandise.

Guests are allowed to bring in outside food but if you want your visit to be as hassle-free as possible, it's highly recommended to check out some of the park's dining locations. One in particular called Holland's Village in European Adventure has over 12 European-themed restaurants with a ton of outdoor sitting—a perfect spot for when you decide to watch the fireworks.

Popular dining franchises such as KFC, BHC, Starbucks, and The Coffee Bean and Tea Leaf are also available inside the park.

Other Things to Know Before Your Visit

Operating Hours

The park is open daily from 10 a.m. to 10 p.m. It is advisable to double-check the website closer to the visit date as it is possible for operating hours to change.

ADVERTISEMENT - CONTINUE READING BELOW

Strollers and Person With Disability (PWD) Access

Stroller and Wheelchair rentals can be found at Global Fair (almost at the border of American Adventure) and are on a first-come, first-served basis. Strollers can be rented for KRW 5,000 per person (roughly P215) while a wagon, which can fit one to two children can be rented for KRW 35,000 (roughly P1,505). Do take note that a deposit of KRW 50,000 (roughly P2,150) is required should you choose to rent a wagon while a deposit of KRW 10,000 (roughly P430) is required for stroller rentals.

Wheelchairs, on the other hand, are available in two variants. Those that wish to rent a traditional wheelchair can do so for KRW 3,000 (roughly P129) but if you present proof of your disability, you can rent it for free. An electric wheelchair would set you back KRW 5,000 (roughly P215).

How to Get There

Everland is accessible by public transport. You can take the subway to Giheung station via the Bundang line and transfer to Everline, which is Everland's free shuttle bus. You also have the option to take the following bus routes: 5002, 5700, 1500-2, and 1113 which all have stops close to the Everland shuttle service.

ADVERTISEMENT - CONTINUE READING BELOW

Everland is at 199, Everland-ro, Pogok-eup, Cheoin-gu, Yongin-si, Gyeonggi-do. It is open daily from 10 a.m. to 10 p.m. For more information, visit Everland's website. Tickets are available through Klook and KKDay.

Links are updated regularly and as much as possible but note that products can run out of stock, discounts can expire and listed prices can change without prior notice.

This story originally appeared on Spot.ph.

*Minor edits have been made by the SmartParenting.com.ph editors.

Trending in Summit Network