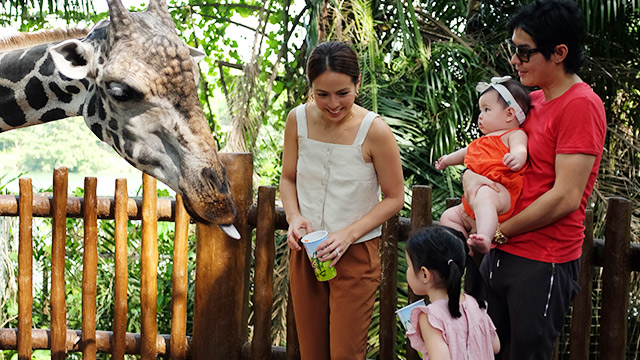 Studies show that there are many benefits to giving your children the gift of travel. This kind of experience becomes their "happiness anchors" as they grow up. Experts also say that it helps in their brain development.
For celebrity mom Andi Manzano-Reyes and husband GP, traveling is a way for their family to bond, learn more about each other, and share their passions. It just takes a carefully planned itinerary and the right destination to make sure everyone will enjoy it.
Their top recommendation for a family-friendly destination? Singapore.
"What we love is every time we go there, there's something new. The city is always evolving," GP explains. "There is something new to discover in every visit. Singapore has everything you need—it can be shopping, adventure, nice cars..."
GP notes that the country is baby-friendly, too, which is a big plus if you have your little one with you. According to him, 8-month-old Amelia enjoyed the sights and sounds of Singapore without him and Andi worrying about her safety.
Check out Andi and GP's three-day Singapore itinerary if you want to know where to go and what to do with your whole family.
Day 1: The couple indulged their daughters' passion for animals, as well as Andi's passion for hole-in-the-walls, by visiting some of Singapore's animal sanctuaries and dining destinations.
Singapore Zoo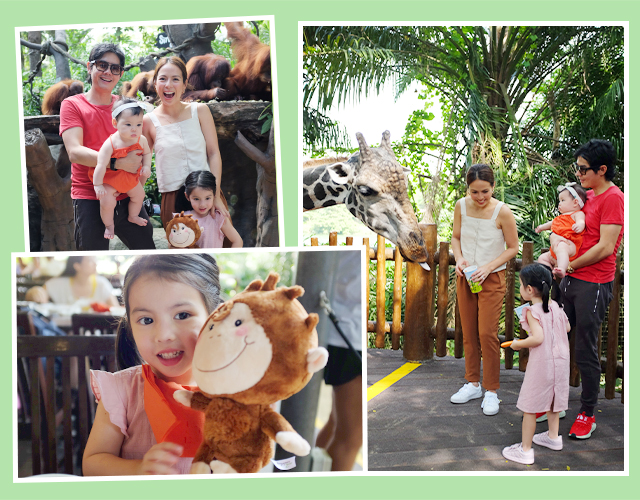 Famous for its "open concept" design, Singapore Zoo gives visitors a chance to experience being with animals in a "rainforest environment." Olivia, who loves animals, had such an amazing time exploring in the wildlife park.
Andi says one experience the whole family will never forget was Breakfast with Orangutans. "We had such a blast! While we were having breakfast, the orangutans were doing the same, and they were so near us, too!"
Singapore Zoo allows interaction between the animals it shelters and their young visitors. "Olivia got to hold the snake and feed the giraffe. We had been to Singapore Zoo before, but we didn't know they had these activities!" the vlogger and radio host shares.
Riders Cafe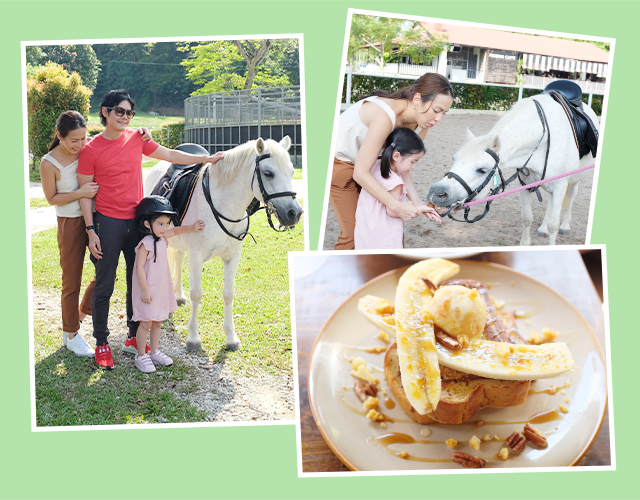 Another welcome surprise for the Reyeses was Riders Cafe. It's a restaurant that overlooks the Bukit Timah Saddle Club, where the couple took Olivia horseback-riding. GP describes the spot as a nature sanctuary in the middle of an urban city.
"We didn't know Riders Cafe existed before, and that's where we took Olivia horseback-riding," GP shares, also referring to the Saddle Club. According to the couple, the experience was both educational and memorable for the 4-year-old.
Speaking about Rider's Cafe, Andi points out, "They offered a really good breakfast, and their coffee was amazing!"
S.E.A. Aquarium™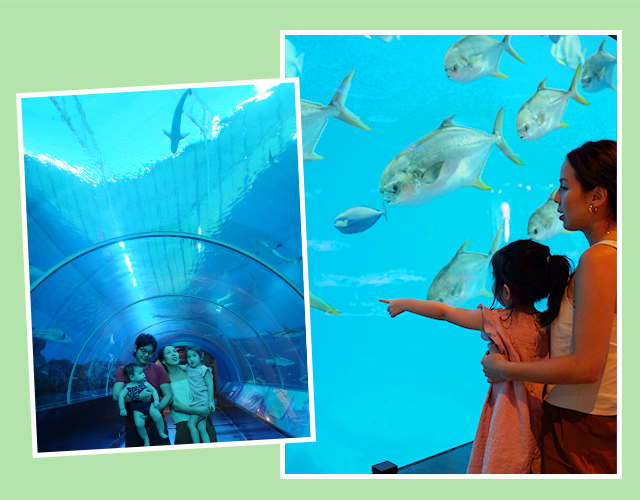 Located in Sentosa Island, the S.E.A. Aquarium™ was also a must-visit. The Reyes family — particularly Olivia the animal lover—had a glorious time learning about the underwater world and checking out the more than 100,000 marine animals that call S.E.A. Aquarium™ their home.
"We love the long [aquarium] tunnel that can be found inside. Also, there was a sensory area for kids where they can touch the starfish and slugs," Andi shares.
They ate with the fish—at least, with a breathtaking view of the fish in the aquarium—at the in-house Ocean Restaurant. They also had a chance to tour Ocean Suites. "You'll see the beds, and right in front of you is a huge aquarium, too!" Andi says.
Day 2: If there's one passion this family shares, it's shopping! On their second day, the Reyeses got to exercise their shopping skills in the Lion City.

Our Second Nature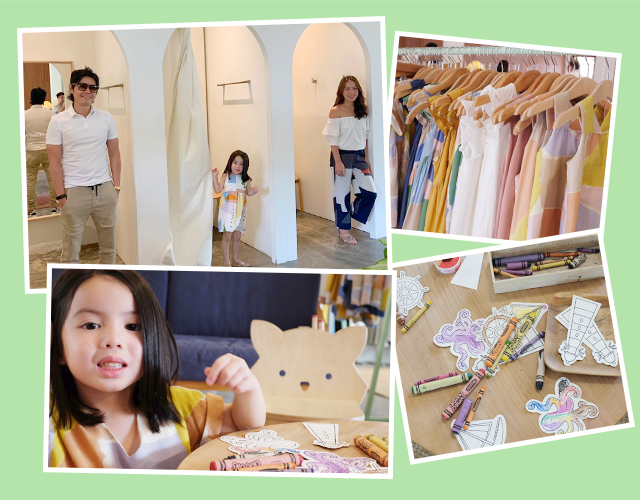 Olivia is a fashionista just like her mama, so the two joined forces to look for pretty dresses in Singapore. They found what they liked at the specialty store Our Second Nature."I like basic pieces I can wear in the next 10 years," Andi says. "Their pieces fit me well because they are in Asian sizes—unlike other brands."
The stylish mom also loves that the store's classy and trendy items are both affordable and unique. "They make their own patterns, too, per season," Andi says.
"I find it interesting that they have a cafe and a baby play area. The store was really made for moms!"
SBTG by Mark Ong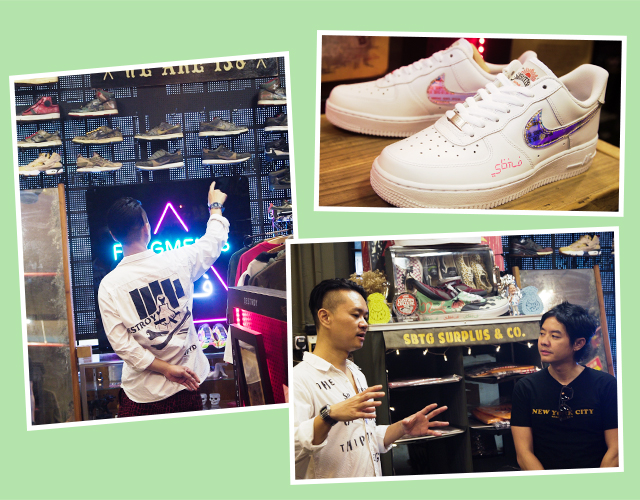 Even GP got to explore one of his passions: sneakers! "One of the highlights of our trip was meeting Mark Ong, a sneaker customizer," GP shares. "I'm a big sneaker collector, so I was fortunate to have met one of the legends in the industry."
GP recalls how Mark explained to him that the designer hides small influences or details in his designs to make his clients feel nostalgic about their custom footwear. "I realized Mark and I are so alike. We have the same influences, like Michael Jordan, punk rock and skateboarding. [It's] amazing to see someone from a different industry and different country being so similar," he says.
Design Orchard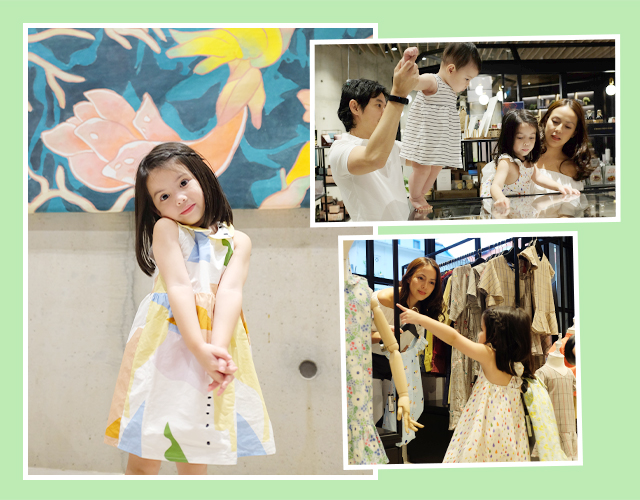 Located at Orchard Road, Design Orchard is a retail space created specifically to promote Singapore's up-and-coming local designers and locally made products.
Andi says it's the perfect place to buy unique mementos and gifts. "We bought a lot of little trinkets for pasalubong there," she says.
Day 3: During the family's last day in Singapore, dubbed their "crazy rich adventure," they got a chance to go island- and beach-hopping on a yacht.
Lazarus Island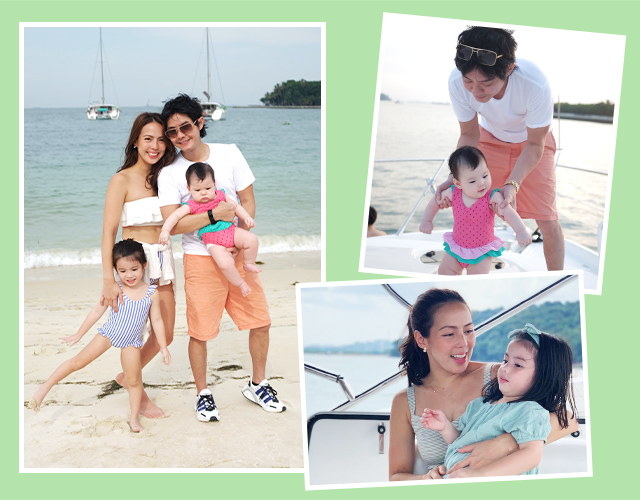 As an adventure-seeking and beach-loving couple, Andi and GP had a lovely afternoon with their kids touring Lazarus Island. GP's brother, who resides and works in Singapore, was even able to join their short getaway.
"What we loved about this activity was we saw Singapore from the outside," Andi says. "From Marina Bay Sands to Gardens by the Bay and simply just the outskirts—it was already a sight to see."
"Watching the fireworks from Marina Bay Sands and the Wings of Time [water and laser light show] from our yacht was the perfect way to end our trip," she adds.
GP and Andi also share a couple of tips for families who will be visiting Singapore for the first time.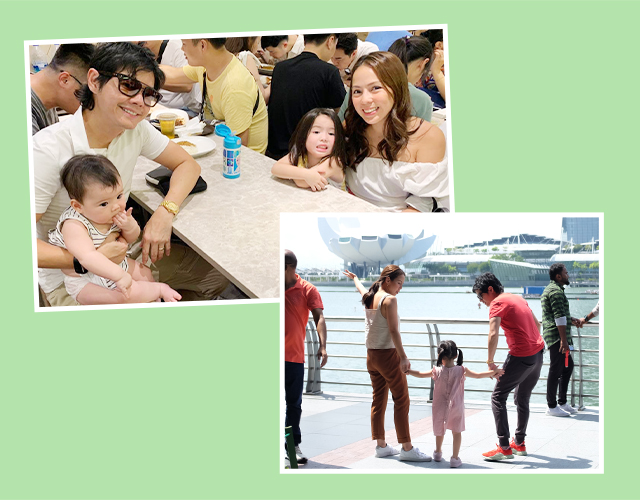 1. Try the child-friendly (and adult-friendly) local cuisines.
GP, who loves the chili crab in Jumbo Seafood Dempsey, notes: "Singapore is a convergent point of three cultures, so there's so much flavor in one place."
Andi recommends chicken rice for kids. "You can find chicken rice in any food court in Singapore, and you can't go wrong, masarap talaga siya." She also includes Hawker Chan in Chinatown and Violet Oon in her list of must-eat restaurants.
2. Don't be shy to ask for recos online and from people who have been there.
"The great thing about social media now is you can ask people for tips and you get a bunch of great responses and suggestions," GP says.
Andi shares, "I think it's also good that we have family there. They are actually the ones who give suggestions—new restaurants to try out, shops to check out, and other family-friendly places to visit."
Singapore also has a dedicated and up-to-date tourism website. It's an invaluable resource for families who want to travel to the country.
3. Stay alert for airfare promos.
Because Singapore is near the Philippines, moms and dads should be on the lookout for affordable airfare. Andi says this will help parents "score good deals for the whole family."
Follow the adventures of the Manzano-Reyes family in Singapore, where they enjoyed unique dining experiences, indulged in their passions, and explored hidden gems in the beautiful city-state.
What are you waiting for? Make your family's passions possible, just like Andi and her family, by booking a trip to Singapore. Get to know more about Singapore by following Visit Singapore on Facebook and Instagram, or checking out its official website.
This article was created by
Summit Storylabs
in partnership with Singapore Tourism Board.