'You Can Ask The Crew For Extra Snacks,' And Other First-Time Flying Hacks From Flight Attendant Moms

Did you know that you can ask the crew for some extra snacks like dried fruit and chocolates for your child?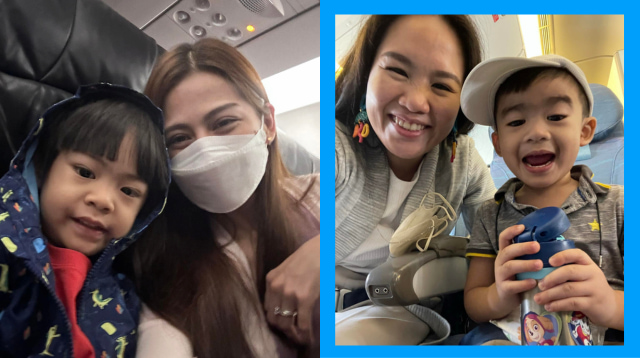 Have you been seeing travel photos of your relatives and friends with their kids on your social media feed and feeling left out?

You're not alone. Some parents these days are in "revenge travel" mode, and we can't blame them after being stuck at home for years.

"Revenge travel" refers to the phenomenon where people try to make up for lost time due to the pandemic lockdowns.

If you're planning your own revenge travel soon and it's your first time flying with your child, we've got you covered. Smart Parenting asked experienced flight attendant moms for their top tips and hacks, so you can make the travel time just as fun!

READ ALSO: Andi Eigenmann's 5 Tips For Traveling With Young Kids

Flight attendant moms share hacks for first-time travel with kids

Guamela, a mom of one and an international flight attendant with 13 years of experience, shared her hacks for a peaceful flight with Smart Parenting.

ADVERTISEMENT - CONTINUE READING BELOW

"If you are taking a long-haul flight, it's best to book night flights to align with your child's sleeping schedule."

She added, "You can also request a baby or kids' meal! It's different from what's being served to the rest of the passengers. Make sure to place your request at least 48 hours before the flight."

 

"Happy tummy, happy baby!" Mommy Guamela ensures that her son Kenzo enjoys a delicious meal during the flight to keep him from becoming fussy.

PHOTO BY

COURTESY OF GUAMELA CLEOFAS

 

Guamela advises parents of toddlers to bring at least two new toys to keep them busy. "Paisa-isa ang labas. Small and cheap toys lang para hindi masakit pag naiwan sa plane," she explained.

She also suggests not relying on medicines available on the flight and recommends bringing a first aid kit with essentials like paracetamol, allergy meds, and Band-Aids.

READ ALSO: 6 Tipid Travel Tips And Packing Hacks You Should Know Before Flying

Depending on the airline, she added, a mom traveling with an infant may not need to pay extra for a bulkhead seat, which offers more legroom and is located directly behind a wall, partition, curtain, or divider on the airplane.

Ronna Capili Bonifacio, Smart Parenting's editor-in-chief, shared that she brought inflatable footrests for her kids to keep them comfortable on long-haul flights. She used a USB-powered mini air pump to inflate them.

Mommy Ronna's son Teo feeling comfy with his inflatable foot rest. Check with your airline first if this is allowed. 

PHOTO BY

COURTESY OF RONNA CAPILI BONIFACIO

ADVERTISEMENT - CONTINUE READING BELOW

BUY THE INFLATABLE FOOT REST (PHP 469.20) ON LAZADA HERE.

BUY THE MINI AIR PUMP (PHP 245.00) ON LAZADA HERE.

Other flight attendant moms, Vivie, Asia, and Jenny, also shared their tips and hacks:

1. Brief your child about the trip, explaining that you'll be staying in a different place and exploring new activities. Show pictures and videos to set their expectations.

For Mommy Vivie, she gives a brief to her child, "Bam, 7 days tayong wala sa house. We'll stay in a different place and we'll explore a new place."

PHOTO BY

COURTESY OF VIVIE TUVILLA

ADVERTISEMENT - CONTINUE READING BELOW

2. Travel light as much as you can. "Ang hirap mag travel with kids na madaming bitbit. Then put frequently used stuff in an easy-to-reach pouch/bag," Mommy Jenny advised.

3. Dress in comfortable clothes for both kids and parents.

4. Mommy Asia adds, avoid bringing excessive carry-on items, but have enough essentials for the flight. "Bring an extra shirt and bottoms."

Mommy Asia's kids Inigo and Hailey keeping themselves busy with some activity books 

ADVERTISEMENT - CONTINUE READING BELOW

5. Check in online or early to secure a window seat for your child, allowing them to enjoy the view during takeoff and landing.

6. Use airport restrooms before boarding to avoid waiting in line on the plane for a short flight and relax in your seat.

7. Politely ask the crew for extra snacks if available. "Sometimes we have a lot of extra dried fruits or chocolates that the kids might like," Mommy Jenny said.

Mommy Jenny and her family in one of their trips

PHOTO BY

COURTESY OF JENNY uy

ADVERTISEMENT - CONTINUE READING BELOW

Rosie Domingo, a member of the Smart Parenting Mom Squad with 17 years of experience in the airline industry and has three kids, emphasized the importance of keeping children informed.

"Be honest with kids about the airplane being a small and enclosed space with many passengers, making noise more noticeable," she said.

"Tell your kids that some of the passengers may be first-time flyers, and may have anxiety flying. Kids are usually understanding of this and will behave differently when we explain it to them thoroughly."

PHOTO BY

COURTESY OF ROSIE DOMINGO

ADVERTISEMENT - CONTINUE READING BELOW

As a final tip, and all the flight attendant moms we asked swear by this hack, "When all else fails, have small toys ready as rewards. For example, if they keep their seatbelts on until the sign is off, they can get a reward." She mentioned that she put this as a last resort because she prefers to give her children intrinsic rewards first. For more travel content, follow Mommy Rosie @rosiedoms on Instagram.

Remember to make the travel just as fun as your trip! Share your other flying tips and experiences with other parents at the Smart Parenting Village.

Trending in Summit Network