GUIDE: How To Maximize Your Time At Universal Studios Singapore

So you can get your money's worth.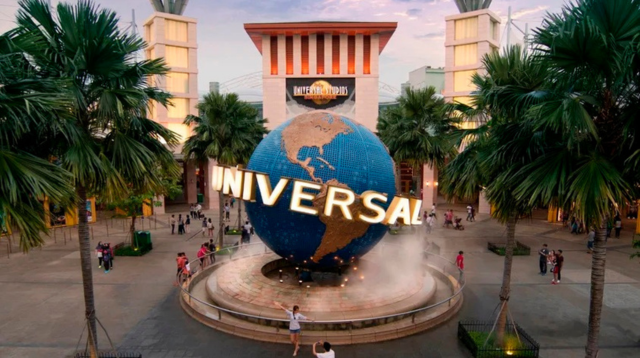 Products and services recommended on our websites are independently selected by our editors. If you buy something through our links, Summit Media may earn an affiliate commission at no extra cost to you.

When it comes to visa-free travel within Asia, Singapore is a popular choice. Despite being smaller than Cebu, the island state has no lack of tourist attractions and dining experiences. Heck, you could have an entire vacation within the confines of Changi Airport if you feel like it. Still, there's more to Singapore than hawker centers, the Merlion, and any other attraction that you might have seen in Crazy Rich Asians. One stop on your SG itinerary that you shouldn't forget is a trip to Universal Studios Singapore located on Sentosa Island. Whether or not you're a movie buff ready to geek over everything or just someone who wants to spend a few hours being a total kid, one thing's for sure, you'll need this handy guide to make the most of your visit.

READ: Parents' Tipid Tips And Hacks For Hong Kong Disneyland: Vouchers, Merch, And Food

Ticket Prices

As of writing, Universal Studios Singapore tickets on the Resorts World Sentosa website are SGD $80 (roughly P3,312) for children and SGD $109 (roughly P4,512). Tickets purchased and redeemed until October 1, 2023 include one-day entry to the theme park, one-day admission to the Van Gogh: The Immersive Experience, and an SGD $5 (roughly P205) Universal Studios Singapore F&B voucher that you can use inside the park with no minimum spend.

ADVERTISEMENT - CONTINUE READING BELOW

Online travel agencies Klook and KKDay also sell discounted tickets based on the intended date of visit.

Zones and Must-Ride Attractions, Must-Watch Shows

Hollywood

PHOTO BY

Website/Resorts World Sentosa

Upon entry to the park, Hollywood is the first themed zone that you will encounter. Here you can meet some of your beloved DreamWorks Animation characters like Gru and the Minions from the Despicable Me franchise, the zoo animals from Madagascar, and even Po and Master Tigress from the Kung Fu Panda movies.

New York

Immediately to the right of Hollywood is the zone of New York where you can relive your childhood with characters from Sesame Street. Go on a space mission with Elmo and the gang as you try to stop Macaroni the Merciless from stealing all the spaghetti from Earth in the zone's only attraction called Sesame Street Spaghetti Space Chase.

ADVERTISEMENT - CONTINUE READING BELOW

You can also watch a special effects show called Lights, Camera, Action! Hosted by Steven Spielberg where the movie director reveals the secrets behind some of his movies.

Sci-Fi City

PHOTO BY

Website/Resorts World Sentosa

Sci-Fi aficionados would enjoy taking a spin or two at some of Sci-Fi City's attractions. Themed after some of the most popular franchises, the zone features a high-speed turbulent roller coaster called Battlestar Galactica: HUMAN vs. CYLON; a 3D thrill ride-slash-show called TRANSFORMERS The Ride: The Ultimate 3D Battle which turns you into a freedom fighter as you join the Autobots in a battle against the Decepticons; and a spinning "cups"-style ride called Accelerator that will test your stamina, balance, and above all, your stomach.

ADVERTISEMENT - CONTINUE READING BELOW

Ancient Egypt

History buffs, you better not miss out on this particular zone as you step back in time (the 1920s to be specific) as you rediscover what Egypt has to offer. Go on a ride or two, or three at Universal Studios Singapore's most popular ride called Revenge of the Mummy as you try and survive scarab beetles, warrior mummies, and Voldemort, er, we mean Imhotep's curse.

ADVERTISEMENT - CONTINUE READING BELOW

In case you're not into thrilling rides or are under a certain height and age requirement, you can opt to go on Treasure Hunters instead which is a more docile motorcar ride that guides you through an abandoned excavation site so you can live your dream of being an archaeologist.

The Lost World

PHOTO BY

Website/Resorts World Sentosa

ADVERTISEMENT - CONTINUE READING BELOW

Let's face it, Jurassic Park and its many renditions remain to be one of the best movie franchises to ever exist. And while we may never get the chance to cohabitate with the dinosaurs given that it's literally been eons, we can at least try to pretend in this particular zone.

A mix of both thrilling and child-friendly attractions, parkgoers can choose to ride the more subdued Dino-Soarin which gives kids a view of the zone from a moderately high surface; thrill seekers on the other hand can go for the daring Canopy Flyer where guests get to soar through the air like a pterodactyl (with your feet dangling from your seat, no less!) or the seemingly unassuming Jurassic Park Rapids Adventure that takes you on an excursion where you can discover the different dinosaur species.

A little tip from us, don't hop on this ride if you're either a) afraid of sudden drops, or b) scared to get wet, because trust us, you will be by the end of it.

ADVERTISEMENT - CONTINUE READING BELOW

Prior to the pandemic, the zone also had an entertainment show called WaterWorld which is based on the blockbuster film of the same name. The show, which is currently unavailable at the time of writing, features death-defying stunts that you'd typically see in action-packed Hollywood movies.

Far Far Away

ADVERTISEMENT - CONTINUE READING BELOW

The last zone of Universal Studios Singapore—at least until further expansion plans are made—is Far Far Away from the movie franchise, Shrek. Here, you can meet some of your favorite characters from the franchise like the OG ogre "ship" Shrek and Princess Fiona.

Ride-wise, the zone has a family-friendly roller coaster called Enchanted Airways which lets you board Donkey's lady friend named Dragon as she takes you all around the forests of Far Far Away. Other attractions include a mini Ferris wheel called Magic Potion Spin and an inverted cable car-type roller coaster called Puss In Boots' Giant Journey.

Dining and Shopping Spots

PHOTO BY

Website/Resorts World Sentosa

ADVERTISEMENT - CONTINUE READING BELOW

The theme park has various dining establishments, stalls, and thematic retail spaces in each of the zones. All of the shopping spots are open but due to the pandemic, select restaurants and stalls are unavailable. As of this writing, dining options at Universal Studios Singapore are but not limited to Mel's Drive-in located in Hollywood which offers the classic 1959s drive-in diner experience; Loui's NY Pizza Parlor in the New York zone for when you have a hankering for a yummy slice of pizza; Frozen Fuel and Planet Yen in Sci-Fi City for some quick snacks and ice cold drinks to help you cool down from the humid Singapore weather; Starbot Cafe, which is also in Sci-Fi City in case you're in the mood for some Japanese comfort food.

PHOTO BY

Website/Resorts World Sentosa

ADVERTISEMENT - CONTINUE READING BELOW

Oasis Spice Cafe in Ancient Egypt, on the other hand, serves traditional Indian fare like Mutton Masala and Butter Chicken Biryani. Other tasty Asian bites can be found in Far Far Away's Friar's Good Food as well as Goldilocks (not that Goldilocks, mind you) which serves a seven-spiced crispy fried chicken.

Other Things to Know Before Your Visit

Operating Hours

The park is open daily from 11 a.m. to 6 p.m. however Universal Studios Singapore recommends that you regularly check the Resorts World Sentosa website as park operating hours are subject to change without prior notice.

Strollers and Person With Disability (PWD) Access

Personal strollers and wheelchairs are welcome inside the park, however, if you find it easier to just rent, the option is available as well. For SGD $15 (roughly P621), guests can rent either an infant/single stroller or wheelchair. Those that have multiple children also have the option to rent a double stroller for SGD $20 (roughly P828).

ADVERTISEMENT - CONTINUE READING BELOW

The park also provides information on its website regarding all the current attractions and shows that might require assistance for guests with disabilities.

In-Park Payment Options

Currently, establishments inside Universal Studios Singapore only accept contactless payments. The park's preferred cards or digital wallets include Mastercard, Visa, American Express, Diners, JCB, Union Pay, NETS, GrabPay, WeChat Pay, Alipay, MPay, NETS Pay, PayNow, Singtel Dash, Genting Dollars, and RWS vouchers.

How to Get There

Universal Studios Singapore is accessible by public transport. Those that wish to take the MRT can purchase a single journey ticket to HarbourFront Station and then transfer to the Sentosa Express Monorail Line which requires a separate ticket. You also have the option to travel by bus with routes heading to VivoCity and the succeeding bus RWS 8 or any of the busses that alight at Resorts World Sentosa.

Universal Studios Singapore is on Sentosa Island, Singapore. It is open daily from 11 a.m. to 6 p.m. For more information, visit Universal Studios Singapore's website. Tickets are available through Klook and KKDay.

ADVERTISEMENT - CONTINUE READING BELOW

Links are updated regularly and as much as possible but note that products can run out of stock, discounts can expire and listed prices can change without prior notice.

This story originally appeared on Spot.ph.

*Minor edits have been made by the SmartParenting.com.ph editors.

Trending in Summit Network