You Can Rent These Batangas Homes for P3,000 to P5,000 a Night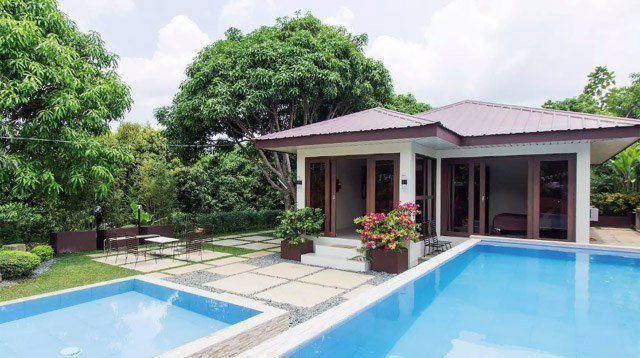 Cool off from the Philippines' hot summer days with a trip to nearby Batangas. The destination is a favorite of city-dwellers looking for beaches and pools that are just a drive away. To help you plan your family getaway, we scouted Airbnb for a few cozy homes for rent. Like our Tagaytay list, these can all accommodate a family of three to four and have amenities or features that kids will enjoy. (Tip: for beach vacations, check out the Pico de Loro homes below.)

1. Mertola's
P4,523/night* 



This spacious home comes with a fantastic view of the Taal Lake, a swimming pool, a hammock, a badminton court and even covered outdoor massage beds that overlook the lake. What more could you ask for? Well, they also serve breakfast complete with Kapeng Barako and freshly picked fruits growing on the property, and the home can accommodate up to 10 people. So that's your family reunion vacation sorted. Just make sure you tell the host that you're planning to rent the whole house as they sometimes rent rooms only. 

What past guests have been saying: 
The place is beautiful and relaxing, and the view is just amazing. The staff was accommodating and the food was great. We loved watching the sunset from the viewing deck. We came with two kids and a dog, and they loved running around the property. Very spacious! We really enjoyed our stay here and would definitely recommend this place! -- Daria, May 2016 


2. Cozy condo at Pico de Loro
P3,618/night*



This home only looks like a room in a hotel, but it's actually a fully-furnished condo in Pico de Loro in Nasugbu that can comfortably accommodate four people. It comes with a stocked kitchen complete with a rice cooker and electric stove. Since the unit is within a beach and country club, guests can have access to the resort for a fee that's good for your whole stay. The beach, pool, children's play area, bowling arenas and more are just a few minutes' walk away. 

What past guests have been saying:
Pico de Loro has a very private and exclusive vibe. It was my first time to actually feel so relaxed in a very long time. The unit itself had been spacious, complete furniture/fixtures. The kitchen was also complete, which made our stay a breeze since we cooked our food during our stay. The veranda also had nice furniture where we hung out most of the time. The room had been mostly carpeted. There were lots of towels provided. --Rochelle

ADVERTISEMENT - CONTINUE READING BELOW

What other parents are reading

3. MyFarmHouse
P4,975/night*



Nestled in a two-hectare property, this farm home is the perfect place if you're looking to recharge and relax. Step out of the lovely house, which can comfortably accommodate four, and you and the kids will be greeted by turkeys, chickens, horses, goats, and other farm animals. The house is fully air-conditioned, comes with a stocked kitchen and a barbecue grill (bring coal!), and has a fantastic view of the sunset. Just make sure to bring your own toiletries. 

What past guests have been saying:
What a peaceful oasis. In the middle of rural Luzon, only two hours from Manila, is a small stand-alone modern farmhouse. It is very comfortable and well stocked with everything you need for cooking. There are tons of farm animals so it's great for a family. Very quiet and peaceful. Except for the sounds of the parakeets! Highly recommended. Very helpful hosts. And there is a caretaker nearby to help out. --Greg


4. The Villa at Ricarte's Hill
P5,076



Family outing, anyone? Far from noise and pollution, this two-bedroom villa is a pleasant escape from the city. It has private pools -- a shallow, smaller one for kids and a larger pool for adults. It comes with a stocked kitchen, a grill, hammocks, and you can even rent tents if the kids want to camp out. If you don't feel like cooking, the hosts can prepare meals for you, too. The home can accommodate up to 10 people but additional charges apply after four guests.

What past guests have been saying:
We really enjoyed our stay at Ricarte's Hill. We loved the place. It was very clean and well maintained. The place is great for quick getaways with your family. Communication with the host, Ms. Vic, was also a breeze. She replied to my queries promptly. The caretaker was also very welcoming and helpful. This place is highly recommended and we will certainly be back in the future. --Catrina Joy


5. Pico de Loro condo
P3,819/night*



Beach please! This condo unit is located in Pico de Loro Beach and Country Club in Nasugbu, and its building is nearest the sand and sea. There's a fully-equipped kitchen, WiFi and cable TV. It has one queen-sized bed that's got a pull-out bed underneath, a queen-sized sofa bed and a few extra mattresses. Each member of a family of six will have a place to sleep. Bu,  as it is located inside a resort, wouldn't you much rather spend your day at the beach, pool, children's play area or bowling alley? Get access to these and more for a fee that's good for your whole stay.

What past guests have been saying:
Gloria's place is very nice. We were a family with two young children. My babies found comfort in this unit after a day of fun. The building where the unit is located is a short walk from the beach. Shuttles are also available for when you need to go to places a little further from the unit like the country club. Aside from the little drip from the aircon, Gloria's unit was just perfect. --Raechelle

*Prices stated here are rates during date of publication. Rates and status of property are subject to change. 

Trending in Summit Network