1
« on: October 22, 2013, 04:30:42 pm »
Basahin sa Smart Parenting.
Click this to read full article.
Masaya Maghugas Ng Kamay! Moms And Their Kids Show Us How It's Done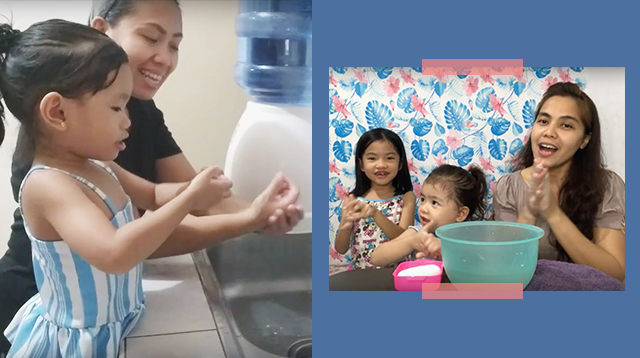 photo COURTESY OF CHERRIE DELOS SANTOS AND LAIRA PELESCO
---
Hi mommies! I just want to inform you about the HFMD disease spreading right now in some parts of Manila and Cavite. My 2 year old got it from ( I suspect) when we went out to the mall. This disease can be easily spread through kissing, sneezing, etc. Be careful if you are going out with your little ones. Make sure that they don't touch anything dirty or at least always disinfect their hands. Here are some info about it.
Symptoms:
Fever
Sore throat
Feeling of being unwell (malaise)
Painful, red, blister-like lesions on the tongue, gums and inside of the cheeks
A red rash, without itching but sometimes with blistering, on the palms, soles and sometimes the buttocks
Irritability in infants and toddlers
Loss of appetite
In 2010 Kris Aquino and her kids got this. It is highly contagious. To prevent this:
Hand, foot, and mouth disease is spread from person to person through nose and throat secretions (such as saliva, sputum, or nasal mucus), blister fluid, or stool of infected persons. You can lower your risk of being infected by
Washing your hands often with soap and water
Disinfecting dirty surfaces and soiled items
Avoiding close contact such as kissing, hugging, or sharing eating utensils or cups with infected persons
Balitaan niyo ko mga mommies if you have any info or thoughts about this disease.
---
Naka-relate ka ba? Basahin ang
latest comment
tungkol dito o mag
Reply para makapagpost ng katanungan, payo o kwento.
.