1
« on: March 03, 2010, 08:30:24 pm »
Basahin sa Smart Parenting.
Click this to read full article.
Mabilis Raw Makasira Ng Pagsasama Ang 5 Ugaling Ito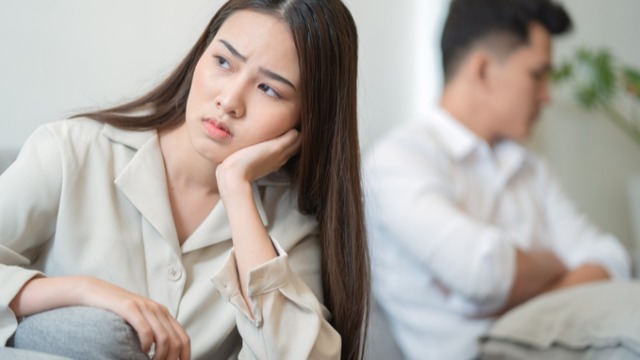 photo by ISTOCK
---
Hi mga mommies,
just wanna share you my story, hopefully, you could give me a sound advice. THANKS IN ADVANCE!!!!
During my college days, I had a bf of 4 years, but it was a long distance relationship. Im from NCR and he's from Region 4. The reason was para
makaiwas sa tukso
. It was a healthy relationship but when Im in my last year sa college, my mother talked to me if im really sure that he's the one.kasi 3 years older sya sakin and that time di pa sya nakakagraduate ng course niya... tapos papalit palit pa. Since Im the only girl, super protective talaga sya. When I landed a job after graduation, he's still studying. during summer that year, ngbakasyon ako sa hometown ng parents ko for a month. Part na rin ng cooling off stage kasi ilang bses na kami nag usap about future plans pero wala pa rin syang plans kahit sa sarili niya. He knew I will be in the province for a week, so nung 2 weeks na ko, may mga threats na sya sa fon. hanggang 3 weeks, di na umuuwi sa kanila, dun na sa kapitbahay namin tumatambay kasi naging barkada na niya to the point na nablackmail ako kasi kung di pa ko uuwi ng manila, magpapakamatay na sya...
In short, umuwi ako ng manila after a month. The point is, if he trusts me, he will not do those stupid things. I got hurt sa ginawa niya. para akong naeskandalo sa lugar namin. Nung bumalik na ko sa work, cool off na kami but he's really trying to win me back thru blackmail... like grave threats, pagiging stalker,to the point of telling different stories which should have damaged my morality. My employer did not believe him. One of my friends reported the case to the NBI.
In short, NBI already planned to catch him because of those misconduct. Eventually, on that day, na dapat magkikita kami, he texted me na di na niya ako guguluhin... end of story.
after 6 years, he saw me in FB. he gave his number, he sent my husband a message (better not cheat). Na paranoid naman ako as usual, so I called him and asked him kung ano na talaga ang problema kasi nananahimik na ko. He told me na for the past 6 years, he's thinking about me everyday. kasi napakabigat daw ng dindala niya. yung mga ginawa niya saking issues and everything, di daw sya matahimik. I told him na we have to move on, ok na ko, ok na sya, pareho na kming may family. I WAS RELIEVED after that talk. As to my husband, ok lang sa kanya na nagcommunicate kami kasi nakikita niya naman ako na everytime makarinig ng name ni X di na ako agad mapakali, I m too afraid sa mga next moves niya before, pero after namin mag usap that time, parang nabunutan ako ng napakalaking tinik.
The next day, eto na ang wife... nagtxt na mhal pa daw ako ng husband niya at ang daming mga bstos na words na sinasabi sakin, pretending he's my X. I never believed her kasi ang ganda ganda ng usapan namin ni X at nafeel ko ang repentance and sincerity ni EX.
Question: Should we still communicate?
It was the day
when we said goodbye for the last time
with all the heartaches, anger, fear, regret
and curse of what had happened
for six long years, I bore the dilemma within myself
as I tried to pretend to be okay
and everybody believed me
behind the strong character is a weakling ---
so fragile, so helpless, and so vulnerable
and when somethingís reminding me of the past
I easily get distracted
very much afraid to sense even your shadow
or hear the echo of your name
despite those pretences, I long for this time
where we can release the pain,
talk freely and pick up the pieces
though realityís barking that we canít mend it perfectly
we agreed to give it a try
to let go of the past and start anew
another kind of friendship
thatís so comforting and true
And in just a blink of an eye
Everything was shattered!
Truly, destiny will not permit it.
So better keep it locked...........
na inspire pa ko gumawa ng poem haaaay!
pasensya na, ang haba.
THANKS SO MUCH mga sisses!!!
---
Naka-relate ka ba? Basahin ang
latest comment
tungkol dito o mag
Reply
para makapagpost ng katanungan, payo o kwento.