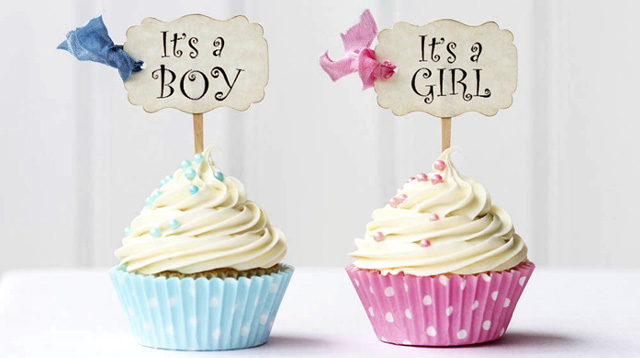 Are you getting ready to welcome your first child? Whether it be a boy or a girl, here are a few things you should happily expect:

Are you having a daughter? Know these:

1. You will always be surrounded by all things pink, glittery, and fluffy.
When you walk into your daughter's room, all her toys will probably be pink -- even her books, bed sheets, tables, and chairs! And if she's one of those rare ones who isn't crazy about pink, she still can't escape the color because, well, have you seen the girls' department in the toy store?

2. Your makeup, jewelry, and shoes won't be safe from prying hands!
Playing dress up is always fun, even for grown ups. But not when someone else is trying to grab your makeup brushes and accessories out from under you! Then you have to worry about her tripping in those stilettos or ripping your antique necklace apart.

3. If you buy something cute and pretty for yourself, you can't count on it to be just yours.
It will be, "Mama, can we share?" And you know what that means: you'll never see it again.

4. Complicated relationships will be apparent as early as three years old!
So and so doesn't want to play with so and so, or so and so felt bad because so and so said this and that. Times like these, you're tempted to say, "Why can't you just be like the boys and chase each other while roaring like dinosaurs?!"

5. You will find yourself answering questions about marriage, breakups, and love much earlier than you expected.
And you'll have to watch every little thing that comes out of your mouth because in a few days, a month, or a year, one of your nuggets of wisdom might come back to bite you in the you-know-what. "Mom, how old were you again when you had your first boyfriend? Didn't you say 14?" Ayayay.

6. Your hairstyling skills will be challenged.
With ballet, school performances, and growing out bangs, you'll need to take a hairstyling class to keep up!

7. Teaching your child about girl power and how to behave like a princess (or a lady as we used to say) will be tricky.
Come on, you want your precious one to believe she can kick butt, but she can't exactly spout words that refer to private parts. It's confusing because hey, it's still something we adults try to work out to this day!

8. Your closet —- and fashion sense —- will always be under scrutiny.
God forbid you leave the house looking less than perfect or your little girls won't let you hear the end of it. If you do wear flip-flops to do the school run, your little girl will raise her eyebrows and ask what you think you're doing.


Is a baby boy on the way? Prepare yourself for these:

1. Your days will be filled with:
a. Gross stuff - invest in products like Goo Away because his clothes will be covered in sticky stuff. Burping contests? Oh, game on!
b. Toilet humor - accept the fact that farts (the word and the act) are funny, so are poop, pee, and pulling one's pants down.
c. Toilet training – you will wonder if it's really that hard to aim and put the toilet seat down gently! But there is a silver lining: going to a public bathroom is a breeze. Thank God!
 
2. You'll always wonder if you need to get that extra critical care insurance for your heart.
Boys are rough. It's in their DNA. They NEED to sprint from their room to the dinner table, they HAVE to jump out of the car, they WILL climb/step on anything higher than the pavement they walk on -— including your feet -— then jump off it.
 
3. You will have to know the difference between a sword, a light saber, and a blade.
You must learn how to use each one correctly and be ready to battle…in character. Needless to say, you must know —- by heart -— the names of all the superheroes, ninjas, robots, their powers, and arch enemies. And when you play, YOU will be the enemy.
 
4. Every day and everything will be "awesome"!
How was school? Awesome! How was your play date? Awesome! How are you feeling? Awesome! How old are you? Awesome!!! Makes you wish you had a chatty little girl who would let you in on every single detail, down to how many times a classmate stepped out to go to the toilet.

ADVERTISEMENT - CONTINUE READING BELOW

What other parents are reading


5. You'll have to be ready to answer the question "Mom, why do you pee from your butt?"
 
6. As you meet his female friends, you will find yourself grouping them into "Best Friend," "Wife," and "Oh gahd, please stay away from her" material.
 
7. You will have to find the right balance between teaching your son to be gentle and toughening him up.
You don't want him to get into fights but you want him to know how to stand up to bullies. You want him be a gentleman but you don't want him to be bossed around by the girls. It's hard, but you'll figure it out as you go.
 
8. Dressing up for ANY occasion will be a breeze.
Shirt (long sleeves, with collar for more formal ones), shorts/pants, shoes. That's it. Unless he insists on wearing tsinelas or a Spider-Man costume to a wedding, you can quickly leave the house, because most of the time, he really doesn't care about what he puts on.

As with all things, there are exceptions (and those lovely exceptions make life so much more interesting), but for most parents, these generalizations will ring a bell and are quite fun when you do realize just how different little boys and girls can be!


Ines Bautista-Yao is a mother of two little girls, a seven-year-old and a one-year-old. Anne Macalino-Santos is a mother of a seven-year-old boy. Both moms (and their kids) are good friends and blog together, along with two other moms, at www.theeverydayprojectblog.com.
 



CONTINUE READING BELOW

Recommended Videos

Celebrate your pregnancy milestones!


Enter your details below and receive weekly email guides on your baby's weight and height in cute illustration of Filipino fruits. PLUS get helpful tips from experts, freebies and more!

You're almost there! Check your inbox.


We sent a verification email. Can't find it? Check your spam, junk, and promotions folder.
Trending in Summit Network