5 Ways to Raise a Happy Baby in 2018, According to Science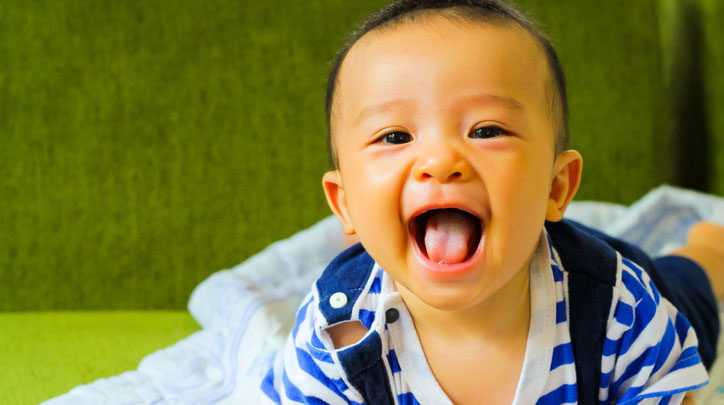 We've written about raising happier and successful kids, and it begins the second they are born. In fact, you're already doing it, starting with your instinct to soothe a crying baby.

While hearing your little one cry might seem like torture, it's just as important to allow him to discover how to self-soothe. "Babies' needs should be largely met in the first six months. But after that, you needn't rescue them from every negative emotion. They should get the chance to regulate and soothe themselves," says Dr. Maria Gartstein, a psychologist from the Washington State University in the United States, in an interview with Fit Pregnancy and Baby magazine.

Letting your babies self-soothe doesn't mean you are not caring for them (the same goes for comforting babies — it doesn't mean that you're automatically spoiling them). To help you raise a happy baby in the new year and beyond, here are some tips from experts.

What other parents are reading

1. Cuddle and snuggle with your baby.
Studies have shown that skin-to-skin contact is vital, especially for premature babies. Not only is it a source of comfort but prolonged contact like doing Kangaroo Mother Care on your baby can strengthen his immune system.

It also benefits babies' health and cognitive intelligence later in life, according to a study published in Pediatrics. Results have shown that skin-to-skin contact even leads to higher intelligence quotients and reduced hyperactivity and aggression when the infants become adults.

In another study published in the Development and Psychopathology journal, researchers found that the amount of close and comforting physical contact between infant and parent may affect the child's genes when he or she grows up. Results showed that children who had been more distressed as infants and had received less physical contact "had a molecular profile that was underdeveloped for their age," reports Science Daily.

What all these research points out is that touch leads to positive feelings for any baby. Hugs can increase the release of oxytocin, a feel-good hormone better known as the "cuddle chemical." It can also make the baby feel more safe and comfortable as cuddling can lower levels of cortisol, a stress-related hormone. "Hugs are a natural analgesic," says Dr. Letitia Ho, a developmental pediatrician based in Quezon City. "The skin is very sensitive. Physical discomfort, like pain, is eased when touched. That's why a child crying because of a scraped knee is soothed when he is hugged by his mother."

2. Let babies have lots of sleep.
During their first few months, infants won't be able to soothe themselves to sleep, so they may cry to ask mommy and daddy for help. To help baby's mood become better when awake, let them have as much sleep as they want, with little interruptions.

ADVERTISEMENT - CONTINUE READING BELOW

What other parents are reading

In a 2015 study published in the European Journal of Developmental Psychology, researchers compared American and Dutch infants, and found that babies born in the Netherlands were "more likely to be happy and easier to soothe in the latter half of their first year." This was partly because Dutch babies had relatively calmer demeanors due to a more regulated sleep schedule and lower intensity activities. Having more sleep led to the babies demonstrating "greater expressions of happiness during routine activities." They were also easier to calm or soothe when distressed.

Following a bedtime routine makes it easier to ease baby into sleep. Watch out for your baby's sleep cues — physical signs that they are sleepy, like yawning or rubbing their eyes, and becoming fussy, says Gabrielle Weil, a baby sleep coach. These will often lead to a pattern and will help you create a sleep schedule.

3. Give your baby love and attention.
This goes without saying, but we know that being a parent is hard work and with so many things on your plate (like running a household and earning a living) paying attention to your baby can often take a backseat.

"What children need the most is an attuned caretaker," says Dr. Jenn Mann, a psychologist, and author based in Los Angeles in the United States, in an interview with Fit Pregnancy and Baby. "Being present, through eye contact, smiles, and loving gestures gives your baby the respect she deserves."

Making a baby happy is easy; just make sure to allot some one-on-one time with your little one in a day. Try singing songs (studies have shown that singing songs to your baby can increase his attention span and strengthen the bond between mother and child!), or cooing and talking to them while changing their diapers. In fact, the simplest way to make a baby laugh is by playing peekaboo. "It is all about eye contact—which is pure social interaction, stripped down to its barest elements," says Caspar Addyman, a lecturer in psychology at Goldsmiths, University of London. "Peekaboo gives babies what they want more than anything: adult attention." So, give your babies the attention they need—that means putting down your gadgets if necessary, in order to focus on them completely.

ADVERTISEMENT - CONTINUE READING BELOW

Recommended Videos

What other parents are reading

4. Check their bodies.
Because babies can't talk yet, their instinct is to cry when feeling unhappy, or if something's making them uncomfortable. There are many possible reasons as to why your babies cry, and you can even try and decipher what their cries mean, but if they're still crying when they've slept well, or if you've already fed them and changed their diapers, you might have to do a body check to see what else is troubling them. Maybe their clothes are scratching their skin or they've sustained a wound.

If you've checked that everything's all right and they're still fussy, try distracting them by doing something that they love, like giving them a massage or letting them play with their favorite toys.

5. Slowly allow them to make their own decisions.
For the first few years of their lives, babies depend on their parents to make all the choices for them, like what kind of food to eat and when to eat them, what toys to play with, or what clothes to wear. As they grow and begin to understand the world around them, learning that they have little control of their lives can get very frustrating.

Social skills and emotional intelligence play a big part in the overall development of your child, and by the time your babies are 12 months and older it's important that you start acknowledging their feelings and start offering him choices. "I'm a fan of two acceptable choices," says Dr. Mann to Fit Pregnancy and Baby. That means giving your babies a choice between two things that you've already pre-determined as good, like choosing what kind of baby food she'd like to eat for lunch. "This empowers your babies without overwhelming them." Both of you will even be happier as a result. Everybody wins!

ADVERTISEMENT - CONTINUE READING BELOW

What other parents are reading

Celebrate your pregnancy milestones!


Enter your details below and receive weekly email guides on your baby's weight and height in cute illustration of Filipino fruits. PLUS get helpful tips from experts, freebies and more!

You're almost there! Check your inbox.


We sent a verification email. Can't find it? Check your spam, junk, and promotions folder.

Trending in Summit Network