Standing Taller, Sitting Longer At 7 Months! 9 Baby Milestones He Can Do Already

The weeks and months have flown by so fast, and your baby is now a strong and active 7-month old!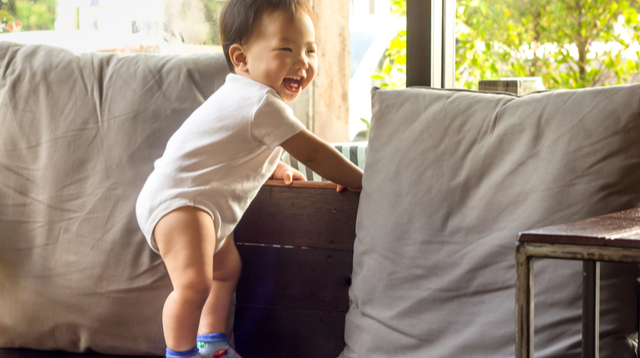 Expect a noisier household and more active playtime as your baby explores more of the world around them. At 7 months old, your little one is becoming more vocal, using two-syllable words such as 'dada,' 'mama,' and 'baba."

7 month baby milestones

As they babble and become more talkative, they'll also start to make more noise as well as they learn how to make new sounds by banging toys and objects. What fun – and also, what a headache!

Here's what else you can expect this month.

Physical development at 7 months

Getting into crawling position

If your baby hasn't yet, they'll become masters at rolling from their backs to the tummies and vice versa. Tummy time and mat time will entail more supervision from the parents as baby will try to balance themselves on their arms and start to pull their weight across the mat.

Many parents ask, "Should my 7 month old be crawling?' Some active babies will start pulling themselves across the floor, but not yet fully crawling.

For most cases, babies are still learning to get into crawling position. But they'll be crawling in no time!

Standing taller, sitting longer

Along with better control and coordination, your baby is generally stronger and can support their weight when you're holding them upright or when you have them in a seated position. They'll also be trying to test their balance, putting out their arms when they're on their feet.

For some babies, they can sit by themselves, without support, for a few minutes at a time.

ADVERTISEMENT - CONTINUE READING BELOW

Picking up small objects with their thumbs and fingers

With greater skill and accuracy, your baby will start picking up toys and objects. They'll use their fingers and thumbs to grab for these and will using a raking motion to bring the objects within reach closer.

They may also even be able to pick up even smaller objects like marbles. So be very careful as babies will still put these in their mouths, which may become a choking hazard!

Feeding time

As your baby gains more motor control, it's a great time to introduce finger foods. Give them their own set of soft silicone and plastic utensils, and give them the freedom to feed themselves – under supervision, of course!

They'll enjoy picking up food, putting it in their mouths, and just generally 'discovering' their food by playing with it and mashing it. They'll also be able to drink from a cup while you hold it to their mouth.

Developmental red flags

Consult your pediatrician if you notice the following:

Is unable to bear weight on their legs when upright, or back when they're sitting down
They aren't reaching for objects and has difficulty putting them in their mouth
Their movements seem limp or loose
They seem to be dragging one side of their body

Cognitive development at 7 months

Your baby's brain at 7 months old is growing at an exceptional rate! At this time, they will be learning rapidly.

Make some noise!

CONTINUE READING BELOW

Recommended Videos

Bringing together motor control, strength, and fun, let your baby have a blast by giving him toys and objects that make noise. He'll start banging and throwing them to check for the sounds that they make, and will be utterly overjoyed! At this time, you can also urge them to look for their toys.

No need for anything fancy or expensive when it comes to playtime; just a pot and a stick or a plastic cup (safe household items only) will give your baby minutes of pure fun.

Stranger danger

As your baby begins to memorize more things and faces, they'll also become more aware of strangers.

Listening for 'no'

Your baby, by now, knows the meaning of 'no' and will begin to learn and distinguish the tone of your voice. If they're reprimanded with a 'no,' they may pause shortly to process what you say.

Developmental red flags

Consult your pediatrician if you notice the following:

Doesn't try to copy the sounds you make
Doesn't turn towards any noise or respond to sound
Doesn't seem interested and doesn't focus, even for short periods, when you're reading and conversing with them
Is not interested in play

Social and emotional development at 7 months

'Mama, papa, baba, nana'

What should a 7 month old be saying? As they learn and recognize more words and sounds, your baby will start to repeat them. From one-syllable words, your 7-month old may now be able to say 'mama,' 'dada,' and 'baba.'

ADVERTISEMENT - CONTINUE READING BELOW

As they build their vocabulary, it's the perfect time to read to them and sing songs to them. Complement your songs with facial expressions and hand movements for greater engagement and stimulation. Bring out the books!

Also, to help them learn their names, you can make up fun songs with their name.

Express yourself

To show their delight or displeasure, your baby will express themselves more with high-pitched squeals to deeper groans. They'll wave, shake their head, and use other gestures to express themselves.

Developmental red flags

Consult your pediatrician if you notice the following:

Doesn't try to verbalize or mimic sounds
Has difficulty focusing even for short periods of time
Is not interested in reading time or play
Doesn't seem to respond during interactions
Doesn't communicate with small gestures

This is the time to truly enjoy your one-on-one conversations with your baby. Read, sing songs, and talk to further bond with your baby.

The developmental milestones for this month are numerous, but should you notice that your baby is not hitting all of them, do not worry. Babies may develop faster in certain areas than others. Consult your doctor for any questions about their growth.

Click here for a list of developmental milestones you can expect from your growing child.

Celebrate your pregnancy milestones!


Enter your details below and receive weekly email guides on your baby's weight and height in cute illustration of Filipino fruits. PLUS get helpful tips from experts, freebies and more!

You're almost there! Check your inbox.


We sent a verification email. Can't find it? Check your spam, junk, and promotions folder.

Trending in Summit Network