Here Comes The First Tooth! 9 Baby Milestones To Expect At 8 Months

They're learning something new everyday!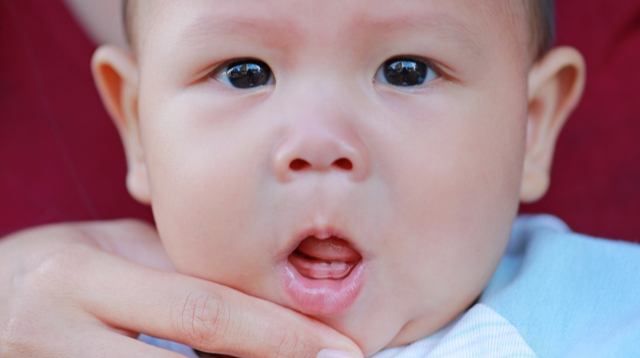 As your baby approaches 8 months, you'll notice them becoming more adventurous and starting to wonder about the world around them. They'll be learning something new every day and their innate curiosity will encourage their growth and development.

8 month baby milestones

What motors skills should an 8 month old have? Are they now more sociable? Here are the milestones you can expect in the next few weeks. 

Physical development

Rolling in both directions

On the floor or in their sleep, your tiny tot is a whole bundle of energy and will be rolling around a lot. Keep an eye on them at all times. You'll also notice that they're scooting or slowly getting into the position of crawling, so encourage them with toys just right out of their reach to help them build coordination and strength.

Cruising along the edge

With better motor control and strength, they'll be able to sit up and hold their weight on their legs. With little assistance, they can also hold themselves up and cruise along the couch and tables. Some babies can also by now sit independently with little or no support.

Finger foods

Your baby will also have better eye-hand coordination so you can encourage development by letting them play with toys and even give them appropriate finger foods to chew and suck on.

My first tooth

When it comes to teething, they'll have their first tooth soon so expect them being a little fussy and uncomfortable. They'll be drooling more than usual, so you may give them a teething toy to help soothe the discomfort.

ADVERTISEMENT - CONTINUE READING BELOW

Developmental red flags

Consult your pediatrician if you notice the following:

Doesn't roll over on their own
Is unable to sit up on their own or with help
Is unable to bear their weight on their legs

Cognitive development

Learning cause and effect

Your baby is happily exploring the world around them and their place in it. Help them discover their relationship with their environment and things by teaching them cause and effect. At this time, they can make little correlations. For example, if they press this button, the toy will play a tune.

Learning words for toys

They'll learn to associate words with toys, and eventually know the names of objects. Continue to play and chat with your baby to encourage learning. One of the simplest yet effective means is to read a book with them. Use voice intonations and facial expressions to make reading time more lively.

More play time

Learning and play time are intertwined so create a safe yet stimulating environment for your baby. Provide soft toys, carpeted floors, soft books, and pillows that they can crawl over.

Developmental red flags

Consult your pediatrician if you notice the following:

Your baby seems disinterested in their environment
Seems disinterested in play time
Does not respond to chatting, toys, and the like

Social and emotional development 

Better communication

They're now getting better at communicatingwith you, gurgling easy two-syllable words like mama and dada. But they're gaining more confidence as well, expressing themselves through gestures and facial expressions. They'll also try to verbalize more sounds so do chat away with your baby!

CONTINUE READING BELOW

Recommended Videos

Recognizing strangers

As they're able to recognize familiar faces, they'll also become more wary of people they don't know. They will cry and look for you if they're carried by other people.

Developmental red flags

Consult your pediatrician if you notice the following:

Doesn't respond with babble when you play or talk to them
They don't look for you when you leave
Doesn't try to get your attention through actions

Remember, these are general developmental milestones for babies their age. Children will grow and develop at different rates so one shouldn't be too worried if their child is experiencing a slight delay. However, should you feel that there should be a concern regarding their development, consult your pediatrician immediately.

Click here for a list of developmental milestones you can expect from your growing child.

Trending in Summit Network