Cruising And Sitting Like A Pro! 8 Baby Milestones Your 9-Month-Old Can Do Already

At 9 months, your baby is showing more personality and understanding of the world around him.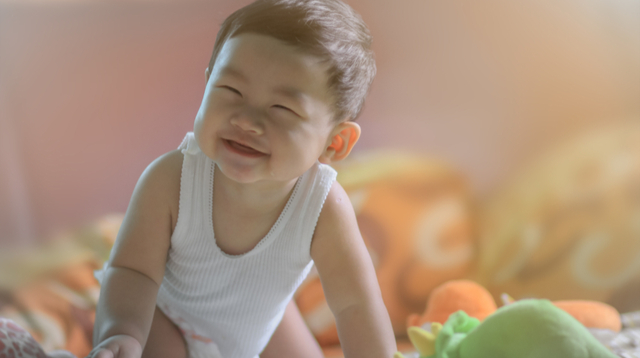 It's just a couple of months before your baby's birthday and they are slowly inching their way to the toddler stage. How far have they come in terms of physical development, social and emotion growth, and communication skills?

9 month baby milestones

At 9 months, your baby is showing more personality and understanding of the world around him. He may be able to point to items, wave "bye-bye", and know what the word "no" means. 

He's also stronger and more confident — he'll start to crawl, cruise, and sit like a pro! Here are 8 exciting milestones to watch out for now that your little one is 9 months old.

Physical development

Ready to crawl

At this age, from simply rolling around, your baby is now starting to pull themselves up and crawl. Their motor skills and physical strength are taking shape to help them get going. Scatter toys around their play mat and just beyond their reach so they can try to pull themselves toward their toys.

Don't be surprised if your little one has a unique way of crawling. According to VeryWell Family, it's perfectly normal for babies to "scoot" with one leg up.

If your baby still does not crawl at 9 months, don't panic. Some babies might not feel like doing it at this stage just yet. Talk to your doctor for any concerns.

Cruising couches and edges

Your baby now is gaining more confidence, and pulling themselves up and standing up on their own. They're working out their legs, bouncing up and down, and soon they'll be cruising along the tables.  So be careful and be on watch!

ADVERTISEMENT - CONTINUE READING BELOW

Sitting like a pro

With stronger legs, your baby now has a stronger core and can sit by themselves — with no assistance! Some may even be able to get up into a sitting position all on their own

Developmental red flags

Consult your pediatrician if you notice the following:

Baby is unable to support themselves in a seated position
Cannot support their weight on their legs
Is not trying to reach for toys on the floor and is not trying to crawl

Cognitive development

Follow and focus

Your baby looks at the world with wonderment and will follow colorful toys and faces when in front of them. If a toy is moved around, they'll follow it with their eyes and let out a squeal in delight.

Games

Peek-a-boo will have your baby loving play time. They'll laugh at the "surprise," and they'll search for items when you hide them.

But baby is certainly getting smarter — they'll remember where certain items in the house are, so it's harder to trick them by keeping objects out of their sight. It's a great opportunity to introduce more fun, simple games to your tiny tot and encourage brain development.

Developmental red flags

Consult your pediatrician if you notice the following:

Your baby seems disinterested in play time
Does not follow or focus on objects in front of them
Does not respond to chatter or noise

Social and emotional development 

More expressive

Aside from understanding what "no" means, your baby is now becoming more expressive and will try to communicate with you more through simple babble, gestures, and facial expressions.

CONTINUE READING BELOW

Recommended Videos

Build their confidence by engaging with them and responding to their baby talk. Introduce new words like mama, dada, mamam (water), and the like which will help build their vocabulary and understanding.

New favorite toys

As their personality begins to shine through, their likes and dislikes will also become more apparent. They'll have preferences and they'll make it known through choice of food, toys, and the like.

Stranger danger

Your baby will feel comfortable among family and other familiar people. However, they will respond differently with "strangers" around. Slowly introduce them to new people so they will not feel overwhelmed.

Developmental red flags

Consult your pediatrician if you notice the following:

Doesn't try to express themselves or mouth simple words
Does not respond to toys and other people
Does not look at you when you talk
Does not recognize familiar faces

Parenthood is equal parts joy and anxiety. When it comes to your baby's development, there's no need to sweat the small stuff especially is your baby is not hitting some of their milestones. Babies grow and develop at their own pace. But should you have any concerns, consult your doctor.

Click here for a list of developmental milestones you can expect from your growing child.

What other parents are reading

Celebrate your pregnancy milestones!


Enter your details below and receive weekly email guides on your baby's weight and height in cute illustration of Filipino fruits. PLUS get helpful tips from experts, freebies and more!

You're almost there! Check your inbox.


We sent a verification email. Can't find it? Check your spam, junk, and promotions folder.

Trending in Summit Network