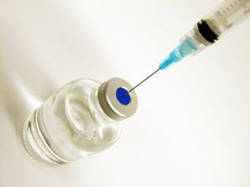 Q: How true is it that the 5-in-1 vaccine has a link to autism?     
A: Although the 1998 study by Dr. Wakefield sparked the vaccine scare, please know that the scientific publication (Lancet) that published it has since then retracted his study. 
The 5-in-1 vaccine has never been scientifically linked with autism. A lot of parents on autism sites will argue that they noticed their child develop autism after a vaccine was given.  Medical groups will argue that the timing of the vaccine is basically the time when most autism gets diagnosed and that the vaccination is not what caused the autism.
If you would like to feel safe by requesting separate shots, that is your decision. Know that instead of one shot with 5 vaccines, your child will get 3 shots.  Know that if you refuse the vaccine, there is always the chance that your child can then get polio, or whooping cough, or Hepatitis B, or tetanus, or diptheria. 
Yes, vaccines do carry side effects.  From mild fever and pain to the more rare and serious reactions such as infection, skin reactions, allergic reactions, et cetera.  To date, there is no clear scientific link between autism and the 5-in-1 vaccine. 
Talk to your pediatrician about your child's options before making your decision.
Photo from sxc.hu