Andi Eigenmann Shares 3 Tips on Teaching Lilo to Self-Soothe and Sleep Longer at Night

Andi Eigenmann reminds herself that teaching Lilo self-soothing techniques will benefit them both.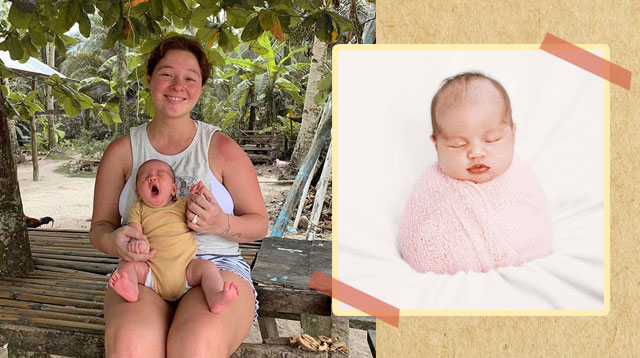 Sleep, or lack thereof, is one of the many significant challenges in the first few months after childbirth. Newborns sleep and feed 'round-the-clock, but the new mama barely gets any shuteye usually.

So when Andi Eigenmann's second daughter Lilo slept for six hours straight a week ago, she couldn't be more thrilled. She can start teaching her to self-soothe and fall back asleep on her own.

"I kid you not, a parenting achievement such as being able to teach your child to fall asleep on her own and sleep for longer hours in the night feels as good as winning an acting award," the mom of two wrote on Instagram.

"I feel as though a huge weight was taken off my shoulders. Pun intended," Andi quipped. But not having to carry her daughter so much is just a bonus, said the holistic, island-living mama added. Learning self-soothing techniques benefits them both as well.

ADVERTISEMENT - CONTINUE READING BELOW

Teaching your baby to self-soothe and sleep on her own leads to better sleep for you, too, mom!

Andi gave birth to Lilo on July 23, 2019. She has been candid about the thought that not having quality sleep may have been a factor in her not feeling herself lately, and her postpartum depression (PPD).

The mermaid-surfer mom and her family flew back to their island home in Siargao shortly after she gave birth, but are now back in Manila. Based on the articles she has read and some pieces of advice from fellow moms, Andi shares what helped her teach her daughter how to self-soothe and sleep longer at night or fall back asleep on her own.

Remember that teaching your baby to self-soothe is good for setting the foundation for a better quality of sleep not only for your little one but for you, mom, as well. "That's what got me to not fall for her adorable-ness and pick her up each time," Andi said. "Now I just fall for it sometimes, lol" she joked.

CONTINUE READING BELOW

Recommended Videos

Set a schedule for napping and feeding

Lilo managed to sleep on her own several times without crying it out, Andi shared. But the mom of two also adjusted when her daughter returned to waking up every two hours, as opposed to sleeping for four to six hours straight in the past nights.

SCREENSHOT FROM @ANDIEIGENFGIRL/INSTAGRAM STORIES

As your newborn settles in her new world outside of your womb, she will start to develop her own eating and sleeping pattern. Tracking when your baby sleeps or naps can help you guide your child to be as consistent with her sleeping schedule as much as possible. But try not to be too strict about her schedule, as her sleep cycle will still change as she grows.(Click here for some napping dos and dont's.)




Cluster feed and dream feed at night

Newborns should be breastfed on demand, every two to three hours, which is what Andi is doing. A baby who feeds every hour may be cluster feeding as she's going through a growth spurt, and will need more milk to fuel it. You really just have to endure this stage, which can last until your baby is two to three months old. (Read more about how your baby's breastfeeding schedule will look like in the first year here.)

ADVERTISEMENT - CONTINUE READING BELOW

Since Lilo is starting to sleep longer, Andi has begun dream feeding her on her last feed of the night, "she won't wake up in the middle being super hungry." Pediatrician and author of The Happiest Baby on The Block Dr. Harvey Karp defines dream feeding as gently rousing your baby to wake and feed one more time before you sleep for the night. (Know more about how to do dream feeding here.)

Strictly follow the sleep, feed, and wake cycle.

Andi cradles Lilo just enough to get her sleepy and puts her down drowsy but still awake. When Lilo fusses, Andi gives her a minute, and 80-percent of the time she stops before Andi goes to her.

SCREENSHOT FROM @ANDIEIGENFGIRL/INSTAGRAM STORIES

In teaching Lilo to self-soothe without letting her cry it out, Andi follows the sleep, feed, and wake cycle, and not the other way around. "When [babies] make noises, take a pause before attending to them. Give them a chance to soothe themselves before doing it for them straight away," the mom of two wrote.

ADVERTISEMENT - CONTINUE READING BELOW

What other parents are reading

She started with giving Lilo a minute to try and soothe herself, and now Andi gives her five minutes to do so unless she starts crying and turning red. "When I attend to her I just pat her repeatedly first instead of picking her up right away," she shared. Andi lets Lilo have her pacifier, too, which is "super helpful" at this stage.

The pacifier has been helpful to Lilo. Andi plans to start pumping breast milk after six weeks postpartum but expressed fears she'd run out of milk like with Ellie once she starts expressing milk.

SCREENSHOT FROM @ANDIEIGENFGIRL/INSTAGRAM STORIES

Andi also reminded her followers that every parent and every baby is different, and encouraged everyone to refrain from shaming moms about their choices and what works best for them and their baby.

Read more about teaching babies to self-soothe here and helping them sleep longer at night here.

ADVERTISEMENT - CONTINUE READING BELOW

What other parents are reading

Celebrate your pregnancy milestones!


Enter your details below and receive weekly email guides on your baby's weight and height in cute illustration of Filipino fruits. PLUS get helpful tips from experts, freebies and more!

You're almost there! Check your inbox.


We sent a verification email. Can't find it? Check your spam, junk, and promotions folder.
Trending in Summit Network