Baby Food for Constipation: Recipes to Help Ease the Condition

Plus, what does constipation in babies look like.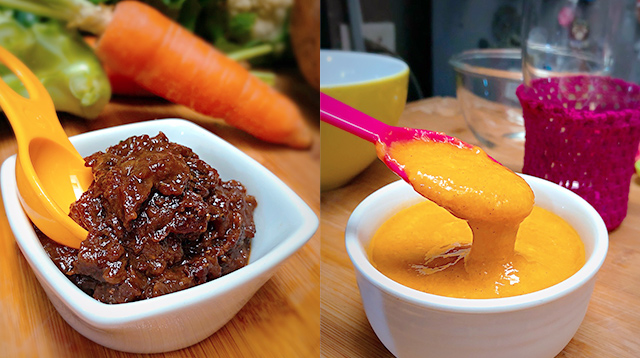 I remembered sweating profusely as I tried comforting my then 7-month old baby, Sam, while she cried her heart out that one evening. As a first-time mom, I could only assume that her meltdown was due to either constipation or too much gas or 'kabag.' That was because she was diagnosed as lactose-intolerant and occasionally constipated. My husband and I then decided to bring her to the pediatrician for an expert medical examination. After her pedia thoroughly evaluated her symptoms, we were told that she was most likely having constipation.

What is constipation?

Mayo Clinic defines constipation as "an occurrence when waste or stool moves too slowly through the digestive tract or cannot be eliminated effectively from the rectum, which may cause the stool to become hard and dry. Constipation has many possible causes. It is quite a common condition among babies."

We can easily tell when we're constipated, but it's not so easy with babies. Their "regular bowel movement" is not the same as ours.

What other parents are reading

What constipation in a baby looks like

Just because you're baby isn't pooping doesn't mean he is constipated — it's not about the frequency. Instead, look for signs of discomfort in your baby and take note of her stool consistency. 

Dr. William C. Bayhon, a pediatrician and an intensivist, says that "constipation in babies is when there has been difficulty or rare defecation in passing stools for at least two weeks. A thorough evaluation is needed to address the discomfort of the baby properly."

Pediatrician Dr. Ina Atutubo adds constipated babies have significant difficulty and discomfort because their stool is dense and hard. In an article for SmartParenting.com.ph, she writes, "This definition excludes the baby who has soft, easy-to-pass stools once a week, even if he seems to strain a lot in the process," . 

ADVERTISEMENT - CONTINUE READING BELOW

What other parents are reading

What causes constipation in babies under six months

Constipation is uncommon in the first six months of your baby because he's on an all-liquid diet especially if he's on breast milk. 

Dr. Atutubo says, "Breast milk is often called the 'perfect food' for a human infant's digestive system because all of its components are in exact proportion to baby's needs, and it is easily digestible." 

The doctor adds that breastfed babies have a much lesser chance of being constipated than formula-fed babies. It is because formula milk is more difficult to digest. 

You may also consider switching milk brands if you suspect that your formula milk brand causes constipation. However, according to Dr. Bayhon, "You only need to change to new formula milk if it was a brand that's only been recently used by the baby and suspected to have caused her constipation. Otherwise, consider other factors causing constipation."

The American Academy of Pediatrics also advised if parents are to use formula milk to prepare it as directed by the manufacturer on the label. Never add extra water to stretch the baby milk formula.

There are cases where older infants may be prescribed water by a pediatrician, Dr. Jennifer Anders, a pediatric emergency physician, told Reuters Health, such as to help with constipation. The baby's doctor will tell how much water, and it is usually a minimal amount.

What other parents are reading

Constipation and solid foods

Once your child starts on his solid food, which often begins when he's six months, make sure you are giving him enough fiber-rich foods like fruits, vegetables, and whole grains for his solids. These types of food are great agents in promoting proper digestion because of their ability to 'sweep off' food from the digestive system. 

CONTINUE READING BELOW

Recommended Videos

Certain kinds of food may send your baby's digestive system in pain and discomfort when taken. Avoid foods that are high in fat and sugar. Processed food, dairy products, gluten-containing foods, red meat, pasta are some of the constipation-causing food items.

Generally, poor diet and improper nutrition are usually the culprits in a lot of indigestion cases among babies. You should also watch out for his water intake at this age. The moment he gets dehydrated, you can expect a slow bowel movement that could sometimes lead to constipation.

What other parents are reading

Baby food for constipation

So what kind of baby food can relieve your baby from the discomforts of a constipation episode? Here are three recipes you can do at home.

Note: These recipes are intended for informational purposes only and not medical advice. Always consult your physician when dealing with any types of medical issues.

Prunes have been proven to be a natural laxative in the body.

PHOTO BY

Caren Bayhon-Yrastorza

ADVERTISEMENT - CONTINUE READING BELOW

Puréed Prunes

Aside from the fact that prunes are a good source of fiber, they protect the body from a lot of diseases since they work as great antioxidants.

1/2 cup dried prunes
3/4 cup water

In a boiling pan, boil prunes for five minutes or until it becomes tender. Pour mixture in a food processor and process until you achieve your desired consistency.

What other parents are reading

The fiber component in squash and broccoli can provide relief or even help prevent constipation.

PHOTO BY

Caren Bayhon-Yrastorza

Squash and Broccoli

These two ingredients are considered super foods due to their high content of fiber, vitamins, and minerals

1 cup peeled and cubed squash
1/2 cup broccoli flowerets

Boil squash and broccoli until they become tender. Drain from the water. Mash squash and chop broccoli into very fine pieces. Combine together and serve immediately.

Don't be afraid to try spices like cinnamon on baby food. You just need a a pinch on a big batch of baby food.

PHOTO BY

Caren Bayhon-Yrastorza

ADVERTISEMENT - CONTINUE READING BELOW

Peach Cinnamon Blend

Peaches are high in fiber and cinnamon is an anti-inflammatory agent and boosts the immune system.

1 cup fresh peaches, peeled and chunked
1/2 tsp cinnamon

Boil peaches for 5 minutes or until tender. Process the peaches in a food processor until it reaches your desired consistency. Stir in cinnamon. Serve immediately.

What other parents are reading

What else can help your baby's constipation

Doing simple exercises are proven to stimulate the bowel movement. If your baby has not learned to walk yet, crawling is a good option. Let her crawl on her playmat or any safe area where she can move about freely. If she hasn't learned how to crawl yet, you may assist her in doing leg exercises like bicycle movements where her legs are raised and move them in a circular motion. 

A good rub on the belly, a circular motion massage on the stomach, especially around the belly button going clockwise, can help your babies pass gas and stimulate the bowel movement. Try doing this as often as needed to relieve her from stomach discomfort.

For any concerns about the health of your baby, if you feel your baby is constipated or not pooping enough, always consult with a medical professional.

Caren Bayhon-Yrastorza, who developed, prepared, and styled the recipes, is a former news anchor at ABS-CBN News Channel and a food writer/stylist/blogger. She delights in whipping up delicious dishes with matching food styling at home and sharing the recipes upon request. You may follow her kitchen adventures at #KitchenOfCarenYrastorza on Instagram.

ADVERTISEMENT - CONTINUE READING BELOW

What other parents are reading

Celebrate your pregnancy milestones!


Enter your details below and receive weekly email guides on your baby's weight and height in cute illustration of Filipino fruits. PLUS get helpful tips from experts, freebies and more!

You're almost there! Check your inbox.


We sent a verification email. Can't find it? Check your spam, junk, and promotions folder.
Trending in Summit Network