Baby Food Pouches Are Convenient, But Don't Rely on It So Much

Baby food pouches help busy parents, but they can come with a price.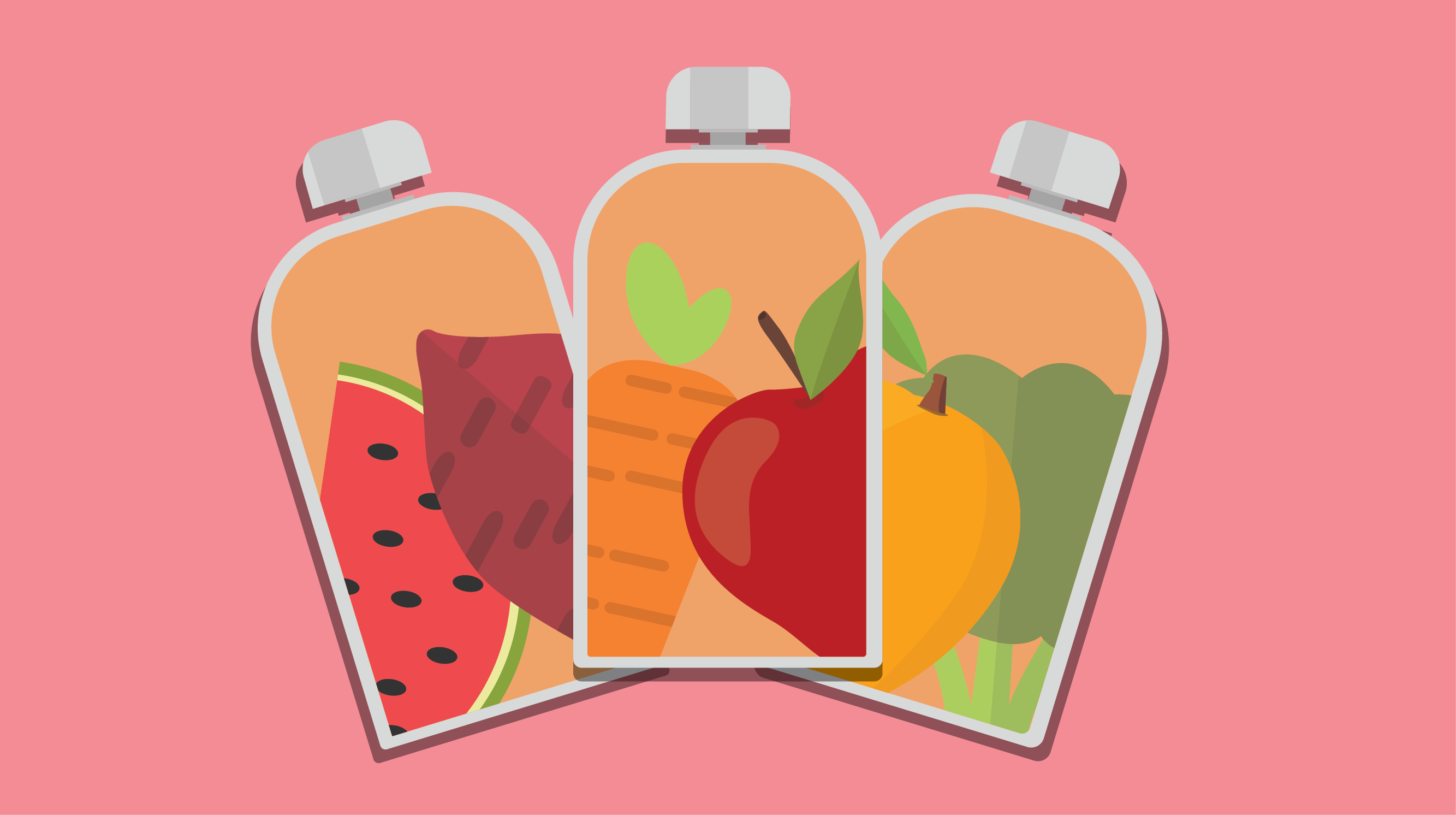 An infant's sixth month is an exciting time for mom and dad — their little one is finally ready for solid baby food! But while there are many recipes you can create from scratch, there are times when mom turn to baby food pouches.

What are baby food pouches?

These plastic pouches contain baby food made out of puréed fruits and vegetables with some claiming the use of only organic ingredients. It attracts a number of parents not only because it's convenient, but because each packet contains "healthy meals" that do save busy parents a lot of time. It comes in easy squeeze formats and a variety of flavors, and babies can easily put it on their mouths and suck on the food themselves.

But experts say this convenience should be a cause of concern. Relying on these food pouches TOO MUCH may interfere with learning developmental skills that influence a child's healthy eating habits.

What other parents are reading

Why baby food pouches do more harm than good

1. Baby food pouches affect feeding and oral development.

When babies start on solid food, they arrive at a crucial stage of feeding and oral development, "when they are learning to chew and swallow soft foods, which helps with speech," according to The New York Times. It also provides them with a multi-sensory experience that helps them develop a palate for a wide range of foods when they grow up.

If you want your babies to learn healthy eating habits, you need to train your baby's preferences by feeding him a variety of vegetables with different textures and tastes, according to Dr. Andrea Maier- Nöth, a scientific consultant on health psychology and nutrition and the managing director of Eat-Health-Pleasure GmbH in Kreuzlingen, Switzerland. Constantly sucking on baby food pouches may hinder that development.

ADVERTISEMENT - CONTINUE READING BELOW

What other parents are reading

"Kids aren't learning how to eat different textures and how to chew food," Dr. Robin Jacobson, a pediatrician at Hassenfield Children's Hospital in New York City, tells GoodHousekeeping.com. "Instead of them eating peas and carrots, it's all mushed up in the pouch, and they're just sucking it up."

Pouches encourage more sucking, which babies six months and above are already used to. "In my nutrition practice, I have seen many babies 'stuck' in a puree phase. They had trouble progressing to lumps and finger foods because the parent relied on pouches for too long," writes pediatric dietitian Natalia Stasenko, M.S., R.D., for Parents. "Their child missed the window of opportunity to learn how to handle varied textures and self-feed."

What other parents are reading

2. A baby food pouch can mask the real taste of food.

One of the reasons why moms love these food pouches so much is because they can fool a picky eater into getting much-needed vitamins and nutrients. However, it should not be used as a replacement for real fruits and vegetables.

By mushing the food together, you are not giving your kids a chance to find out each ingredient's individual taste and they might find it harder to like these kinds of food later on. "You're hiding vegetables that some kids this age won't eat, so they're getting nutrients without even realizing it, but the bad thing is that they're not acquiring the taste of kale or spinach," says Dr. Jacobson. "Their palates themselves are not diverse, and they aren't able to know what foods they like or don't like.

CONTINUE READING BELOW

Recommended Videos

What other parents are reading

3. Babies may get used to eating constantly.

Since baby food pouches are so convenient, parents may be tempted to offer it as a substitute for sit-down meals. And because kids seem to like it so much, it might also be offered as a way to calm babies and toddlers who are on the verge of throwing a tantrum. This might lead them to associate sweet snacks with calming down and to satisfy emotional rather than physiological needs, according to The Times.

"Kids are probably getting these things a lot when they're not actually hungry," Dr. Natalie Muth, a pediatrician and spokeswoman for the American Academy of Pediatrics tells The Times. And using it to stop tantrums "sets up snacking as being a habit that happens frequently throughout the day or for reasons other than hunger."

This poses a problem when mealtimes arrive and the children declare that they are not yet hungry. "Then, the child's actually overriding their body's own cues for hunger and fullness," Dr. Muth said.

What other parents are reading

Should parents eliminate baby food pouches from a child's diet completely?

Nothing beats real food, but if you need to use a baby food pouch, Dr. Jacobson advises parents to try to stick to no more than one a day. To engage a child's oral development, you can also empty out the contents into a bowl, and let your child eat it with a spoon (provided that she is old enough to self-feed).

If your child has become dependent on baby food pouches, here are ways to correct it.

ADVERTISEMENT - CONTINUE READING BELOW

Have a routine for sit-down meals.

Kids thrive when you set up a routine for them to follow and it's especially crucial for mealtimes. As young as six months, have established times for meals and snacks — a consistent, daily schedule reassures the child and teachers her to expect certain activities at certain times. Besides, eating together as a family provides a number of positive benefits on a child's health and even in her social skills!

What other parents are reading

Encourage self-feeding.

At 8 months, your child may be ready for food that she can hold and eat by herself. Try giving her healthy finger food like vegetables and soft fruits.

Offer your babies different kinds of food.

If you rely on baby food pouches to give your child the vitamins and minerals she needs, then you need to start introducing your child to the real taste of fruits and vegetables — even if she does not like it a first. Exposing infants early to the taste of commonly rejected food, such as vegetables, is a powerful strategy to increase food preference beyond the pickiness phase.

What other parents are reading

Adopt a positive feeding style.

Your attitude while feeding your child can have a direct effect on her health so adopt a feeding style that will foster a child's healthy relationship with eating.

Ultimately, baby food pouches were created for the parents' convenience. While they might not be bad per se, remember to use these pouches in moderation. It's great for traveling or as a snack but it should never replace a real meal.

ADVERTISEMENT - CONTINUE READING BELOW

What other parents are reading

Celebrate your pregnancy milestones!


Enter your details below and receive weekly email guides on your baby's weight and height in cute illustration of Filipino fruits. PLUS get helpful tips from experts, freebies and more!

You're almost there! Check your inbox.


We sent a verification email. Can't find it? Check your spam, junk, and promotions folder.

Trending in Summit Network