How This Mom Started Her Baby on Solid Food at 6 Months Without Purees

Mealtimes are no longer stressful for this mom, thanks to baby-led weaning.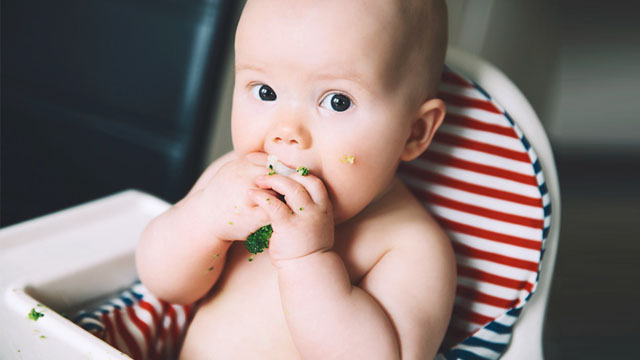 A baby is such a wonderful being — a tiny, living, breathing creature survives on milk, sleeps for hours, wakes up to feed, and, save for many diaper changes and bouts of crying now and then, is an angel from heaven. But wait until he turns six months old, and you'll realize, "Aba, tao ka na nga!"

At 6 months old, most babies will begin to sit up unassisted using their hands and knees for support and will start babbling and communicating with you. It is also around this time that your pediatrician will recommend introducing solid foods to your baby. 

There are several ways to start your child on solid food. Some prefer the traditional method, where you mix mashed or pureed food with your baby's cereals. Then there's baby-led weaning, where you give your child slices of fruits and vegetables so he could feed himself. There's no one better than the other, and it's completely up to you to choose.

What other parents are reading

One mom who tried baby-led weaning is celebrity chef Nadia Lim who shared her experience on her blog. The New Zealand-born food writer and chef, who won Masterchef New Zealand in 2011, had written that even before her son Bodhi turned 6 months, he showed readiness to take solid food.

"As early as 3 ½ months he was showing clear signs of wanting to eat — he would take a swipe at whatever I was eating and bring it straight to his mouth, and whenever he saw food on the table, he would just stare and stare at it," Nadia wrote. 

ADVERTISEMENT - CONTINUE READING BELOW

When her lactation consultant mentioned giving Bodhi solid food without going through the puree stage, she had her doubts because she was concerned about accidental choking. The answer she got was, "Nope, they just chew away on it, and they're fine." With some reservations, she went ahead with it. 

Nadia said her son's first struggle with solid food was grasping it with his tiny hands. When Bodhi eventually gained control, he managed to direct the banana to his mouth and took a bite. She recalled being frightened for a moment when Bodhi began gagging on the piece of fruit.

What other parents are reading

"Luckily, I'd read and had been warned that this was quite normal, and [babies] have a natural gagging reflex, which brings the food back up and will prevent them from choking. I was relatively calm and just watched him carefully, and he brought it back up," she wrote.

She warns, though, that parents should know the difference between gagging and choking (she recommends watching videos), so they know what to do if your baby does choke.

How to introduce solid food to your baby's diet

1. Offer the food to your baby without holding it near his mouth or forcing him to feed.

Doing so goes against the "baby-led" part of the process. According to Nadia, babies will try to swallow their food straightaway because this is what they do with their first food, which is milk. Baby-led weaning (or even pureed food) teaches a baby to chew his food before swallowing. Letting the baby pick up the food from the plate and try to bring it to his mouth also helps develop motor skills and hand-eye coordination.

CONTINUE READING BELOW

Recommended Videos

2. Let your baby have milk before offering him solid food, so he isn't very hungry.

Learning to eat solids may take some time, which could frustrate him if he absolutely needs to feed. You don't want this to be an unpleasant experience for him.

3. Keep your child's interest in solid food by giving him a variety.

"I lay out three to four different foods at a time in front of him, and he can sit there for ages, absolutely fascinated by their different colors, textures and flavors. He now can very happily sit at the dining table with us for an hour and just eats the same food that we do (slightly modified), and he feels like he's a part of family mealtimes," Nadia says.

Babies love discovering new things. By presenting Bodhi with bright-colored fruits and vegetables with a variety of flavors and textures, Nadia is encouraging him to be adventurous with food (and hopefully not grow up to become a picky eater).

What other parents are reading

Nadia is happy to report that except for asparagus, Bodhi loves most anything she gives him.

"His current favorites are slices of avocado, pear, sticks of cucumber, lightly steamed fingers of apple, carrots, pumpkin and orange kumara, pork ribs (he goes crazy for them!), broccoli florets (not kidding!) and yes, steak! He will suck and chew on a piece of steak until all the juices have been sucked out of it and it is grey and limp. He's also had salmon, chicken, lettuce, tomato, and asparagus," she wrote.

ADVERTISEMENT - CONTINUE READING BELOW

What other parents are reading

4. Expect your baby to make a mess.

Don't fuss over it — it's part of the process!

5. After your baby is done eating, check his mouth.

Nadia says this is "in case they're hiding any little bits of food in their cheek pockets – once I found a sneaky piece of uneaten broccoli in Bodhi's cheek." That's a very sound piece of advice!

Trending in Summit Network