50 Baby Names: Parents Share Sweet Stories Behind Sky B. Lu, Nayiah, Kidlat and More!

These parents took inspiration from nature, mythology, and celebrities.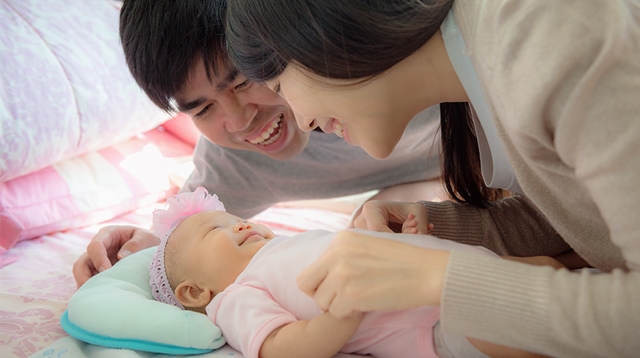 Coming up with a baby's name is an exciting process. Parents become creative as they glean inspiration from a lot of different sources from their names and other relatives' monikers to famous celebrities and even memorable experiences. 

On our Facebook page, we asked moms to share how they came up with their children's names and we got some truly remarkable stories!

Baby names that drew inspiration from how the parents met

1. Isaac

 "My husband and I met in a BPO company, and we were using a tool named 'Isaac.'" — Carla Martin

2. Bjorn Kobe

"Kobe came from the basketball player Kobe [Bryant] because my partner is a fanatic. Bjorn came from the groom of the wedding we attended, and my friends decided that whoever gave birth first was going to use that name for the baby." — Mylene Calceta Oblino

3. Nayiah

"My husband and I met during the response efforts for Typhoon Haiyan (get it?) in Tacloban and Palo, Leyte." — Joyce Panaligan

What other parents are reading

Nature-inspired baby names

4. Amihan

5. Hiraya

"My husband and I are outdoor enthusiasts. Whenever we experience rain or cold weather on the mountains, we think of wind, and that's our Amihan, which is our firstborn's name. For our second child, I loved the name 'Alon.' But my husband thought of Hiraya, which means to dream and hope." — Karla San Antonio-Pangan

6. Ynigo

7. Kassiopeia

8. Selene

"Our kids' names are Ynigo, which means fiery as the sun; Kassiopeia or stars; and Selene (pronounced seh-lee-nee), which means moon." — Gelai Paruli Regis

ADVERTISEMENT - CONTINUE READING BELOW

9. Kidlat

"We named our child Kidlat dahil kasing-bilis ng kidlat. Excited lumabas, 8 months pa lang nag hello world na!" — Ann Jellie Alcantara-Porto

10. Poppy 


"The first time we ever saw him in the ultrasound he was the size of a poppy seed." —  Jasmin Laguitan

11. Antares

"He is named after a star because he is a son of a star, Rigel." — Lel A. de Vera

What other parents are reading

Baby names from heartfelt stories and journeys

12. Miracle 

"Simply because SHE IS. In 2014, I was diagnosed with the top cause of infertility in women so I thought back I wouldn't be able to bear a child ever. But I did." — Micah Pargas-Austria

13. Wyatt Hervie

"Wyatt means fighter. Hervie means worth the fight. We chose those names because of my very sensitive and problematic pregnancy. Our baby fought hard for his life. So we did, too." — Leng Parlade-Dela Rosa

14. Melanie Citrine 

"When she was conceived, my mom passed away from her third battle with cancer. My mom's name was Melannie, and she had been my inspiration in so many ways. It was my husband who suggested that we name our daughter after her. As for my daughter's second name, Citrine, we are in the jewelry business, and we enjoy dealing with gems. Citrine is one of our favorite stones, a 'luck gem' that brings prosperity and success." — Alliah Czarielle Relayson Guerra

15. Zurielle Ysabella

"Zurielle means God's rock, and she survived the toughest journey from conception and delivery to newborn stage. And Ysabella means God's promise, satisfaction and perfection for she was an answered prayer after five years of asking and waiting." — Cherrie Rose Delos Santos-Magbanua

CONTINUE READING BELOW

Recommended Videos

What other parents are reading

Baby names with Pinoy roots

16. Liway

"Our eldest's name is Liway, which is short for liwayway. I wanted to name her Aurora because it means new beginning/dawn/bukang liwayway. Ayaw ng daddy niya ng Aurora. I also like Filipino names na short lang, so I came up with Liway. Our second child is named Amihan." — Aprilyn Tabug-Carlet

17. Alamat

"My husband and I wanted a Filipino name with three syllables, so we named our son Alamat, which also happens to be a Quranic name that means 'sign' or 'symbol.'" — Sheryl Go

Baby names inspired by foreign cultures

18. Qiann

"We are from a Chinese family. Qiann means money in Chinese." — Shyna C. Ty

19. Prea Inessa

20. Fontanne Gwenaelle

"Prea is a North African word for Braveheart, and Inessa is a Russian name that means chaste, pure and kind. In Filipino, it's matapang at busilak. Fontanne Gwenaelle is a combination of French words that mean fountain of blessings and generosity or bukal ng pagpapala at pagkabukas-palad in Filipino." — James Russell

21. Ashwath

"It's a short cut for Ashwathhama, son of Guru Dronacharya, and he was a great teacher to all the famous warrior gods in Hindu mythology." — Shravani Kotapati

22. Lattakia Cehria

"Lattakia is the hometown of my husband, and Cehria is for Syria, my husband's country," — Charmaigne Meng

23. Fouad 

"It's the Arabic word for heart. It was also his grandfather's name. Two months after he was born, his grandpa passed away." — Rhecy Gattadiw Daher

What other parents are reading

Baby names where parents got extra creative 

ADVERTISEMENT - CONTINUE READING BELOW

24. Sky

25. Navi

26. Robyn

"Our middle initial is 'B,' and our family name is Lu. Thus, 'B Lu.' So, their names are all shades of blue. Sky B. Lu (sky blue), Navi B. Lu (navy blue), Robyn B. Lu (robin's egg blue)." — Lei B. Lu

27. Alkane Akisha

28. Alkene Aerius

"Alkane Akisha is my firstborn and Alkene Aerius is my second child. Their first names came from my fave subject, chemistry. Akisha means independent. Aerius is an anti-asthma medicine." — Teena Tolledo Danan

29. Maria Margarita  

"It's my favorite cocktail. It was the last drink I had before I got pregnant. And I was really naglilihi sa margarita back then, so  I was sad I  could not drink it while I was pregnant until now that I am breastfeeding. But I will surely drink it again once pwede na!" — Sarah Tariman

What other parents are reading

Baby names derived from pop culture

30. Tobias Jon Carlisle

"Tobias named after my husband's favorite character from Divergent. Carlisle named after Carlisle from my favorite movie Twilight." — Seph Nacionales-Liwanag

31. Luna Angelique

"I'm in awe of the moon so much and a big fan of Sailor Moon, so I named her Luna Angelique. Angelique kasi dad niya Angelito. If you combine the name's origin, it means 'moon angel.'" — Mara Felice

32. Erik

33. Bruce William

34. Logan 

"My first born is Erik from the Marvel character Magneto and my husband's name. The twins, one is Bruce Willis (middle name is William) and his twin is Logan (Wolverine)." — Kelly Ann Figueroa

ADVERTISEMENT - CONTINUE READING BELOW

35. Khaleesi Margaret

"Game of Thrones avid fan obviously." — Mae Glainne Romero-Pinero

36. Georgina Yvette

"Georgina from Georgina Wilson. Aliw na aliw ako kay Georgina nung nagbubuntis ako. Gandang ganda ako sa kanya. Yvette came from my second name, Ysabel, at Odet, dad ng anak ko." —Sam Sy

What other parents are reading

37. Sid Cobain

"Sid came from the Sex Pistols band. Cobain came from vocalist of Nirvana, Kurt Cobain." — Lyzjoyce Quanico

38. Kobe Andrei 

"It's the names of the Paras Brothers." — Annabelle Jolbidato

39. Charlize

"I named her after Charlize Theron. I was pregnant when I was mesmerized with her beauty and talent in Snow White and the Huntsman." — Maggie Teves

40. Recca

41. Arwen

42. Eowyn

43. Galadriel

"Our eldest son's name is Recca from the anime Flame of Recca, which the hubby and I both loved even before we met. Our twins' names are Arwen and Eowyn and our youngest is named Galadriel, all three from Lord of the Rings." — Kat Guiao Yesiv

44. Luna Maiden

"Luna from Luna Moonfang and Maiden from Crystal Maiden from DOTA characters." — Min Inciong

45. Khaled 

46. Kendrick 

"Khaled from DJ Khaled and Kendrick from Kendrick Lamar! I obviously love the music industry." — Ivy Joyce Aguilan

47. Seve

"After Professor Severus Snape of Harry Potter (my favorite character)." — Izzy Fernandez

48. Hermione Arya Grey

"Hermione from Harry Potter, Arya from Game of Thrones, Grey from Grey's Anatomy." — Hannah Dhelliza V. Delgado

49. Olivia

50. Milo

We got the name of Olivia from the lead character in Fringe. My husband's favorite childhood drink is Milo. — Carla Martin

ADVERTISEMENT - CONTINUE READING BELOW

What other parents are reading

Celebrate your pregnancy milestones!


Enter your details below and receive weekly email guides on your baby's weight and height in cute illustration of Filipino fruits. PLUS get helpful tips from experts, freebies and more!

You're almost there! Check your inbox.


We sent a verification email. Can't find it? Check your spam, junk, and promotions folder.

Trending in Summit Network