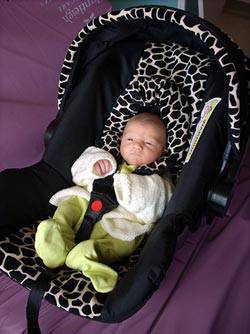 Safety first
Babies generally just sleep in transit if they are healthy, full, and clean. Experts say that before you board the car, ferry, or plane, change baby's diaper to make him feel comfortable. If traveling by air, make baby suck on milk during takeoff and landing to lessen pressure on the eardrums, advises Erlinda Cuisia-Cruz, M.D., a specialist in pediatric and adolescent medicine at the Philippine Children's Medical Center and The Medical City's Teen Health Hub. "But don't overfeed," she says, which can make baby vomit.
"Babies can also get carsick, but not so much when they are in a car seat, so bring one," adds Cuisia-Cruz. The Philippine Pediatric Society in its policy statement Child Safety in Private Motor Vehicles, released in 2004, says, "Parents should acquire age-appropriate child seats and restraints for young children less than nine years of age." For babies below one year, that means a rear-facing car seat installed properly in the back seat.
Of course, you don't want baby to get sick while you're on vacation. This is why Cuisia-Cruz says parents must bring their babies to the pedia for a visit at least a week before traveling. And make sure he gets his vaccines as scheduled.
Must-bring kit
Aside from baby's usual stuff (diapers, milk, clothes, water), Cuisia-Cruz says, "Bring also nasal drops, paracetamol, anti-allergy medicines and other medicines for specific problems such as those for asthma if your baby is asthmatic." Follow your pedia's instructions on intake frequency and dosage.
Baby-safe sunblock is also a must, says Cuisia-Cruz. "Also, bring a jacket and a hat. Be ready for any change in temperature," sha adds.
Click here to read more on how to incorporate fun during family trips with baby.
[previous|page|next]
The fun part
As for the fun part during travel time, bring baby's favorite toys, CDs, and books to keep him happy while awake. If he has a security blanket or stuffed toy, bring that, too. You wouldn't want to spoil the trip by going back for that. And play games with baby. Peek-a-boo, after all, never goes out of style, whether on land, sea or air.