Why Taking Your Baby to the Beach Is Really, Really Good for Her Brain

The ocean and sand provide a venue for sensory play that boosts cognitive skills.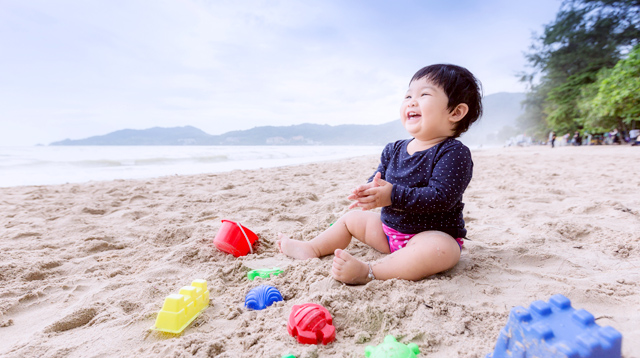 Summer isn't complete without a trip to the beach, but with the intense heat we've been feeling the past month, it's understandable why parents would want to opt out of taking their babies for some fun under the sun. But don't let your little ones miss out completely — it turns out a visit to the beach is good for your baby's brain development.

A recent study found that early sensory stimulation, especially when done outdoors, gives baby's brain a significant boost. According to the study's lead author, Audrey van der Meer, a neuroscientist and professor at the Norwegian University of Science and Technology, "even the smallest babies must be challenged and stimulated at their level from birth onward. They need to engage their body and senses by exploring their world and different materials."

It is an experience that cannot be done in the comfort of a carrier or stroller.

What other parents are reading

4 ways the beach boosts baby's brain

That's where the beach comes into play. "We first learn about the world and ourselves through our senses. As babies see, hear, touch, smell, taste, and move, they learn about their environment and their place in it. This multisensory processing provides an essential sense of self and security," says Lindsey Biel, a pediatric occupational therapist based in New York and co-author of Raising a Sensory Smart Child to Romper. "The beach is probably the single most stimulating sensory environment out there!"

Here are more reasons to take your little ones to the beach:

ADVERTISEMENT - CONTINUE READING BELOW

1. The sound of the waves keeps babies calm

Dr. Harvey Karp, a child development specialist and bestselling author of The Happiest Baby on the Block says that the sound of lapping waves mimics the noise that a baby hears inside the womb. A study has also found that seeing "blue space" (meaning the ocean and other water-related spaces, is associated with lower stress levels and better mental health.

What other parents are reading

2. Babies get to explore and feel different textures.

Sensory play fosters brain development by helping build nerve connections in the brain's pathways, which enables their ability to complete more complex learning tasks and supports cognitive growth. The beach is the perfect laboratory that exposes them to various materials: dry sand, wet sand, rocks, shells, seaweed, water, and wind!

Sand, in particular, offers "a unique body sensation [that comes with] sitting or lying down on the unstable sandy surface of the beach," according to Biel. The malleable nature of sand supports all kinds of development, from physical and motor, cognitive, sensory, social, and verbal development, according to a post in The Field, the American Society of Landscape Architects' official blog.

3. Babies discover different kinds of smells.

From the womb, your baby can already smell the food you eat and the whiff of aromas you get. He also knows your scent from birth, which is why he looks for it as soon as he arrives.

Letting your child stimulate his olfactory development, or sense of smell, helps him associate objects and their distinct smells, as well as relate good feelings with good smells. The beach has all kinds of scents like the salt air, the smell of sunscreen, and grilled food, which will help your baby discover what kind of scents he likes and dislikes.

Breathing in salt air also has health benefits! According to Readers Digest Canada, doctors recommend breathing in ocean air for people with asthma, allergies, or skin problems. The "surf-generated aerosols" stimulate immune reactions in the skin and respiratory organs, and inhaling ocean air may help clear airways.

CONTINUE READING BELOW

Recommended Videos

What other parents are reading

4. Water play develops babies' cognitive development.

Pour water in front of a baby and they will likely reach out to feel the water and try to capture the flow with their hands — that's already developing their gross and fine motor skills. Playing with water can also be therapeutic — "children benefit from the relaxing and repetitive nature of scooping, pouring, and running their hands through the water," according to Emma Smith, a mom, and blogger at Kids Craft Room.

Water play also introduces your baby to math and science. When they're able to grasp small containers and transfer water into a larger one, they can explore and see how many small containers it will take to fill a large one, learning about volume. When they see how sand dissolves in water, they are learning about chemistry. It's a great way to explore and understand the world!

While a trip to the beach will benefit your baby, always remember to take precautions and safeguard your baby when in the water. Livestrong suggests taking your baby into the ocean when he's 6 months or older when his immune system is adequate enough to fight bacteria in the sea and can regulate his body temperature. And don't forget your sunscreen!

What other parents are reading

Celebrate your pregnancy milestones!


Enter your details below and receive weekly email guides on your baby's weight and height in cute illustration of Filipino fruits. PLUS get helpful tips from experts, freebies and more!

You're almost there! Check your inbox.


We sent a verification email. Can't find it? Check your spam, junk, and promotions folder.

Trending in Summit Network