10 Best Apps to Track Milestones, Sleep and Feeding Time, and More Easily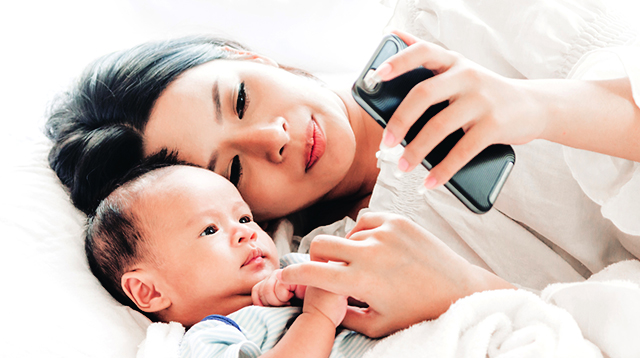 We've come to rely on our smartphones for everything. It helps keep our schedules organized, keeps us entertained, and stores all our memories, so why not utilize it for when we become a new mom?

With the sleepless nights that come with caring for your baby 24/7, it's easy to forget tasks and keep track of your baby's growth and development. But you'd be happy to know that there are actually apps for that. Best of all, most of them are free and super convenient to use.

What other parents are reading

Track routines

Though it might be cumbersome to track the last time you changed baby's diaper or when she was last fed, it's important to remember these things so you can start creating a routine that would suit your baby's needs. It's especially useful for pediatrician visits so you can address any health concerns. (For example, the baby is not gaining weight despite consistent feedings.) Tracking your baby's sleep and naptimes can help you figure out a routine schedule of what to do while your baby is dozing off and can also assist in sleep training.

There are many apps available for both iOS and Android, so it's really a matter of preference on which one to use. That being said, here are some of your options:

Glow Baby Newborn Tracker App

Free on iOS and Android

Glow Baby keeps track of various schedules like feeding, diaper changes, and sleep routines.

PHOTO BY

courtesy of Glow Baby

ADVERTISEMENT - CONTINUE READING BELOW

This app lets you log and time your baby's breastfeeding, bottle feeds, diaper changes, sleep schedules, developmental milestones, medication and growth charts. You can also set timers to help remind you of feeding and sleep schedules, as well as when it's time to pump! You can also track your baby's poo by color and texture and take additional notes on your baby's milestones. You can also share data between partners so if you're both juggling taking care of your newborn, you won't miss out on any schedule. Super helpful!

What other parents are reading

BabyTime Baby Feeding Timer

Php149 on iOS

Baby Time is able to log all of your child's activities, which you can conveniently view in a single screen.

PHOTO BY

courtesy of Baby Time

What sets this app apart from others is that you can track nursing, bottle feeding, pumping, sleep and diaper changes in a single tracking screen. There's also a widget that allows you to quickly glance when the last feed, nap or change was without opening the app. It also has a pretty nifty feature: you can sync timers and data with your partner's device! So, if daddy is putting the baby to bed at night, he'll start the sleep timer on his phone. When the baby wakes in the morning, mommy can stop the timer on her device, and the data will be saved.  

ADVERTISEMENT - CONTINUE READING BELOW

Recommended Videos

Milk Stash

Free on iOS

If you're breastfeeding, this app can be pretty handy. You can use the app to log your pumping sessions and keep track of your milk stash so you can plan your rotation between frozen and refrigerated milk. You can also track potential food allergies — the app tracks what you ate for each bottle or bag you've stored.

What other parents are reading

Use apps as sleep aids

If you find it hard to put your baby to sleep, these apps might help soothe your infant, so they fall asleep faster and make bedtime less stressful for both of you.

Sleeptot

Free 7-day trial period on iOS and Android

 

ADVERTISEMENT - CONTINUE READING BELOW

The app has six calming categories — infants, newborn, toddlers, lullabies, parents — so you can find which sounds are appropriate for different developmental stages. It has a custom fade out, so the music stops once the baby is asleep and a custom start time so a soothing sound will automatically play (and help keep other kids asleep when baby wakes!).

Relax Melodies

Free on iOS and Android

Users can select sounds and melodies and even adjust the volume of each.

 

On this app, you can select sounds and melodies that you like, combine them, and adjust the volume of each sound to create a mix. You can also add a guided meditation to your sleep sounds to help manage insomnia, stress, anxiety, dreams, and napping.

What other parents are reading

Support early development

Parents would love to learn more about their baby's growth and development and track it all at the same time. These apps guide you to support their mental and physical advancement from day one.

ADVERTISEMENT - CONTINUE READING BELOW

The Wonder Weeks

Php149 on iOS, Php155 on Android

 

This app says it can help you understand the mental development of your baby over the first 20 months — just enter your child's due date (the app says this is a more accurate marker for brain development than birth date) and the app will create a personalized calendar for you and inform you what to expect at critical milestones.

Keep in mind that it's not a tracker. Instead, you can use it as a guide as it will inform you when your baby's brain is changing, or as the app likes to call it, "leaping," as well as the changes that accompany it. "Because these leaps come so quickly, the 'new world' and the 'new abilities' can sometimes be scary, and the development can initially manifest in [baby's] poor sleep, bad appetite, crying, clinging, and crankiness," according to the app's description.

Reviews on the apps are divided — some say it's "scarily accurate" for their babies, while others say to take the 'leaps' with a grain of salt. But many agree that it's very informative and reassuring especially for new moms who are always worried about what their babies are going through.

ADVERTISEMENT - CONTINUE READING BELOW

What other parents are reading

Kinedu: Baby Development App

Free on iOS and Android

Kinedu will suggest activities based on your baby's age and the various skills you want to develop.

The app creates a personalized daily activity plan for your baby depending on her age and current developmental stage. It works on four growth areas: cognitive, linguistic, physical, and social and emotional development.

Before the activity begins, a video will play to demonstrate and explain the science of each task. These activities can be as simple as peek-a-boo or listening activity that can help you bond as you play with your baby.

BabySparks

Free on iOS and Android

ADVERTISEMENT - CONTINUE READING BELOW

The app will suggest personalized activities that will address critical areas of development, much like Kinedu. But as you continue using it, the app says it will learn and adapt to your baby's unique development needs. You also get to browse the different activities for any situation and explore what developmental milestones you can expect per month.

What other parents are reading

Relish every memory

While you take a thousand photos on your phone, it would be nice to organize those photos while marking your baby's milestones at the same time. Here are some apps for that:

Tinybeans Family Photo Journal

Free on iOS and Android

If you're wary of oversharing on your social media accounts, this app can help. It works like a secure online journal where you can easily record baby's milestones, and share it with a select number of people.

There's a calendar view so you can track every moment by date, a milestone tracker, and flashback options so you can compare how your baby looks like say, a year ago.

ADVERTISEMENT - CONTINUE READING BELOW

Baby Story

Free on iOS and Android

Want to do those monthly milestone photoshoots with your baby but hate setting up props? This app can help. It comes with various milestone artworks, fonts, and filters so you can personalize the look and feel of your photos. You can even save it as a theme and reuse it later on. It saves mom time but still makes the baby look her cutest!

What other parents are reading

Celebrate your pregnancy milestones!


Enter your details below and receive weekly email guides on your baby's weight and height in cute illustration of Filipino fruits. PLUS get helpful tips from experts, freebies and more!

You're almost there! Check your inbox.


We sent a verification email. Can't find it? Check your spam, junk, and promotions folder.

Trending in Summit Network