When Can I Introduce My Baby to the Bottle? 8 Bottle-Feeding Questions, Answered!

Does bottle-feeding cause a decrease in milk supply? Do bottle-fed babies not bond as well as breastfed babies?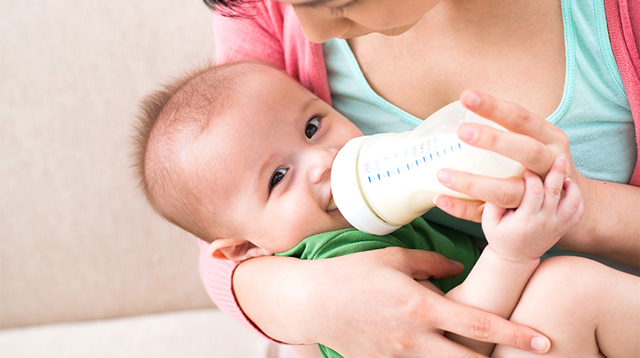 Taking care of a new baby can be tough, especially for new parents. One topic that may be difficult to decipher for some moms and dads is bottle-feeding. You may have heard various things regarding this subject: Does it really lead to nipple confusion? Will a mom's breast milk supply decline if she decides to bottle-feed her child? Will the baby bond less with his mom because he is bottle-fed?

Below, we address some of the most pressing bottle-feeding concerns with inputs from Dr. Aidelenn Wong-Bajandi, an ob-gyn who founded Mixed Feeding Moms PH, and one of the group's members, Kath C. Eustaquio-Derla, a mom and a mixed feeding advocate who once wrote this essay for SmartParenting.com.ph. 

What other parents are reading

Does the type of feeding bottle I use matter?

Yes, it does, but the thing is it will be hard to know what works for your baby until he uses one. The good news is, Dr. Wong says, there are feeding bottles now that are created with anti-colic features, and there are those designed to minimize air bubbles to help prevent gas. You can also start with bottles with slow flow nipples.

"Younger babies need more help and guidance when bottle-feeding," Kath says. "You need to guide them."

Planning to pump? Many moms recommend purchasing bottles that are the same brand as your breast pump so you can express directly to the bottle.

What other parents are reading

Does bottle feeding cause colic?

The Mayo Clinic defines colic as "frequent, prolonged and intense crying or fussiness in a healthy infant." While there is no specific cause to colic, there are many factors said to lead to colic in babies, such as the need for attention, under- or overstimulation, acid reflux, and an underdeveloped nervous system.

ADVERTISEMENT - CONTINUE READING BELOW

Allergic reactions to some ingredients in formula milk have also been linked to colic, so some parents may assume feeding their babies formula milk can cause (or worsen) colic. According to Dr. Wong-Bajandi, it is indeed possible, but it can also happen to breastfed children.

"Colic happens when there is air trapped inside the [gastrointestinal] tract of the baby. This is common for both babies directly latching or bottle fed," she says.

If you are contemplating shifting to bottle feeding but are concerned that it may lead to colic, the best thing to do is still to consult your pediatrician.

What other parents are reading

Can I only use bottles when feeding my baby formula?

Though it is more common to use bottles when feeding babies formula, you don't have to restrict yourself to only giving your child bottles. KidsHealth writes it is important for parents to start weaning their children from bottles around the end of their first year. The longer parents wait before beginning the transition, the more attached their kids might get to the bottle, making weaning a lot more difficult.

Dr. Wong-Bajandi says that parents can also use cups when feeding their kids formula. You may want to use a sippy cup with a lid, a spout, and handles that your child can hold on to as he feeds. Introduce this new method gradually, starting with one feeding a day, until eventually, he becomes more accustomed to using the cup than the bottle.

Will bottle feeding my baby lead to nipple confusion?

CONTINUE READING BELOW

Recommended Videos

Experts have said that the best way to avoid nipple confusion is to wait until your baby is correctly latching when you breastfeed before introducing the bottle. It's a process that may take about four to eight weeks. For her baby bottle, Dr. Wong-Bajandi says to try one with a nipple made of silicone, a material that is meant to resemble human skin closely.

What other parents are reading

Do formula-fed babies not bond with their moms as well as breastfed babies?

One of the best parts of breastfeeding is that it gives way for skin-to-skin contact between moms and their babies, therefore promoting and strengthening their bond with one another. So it is only natural for some moms to worry that shifting to bottle feeding may reduce or negatively impact that precious bonding time.

However, the attachment between you and your baby doesn't decrease when you use the bottle. After all, it's the experience of you holding your child close and feeding him, whether by breast or bottle, that lays the foundation of your bonding.

If you are worried, there are numerous ways you can bond with him while bottle feeding. You can try not wearing a shirt while feeding your baby so that you can press him snugly up against your skin. You can also decide not showering daily. It sounds unhygienic, but letting your baby breathe in the natural smell of your skin will allow him to recognize you and can even help him relax and digest better during feeding sessions.

What other parents are reading

Will my breast milk supply decrease if I bottle-feed my baby?

ADVERTISEMENT - CONTINUE READING BELOW

The amount of milk your body produces is dependent on the stimulation your baby provides — meaning, the more you breastfeed, the higher your milk supply is. But if you choose to transition to bottle-feeding your baby, will this cause you to produce less milk?

According to Dr. Wong-Bajandi, it is possible. "Breastfeeding [is] supply and demand," she says. "If there will be less demand from latching because the baby was given formula, there will be less [stimulation], then less supply." Kath also shared that her breast milk supply decreased when her baby wouldn't latch on to her.

However, even if you decide to shift to bottle-feeding, there are still some methods you can take to keep your breast milk supply up, according to BabyCenter. First, you can try bottle-feeding only once or twice a week. You may also continue pumping milk and storing it for later so that your breast milk supply doesn't decrease even if you give your baby the bottle more regularly.

What other parents are reading

Do feeding bottles need to be sterilized after every use?

Fatherly writes that while feeding items like bottles and nipples absolutely need to be sterilized before you let your baby use them for the first time, you don't need to sterilize them after every use. Hand-washing with soap is enough and clean them with steam or boiling water at least once daily. But sterilization is extremely important if your baby has just gotten sick. 

Another effective way to make sure your baby's feeding items are as germ-free as possible is to boil them for about five minutes, says HealthyChildren.org.

ADVERTISEMENT - CONTINUE READING BELOW

The Centers for Disease Control and Prevention (CDC) also encourages parents to utilize wash basins that are used only to clean feeding items and advises against using dish towels when drying them since it can lead to germs getting transferred to them. It is better to let them air-dry.

Don't forget to clean your breast pump, too. Read our guide on how to wash your breast pump correctly here.

What other parents are reading

Can I only feed my baby either breast milk or formula?

Research has proven breast milk is the best and complete nutrition for infants ages 0 to 6 months. Its benefits for the mom and the baby are undeniable, so much so that our country has the Milk Code in place. Not only does this law push for breastfeeding, but it prohibits formula milk companies to market or advertise their products meant for babies.

Ultimately, however, the feeding decision is a mother's choice, and one should not be judged for pursuing one over the other. She can also do both.

Kath encourages moms not to be afraid of supplementing their breast milk with formula. "You can give breast milk. You can give formula. You can give [both] breast milk and formula. It's up to you," she says. "It depends on what your body can provide with the help of your baby because I learned that even if your mind and body are willing if your baby won't latch properly, it's very, very challenging."

What other parents are reading

Celebrate your pregnancy milestones!


Enter your details below and receive weekly email guides on your baby's weight and height in cute illustration of Filipino fruits. PLUS get helpful tips from experts, freebies and more!

You're almost there! Check your inbox.


We sent a verification email. Can't find it? Check your spam, junk, and promotions folder.
Trending in Summit Network