How to Position Your Baby's Head in a Car Seat (and Do the Pinch Test!)

If your newborn's head position is wrong, then it could mean your car seat is installed incorrectly.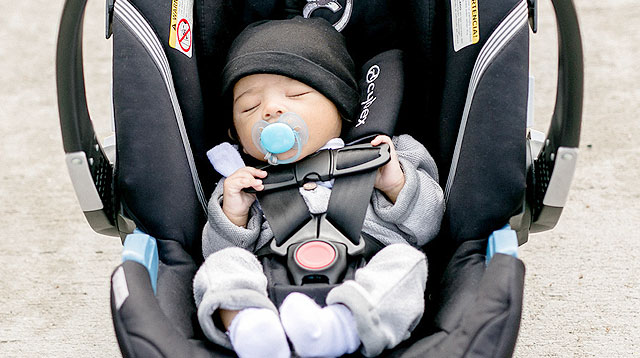 Watch his head! The number of times we say that about a newborn almost feels like a mantra, right? And now that a child car seat is mandatory in private vehicles under Republic Act 11229 (Child Safety in Motor Vehicles Act), we worry how to make sure our newborn's neck and head are positioned correctly.

A baby's head  position in a car seat is a matter of safety and priority. Newborns, especially premature infants, have weak head and neck muscles, which they have yet to learn to control.

Rear-facing car seats are the safest for your baby

You need to consider many things when choosing the best car seat for your child, but the first thing you need to make sure is it's a rear-facing car seat. This type protects your baby's head, neck, and spine in the event of a crash even if your car is hit from behind. It should be placed in the back seat to avoid undue and sudden pressure from front-seat airbags. The American Academy of Pediatrics (AAP) recommends that all babies should be in a rear-facing car seat until they have reached weight and height recommendation of the family car's seat manufacturer.

Pediatricians also highly recommend that you keep your child in a rear-facing car seat as long as possible. Now make sure the car seat is installed correctly to effectively do its job of protecting your baby while in transit. The car seat manufacturer's instruction manual is the best reference.

The Philippines has yet to publish the implementing rules and regulations for the new law. Countries with car seat laws in place have a governing body with personnel highly trained to check if any and all car seats are installed correctly in any type of vehicle.

ADVERTISEMENT - CONTINUE READING BELOW

When to worry about a baby's head position in a car seat

If your baby's head is turned to the side, that's all right, and it helps facilitate breathing. His head moving from side to side is not as worrisome compared to his head that is bobbing up and down or moving forward and backward while strapped in the car seat.

"The way the manufacturer intends car seats to be installed, there shouldn't be a lot of head flopping forward. If you see a child's head falling forward in an installed seat, it's probably installed at the wrong angle," according to Dr. Ben Hoffman, pediatrician and chair of the AAP's Council on Injury, Violence and Poison Prevention, told Fatherly.

A car seat's five-point harness should be enough to secure your baby

A car seat with a five-point harness is enough to keep your baby in place effectively. Remember that if you can pinch the straps (when you hold it you even get to fold it) between your fingers, then they're too loose.

To secure the five-point harness correctly to prevent them from slouching or slumping over and having his airway blocked or having difficulty breathing, here are guidelines from the experts behind The Car Seat Lady:

The closer the shoulder straps slots are just below the infant's shoulders, the better. The chest clip should be positioned right on your little one's chest bone, or the same level as your little one's armpits. It should not be too high on the baby's' face or neck nor too low on the baby's stomach.
Keep the crotch buckle as close as possible to the baby's body to prevent slouching. The shorter the distance between the crotch buckle, the better. The same with the leg straps; the close they are to the sides of your baby's body, the better.

CONTINUE READING BELOW

Recommended Videos

What other parents are reading

If your car seat is correctly installed and the five-point harness is adjusted correctly, you won't need any head positioners to secure your baby's head and neck. In fact, don't use an accessory that doesn't come with your car seat because it may interfere with the car seat's primary objective of keeping your child secure.

Keep the car seat reclined as far as the manufacturer's instructions will allow it

"A newborn should ride semi-reclined, so that the angle of the car seat, where their head and chest rest, is reclined enough to keep the baby's head back and his chin off his chest, but never more than your child's seat allows," Alisa Baer, M.D., a pediatrician and co-founder of The Car Seat Lady, told Parents.

Babies must ride semi-reclined usually at about 45-degree angle to keep their airways open. As long as your little one has none to little head control, it's best to keep his car seat semi-reclined. As your child grows, maybe around his sixth-month mark, you may start to adjust the angle to a more upright position gradually. Check the manufacturer's instructions for angle indicators or adjusters.

What other parents are reading

Celebrate your pregnancy milestones!


Enter your details below and receive weekly email guides on your baby's weight and height in cute illustration of Filipino fruits. PLUS get helpful tips from experts, freebies and more!

You're almost there! Check your inbox.


We sent a verification email. Can't find it? Check your spam, junk, and promotions folder.
Trending in Summit Network